Unpacking the role mythic tradition plays in our lives
Objectifs presents Stories That Matter, an annual programme that looks at critical issues and trends in non-fiction visual storytelling. This year, the programme features the theme 'Myths'.
Myths are as old as human civilisation. They inform, obfuscate and empower our most deep seated beliefs. This edition of Stories That Matter unpacks the role that mythic tradition continues to play in our lives, through national, political and cultural narratives that shape our perception of the world.
---
Here are some recaps from Stories That Matter 2019!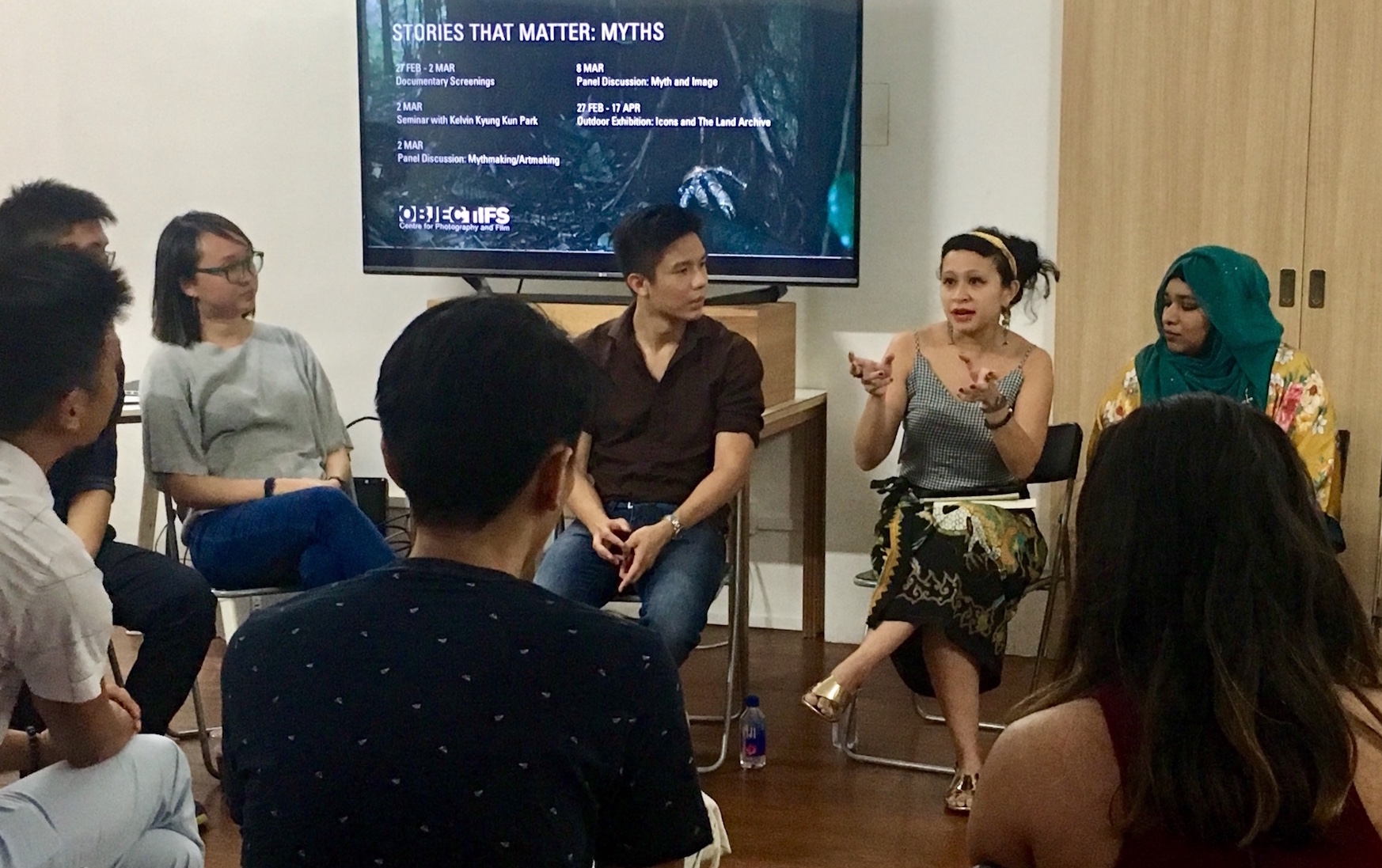 Programme Trailer
---
SEMINARS AND TALKS
CONSTRUCTING THE "SELF" THROUGH ART
Seminar by Kelvin Kyung Kun Park
Sat 2 Mar, 2pm to 3.30pm
Workshop Space, Objectifs
Seminar Fee: $15 
Award-winning filmmaker and visual artist Kelvin Kyung Kun Park's work frequently takes inspiration from the cultural anxieties, myths and narratives that inform South Korea's identity. With close reference to his own career, he will discuss how in Asia, where the individual is often overlooked in favour of collective identity, art making is an opportunity to construct the "self" he never had. He will also share his experiences straddling the film world and the art world.
PANEL DISCUSSION: MYTH-MAKING / ART-MAKING
Featuring Loo Zihan, Zarina Muhammad, Daniel Hui, Nurul Huda
Sat 2 Mar, 4.30pm to 6pm
Workshop Space, Objectifs 
Admission: Free (RSVP via Peatix)
Join us for a robust discussion on how the investigation of myths takes on different forms in art-making, with four Singapore artists whose practices interrogate and disrupt existing paradigms within history, convention and folklore.
PANEL DISCUSSION: MYTH AND IMAGE
Featuring Robert Zhao Renhui and Ore Huiying, moderated by Tom White
Fri 8 Mar, 7.30pm to 9pm
Workshop Space, Objectifs 
Admission: Free (RSVP via Peatix)
How and to what end images are constructed, and how does this affect our perceptions of the image and the stories they depict? Visual artist Robert Zhao and documentary photographer Ore Huiying tackle this question with references to their own photography practice.
---
SCREENINGS
27 Feb to 2 Mar
Chapel Gallery, Objectifs
$10 per screening / $8 student concession / $35 per season pass | See schedule and buy tickets at http://stm2019pass.peatix.com
This year's selection of films bring to the fore the tensions and connections between reality and imagination, past and future, the individual and the collective, surfacing new ways of understanding how contemporary and traditional myths evolve and disrupt our ways of being.
---
EXHIBITIONS
STORIES THAT MATTER: ICONS & THE LAND ARCHIVE
27 Feb to 21 Apr
Objectifs Courtyard
Admission: Free

This outdoor exhibition urges us to question our ways of seeing and the assumptions around photography. It features work from ICONS by Swiss artists Jojakim Cortis and Adrian Sonderegger, who recreate the world's most influential photographs in their studio, and The Land Archive, where Singapore artist Robert Zhao Renhui presents mythic scenes of Singapore from the past and the future.