Each year, Objectifs reaches out to around 40,000 people of all ages through our programmes: we present an average of 45 exhibitions and screenings, champion the work of more over 70 artists, support the growth of 30 artists through our developmental platforms, and conduct more than 100 workshops, talks and seminars for students, enthusiasts and practitioners.  
Your generous support enables us to discover untold stories, nurture talent, reach out to different communities, and continue creating and presenting programmes that broaden perspectives and inspire people. Each donation goes towards our efforts in building and sharing a diverse programme of exhibitions, screenings, talks, workshops, residencies and outreach programmes, many of which are free.
We are a non-profit registered charity with Institution of Public Character (IPC) status. As such, your donations will qualify for a 250% tax deduction for the year 2020. Your contribution will also be eligible for the Ministry of Culture, Community and Youth's Cultural Matching Fund, that provides a dollar-for-dollar match for cash donations to arts and heritage charities. 
For further information, please contact us at info@objectifs.com.sg or 6336 2957.
If you would like to make a difference, you can support us in the following ways:
1) Friends of Objectifs
Join us as a friend of Objectifs! Your support allows us to continue our artistic developmental and educational work year-round.
2) Online donation
Make a donation through the National Volunteer & Philanthropy Centre's online portal, Giving.sg.
3) Cheque, Internet Bank Transfer, PayNow or Cash
Please compete this form (download PDF) and email it to ryan@objectifs.com.sg or snail mail it to us. Cheque payments should be made to "Objectifs Centre Ltd". Indicate your Company Registration No. or NRIC/FIN No. at the back of the cheque, in order to obtain the double tax deduction on your donation, and mail to Objectifs, 155 Middle Road, Singapore 188977.
4) Be a patron for one of our programmes! 
Contact us at ryan@objectifs.com.sg.
SUPPORT OBJECTIFS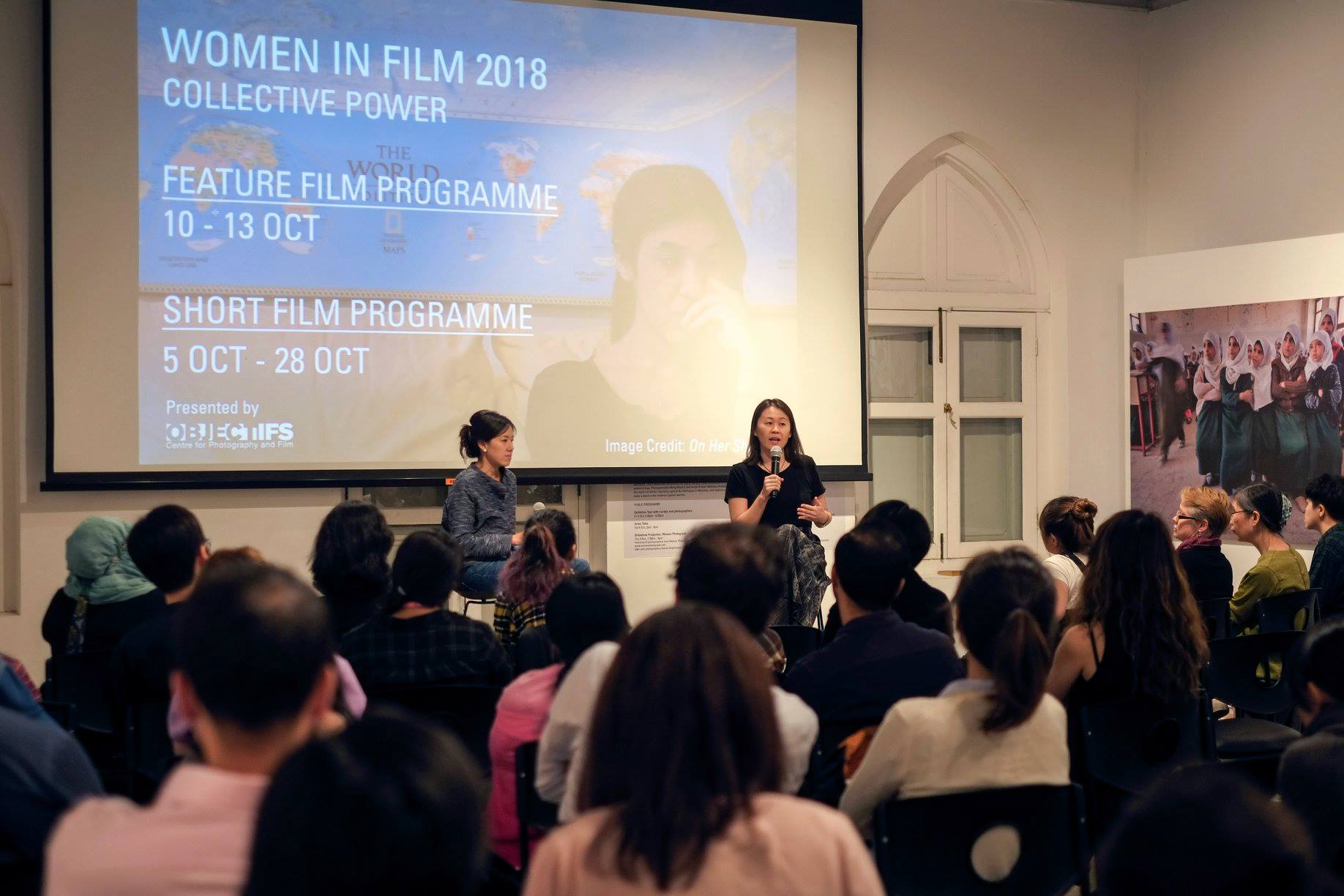 We would like to thank the following supporters for their kind donations to Objectifs in FY 2020 to 2022:
Abigael Tay
Adam Joel Knee
Adar Ng
Aditi Shivamakrishnan
Ang Hwee Sim
Alecia Neo
Alexander Kador
Alfonse Chiu
Allan Wu
Ang Kin Peng
Angeline Swee
Angie Han
Ann Hui Ching
Annabelle Aw
Anthony Chen
Aroozoo Wesley Leon
Benjamin Ong
Berny Tan
Birte Koehler
BinjaiTree
Boo Junfeng
Brian Teo
Bryan van der Beek
Caterina Poh
Chan Boon Lian
Chan Cheow Thia
Charis Anne Lim
Charmaine Toh
Chaw Suat King
Chew Dau-Cher
Chelsea Chua
Cheryl Loh
Cheska Marfori
Chien Chin San & Yowjie Chien
Chim Suan Yew
Chin Wei Lin
Ch'ng Yaohong
Cho Xiao Fei
Chong Gua Khee
Chow Chee Yong
Christie Scollon
Chua Jun Rong
Chua Yong Kee
Chua Yongmei
Chye Shu Wen
Craig Petersen
Damon Chua
Damodaran Murali
Daniel Walsh
Darren Sherry
Dawn Chan
Dave Lim
Del Arenal Virginia Marina
Dean Koh
Deanna Ng
Dennese Victoria
Denise Ng
Derek Low
Derrick Chiang
Desiree Soh
Dimpel Doshi
Donna Chiu
Edlyn Ng
Eleanor Ng
Emi Eu

Emmeline Yong
Erica Tse
Ernest Goh
Eu Min Karen
Eugenia Seah
Ezzam Rahman
Fong Siao Yuong
Gan Inn Siang
Gareth Phua
Gerald Neo
George Adrian David
Ginny Chew
Gladys Ng
Gloria Lee
Goh Chun Aik
Goh Wei Fen
Goh Yong Kai
Gozde Zehnder
Grace Baey
Grace Ng
Grace Wu
Gui Weihsin
Hai Sia Seafood Pte Ltd
Han Kyung-mok
He Shuming
Heidi Maekinen
Henry Liew
Ho Shu Fen
Hoe Su Fern
Honor Hagar
Huang Junxiang
Hwang Yin
Jan Peuker
James Shaughnessy
Jamie Tan
Jan Peuker
Jane Goh
Jay Liu
Jean Loo
Jean Paolo Ty
Jennifer Chan
Jeremy Tay
Jessica Meyer
Jill Tan
Joel Koh
John Clang & Elin Tew
John Lilley
Johnny Chen
Jolyn Wu
Joseph Nair
Joshua Nair
Juliana Tan
Judith Lee
Juria Toramae
Kaleb Loh
Kanchana Gupta
Kerry Cheah & Leslie Lim
Kirsten Tan
Khaw Yew Tuan
Kong Chong Yew
Kia Jie Hui
Kiruba Kim Tay
Kristen Ong
Kristin Saw
Kristine Ng

Lai Junjie
Lam Chun Yip
Larissa Ong
Lawrence Chiam
Leck Choon Ling
Lee Kee Yeng
Lee Keng Siang
Lee Xin Li
Lee Sang Chul
Lenne Chai
Leong Yee Keong
Leon Cheo
Ler Jiyuan
Lillian Wang
Li Li Chung
Lian Tsui Yee
Lim Chee Peng
Lim Chih Ling
Lim Chwee Fong
Lim Huey Yuee
Lim Kwong Ling
Lim Ming Rui
Lim Mu Sing
Lim Swee Cheng
Lim Weixiang
Lim Xiang Yun
Loo Ching Ling
Lorna Tee
Luke Chua
Lu Xiaohui
Lui Hock Seng
Mari Kinoshita
Mark Chua
Mark Edleson
Mark Teehan
Marina Zuccarelli
Marvin Tang
Mary Elizabeth Stock
Maryanna Michele Abdo
Melissa Kwee
Meena Mylvaganam
Mervyn Chen
Mok Cui Yin
Muhammad Fadzuli Bin Mohamad Said
Muhammad Harraz Bin Hamid
Nalina Gopal
Natalie Khoo
Neo Kae Yuan
Ng Poh Meng
Nicole Chai
Nigel Heng
Ng Hui Hsien
Nurul Huda Rashid
Olivia Tay
Oliveiro Denise
Ong Xiao Yun
Ore Huiying
Park Sungho
Paul Seow
Philipp Aldrup
Phoebe Pua
Prakash Kannan & Joanne Yoong
Quek Jian Ting
Rahul Radhakrishnan

Samantha Yee
Ray Pang
Roshni Shivaramakrishnan
RJ Paper
Samuel Kenneth Picot
Samuel He
Sarah Sim
Sau Ling Wee
Shaddick Edwina Hui May
Sharon Tan
Sean Lee
Sheere Ng
Shirly Koh
Siaurui Goh
Sim Bao Chen
Sim Jiaying
Sophia Kan
Stefen Chow
Soh Kay Min
Stephanie Wong
Stewart Nicolette Jenny
Sun Koh
Smitha Rajan Menon
Tan Hong
Tan Li-Jen
Tan Mui Ling Sharon
Tan Tsen Waye
Tan Si En
Tan Wei Keong
Tan Weixin
Tang Kang Wei
Tang Yong'An Michael
Tania De Rozario
Tate Anzur
Tay Pei Chin
Teh Sha-Mayn
Teo Hui Min
Teo Qi Yu
Timothy Collanto
Tobias Tirta Atmadja
Tom White
Tiffany Nah
Wayne Lim
Wee Kia Hau
Wendy Choo
Wong Shuen Wuen
Woon Shyue Jiun
Wu Kejia
Wynnie Chang
Yang Yang
Yeo Kang Shua
Yo Mae-Yin Mabelin
Yong Jian Chui
Yuriko Goto
Yusri Sapari
Yvonne Tham
Zhang Shiyuan
---
Objectifs Centre Ltd is supported by the National Arts Council under the Major Company Scheme from 1 April 2022 to 31 March 2024.
Our annual report and financial information is available on the Charities portal.