Developing short film scripts from Southeast Asia
The inaugural Objectifs Short Film Incubator, presented by Objectifs in partnership with Momo Film Co and supported by Purin Pictures, concluded last month with mentors Pimpaka Towira and Davy Chou at the helm, and seven filmmakers from four Southeast Asian countries, working on five short film projects.
Read on for a recap of highlights from the incubator, which took place entirely online, and how the participants found this experience!
---
Over the course of the four weeks, each participant / team had two virtual consultations with Davy Chou and Pimpaka Towira on their short film scripts. In between the sessions, they kept in touch with the mentors via email, and with each other via a private Facebook group.
The consultation sessions really helped me to develop a script according to the goals of what I want to make — to connect the director's statement with the story being made.
— Reza Fahriyansyah (Indonesia)
These consultations were complemented by a series of guest lectures by international industry professionals. Filmmaker Sherad Anthony Sanchez (the Philippines), founder of Mocha Chai Laboratories, Chai Yee Wei (Singapore), and co-founder of sales company Lights On Film, Greta Fornari (Italy) spoke about pitching, post-production and short film distribution respectively, in sold-out free online sessions attended by international audiences.
What I find the most useful about these public talks are that the things that they've shared are all based on their experiences in the industry. It's not something that's theoretical or is just taught in school. These are top information that you wouldn't get anywhere else except those who really know the industry and have learned the tricks to succeed in it.
— Trishtan Perez (the Philippines)
The incubator participants and members of the public alike were also treated to a candid conversation between the mentors in a special edition of the Objectifs Film Club featuring Davy Chou and Pimpaka Towira discussing their horror-tinged respective early works Davy Chou's First Film and Mae Nak and the evolution of their careers.
The four weeks flew by in a productive flurry, and the first ever Objectifs Short Film Incubator came to an end with a virtual celebration where participants reflected on their experiences — with many highlighting their appreciation for the unique opportunity of a script lab focused on short films, and for the chance to foster relationships with colleagues in the Southeast Asia region —and shared a drink together.
I got to discuss my artistic vision with industry mentors who inspire me, made friends from Southeast Asia who are going on the same journey with me while sharing and consulting about our doubts with our scripts and of course, learnt insights from industry connections.
— Moe Myat May Zarchi (Myanmar)
The incubator gave us a rare opportunity to develop our short film script intimately with our mentors Davy and Pimpaka and with other Southeast Asian filmmakers who have now become friends.
— Sam Chua Weishi (Singapore)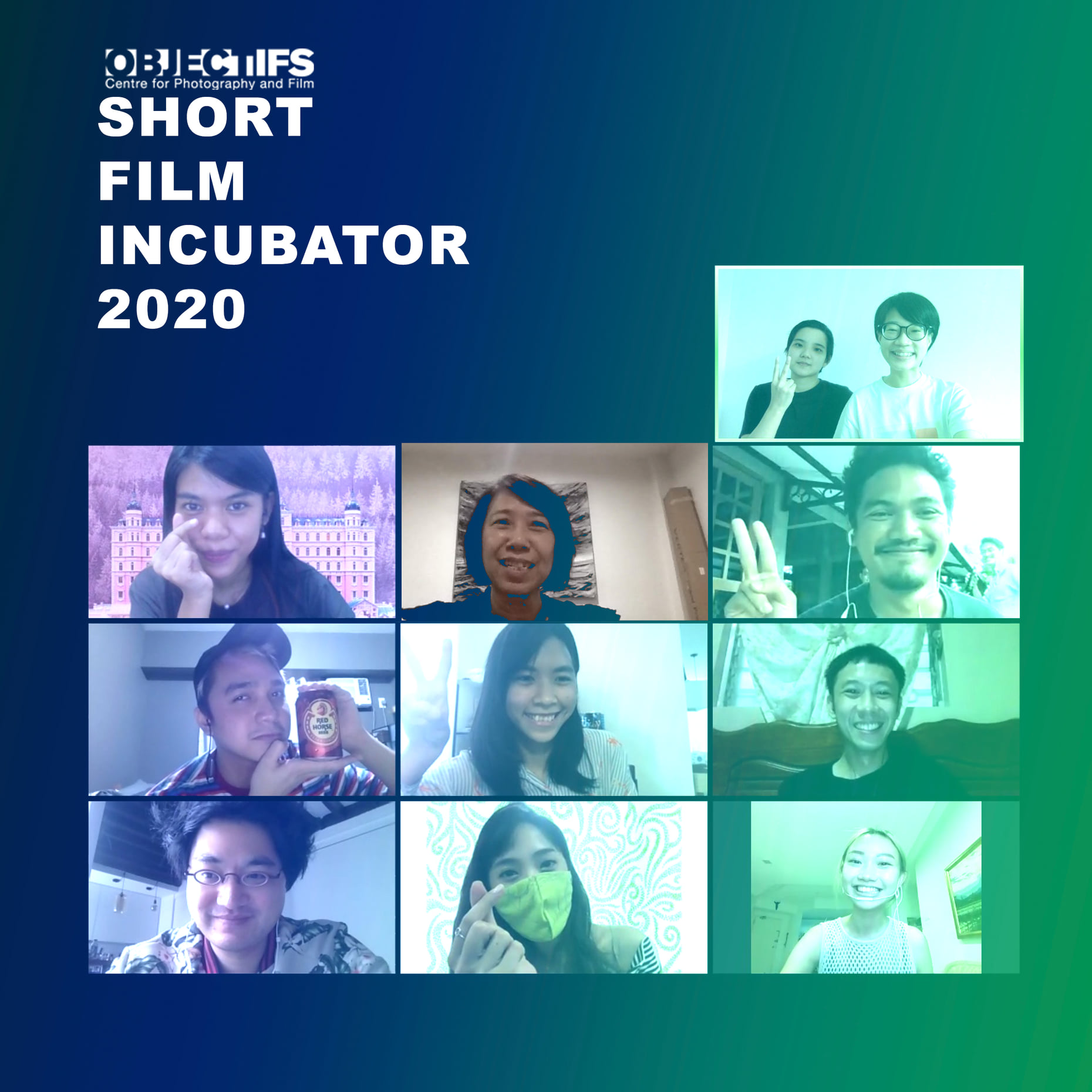 While the official programme may have come to an end, it is our hope that each participant / team will continue to work on their scripts based on the feedback offered, insights gained, and relationships formed. We wish them all the very best and look forward to seeing their projects come to fruition!
This incubator was the most important film industry event I've been a part of. […] I never felt like a guest and despite being online, I felt like I was a part of a home. What warms me the most is that they chose our films and believed in us. It's entirely possible that in other kinds of labs, these kinds of films could be considered risky or confusing and I am truly grateful that Objectifs, Momo film Co. and the mentors trusted and are uplifting our kinds of experimental works.

Lastly and most importantly, even though we've only spent a month together, I feel like I've made such wonderful friends and feel this is the beginning of a longer relationship. In this time of Covid-19 and in an often alienating industry, I think this is the most valuable thing filmmakers early in their careers can carry with them; that there is a place for us and our stories in the world we live in.
— TJ Collanto (the Philippines)
---
The Objectifs Short Film Incubator, like many of Objectifs' programmes, is offered free of charge to participants and was supported by a grant from Purin Pictures. Support Objectifs' work in cultivating original voices in visual storytelling and to foster networks and talents within the Southeast Asian region by making a donation.