Part of Stories That Matter 2018: Borders
Objectifs kicked off Stories That Matter 2018: Borders with a weekend of events featuring Burmese documentary photographer Minzayar Oo: an artist talk preceding the opening of his solo show State of Flux: The Work of Minzayar Oo, a seminar and a Q&A session following a slideshow of new Burmese photography. Read on for highlights from his artist talk and seminar.
---
Big Break
Minzayar Oo (b. 1988) was a medical student and musician who sold his piano to buy a camera. He was shooting landscapes, as many hobbyist camera owners do, until a workshop at the Yangon Photo Festival in 2010 opened his eyes to the possibility of "storytelling with photos".
Minzayar's big break came in April 2012 as a fairly new stringer for wire agency Reuters, when his photograph of Aung San Suu Kyi was published on the cover of the International Herald Tribune. He eventually dropped his medical career and continued working with Reuters for four years before joining Panos Pictures in 2016.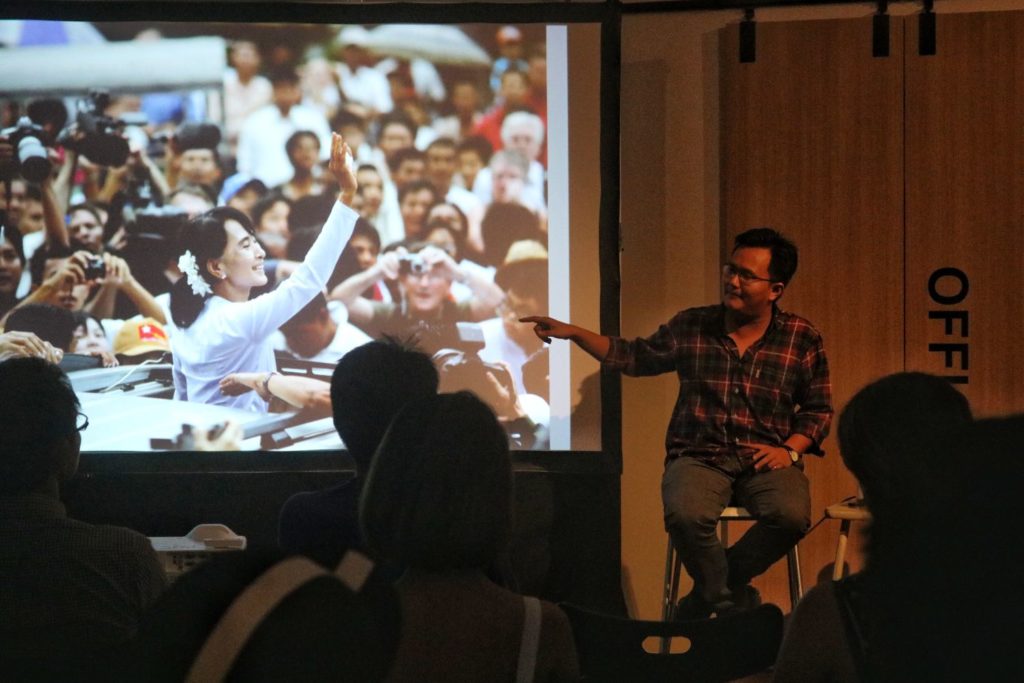 "What's the Story?"
Minzayar prefers working on "in-depth feature stories, where [he could] spend time", over news stories. While he was at Reuters, they were starting to hire experienced special correspondents. As a local, Minzayar had the advantage of access to certain parts of Myanmar the government did not allow foreign journalists to enter. In addition, he was fluent in English. This gave him opportunities to work closely with reporters, and would vitally shape his approach to "storytelling with photos":
"This relationship changed my thinking. If not for it, I would have been stuck in trying to get the picture of the day, or to make the front page. But I started seeing differently, thinking, What's the story?"
Long-Term Projects: Access, Approach, Aesthetics
Many of Minzayar's longform projects originated from news assignments, such as The Price of Jade (currently exhibited at Objectifs). His first visit to Hpakant in the north of Myanmar in 2013 was just for a day. "I never wanted to leave but I didn't have enough budget to stay," he recounted. To further this story, he accepted funding from NGOs Global Witness and the Natural Resource Governance Institute, emphasising that photographers should retain copyright of their images in such arrangements.
Minzayar was struck right away by the sheer scale of the jade mines. He said: "From the first impression, the place itself was very visual but it was very difficult to try and think how to tell the story" in a nuanced way.
Minzayar advised photographers working on long-term projects to research projects similar to what they want to cover. For The Price of Jade, the first photos that came to his mind were Sebastião Salgado's "Serra Pelada" series, and Marcus Bleasdale's work. Minzayar suggested: "Look at others' photographs and your own pictures and ask, What am I missing compared to this story?"
It took time for Minzayar to find his subjects, develop a relationship with them, and gain access. He highlighted the value of building a genuine relationship with one's subjects. In Hpakant, he would stay with locals rather than in a hotel. It is important to him that a photographer remains present.
"A picture is not good just for information. As a professional, there is no excuse for a bad photo, but in dealing with subjects, one shouldn't forget about the relationship. It becomes quite distant if we're just trying to focus on perfect composition.

I'm not just pressing a button and shooting what's happening in front of me. I'm trying to build a narrative, of course, but I need to check my understanding, talk to people a lot."
Over and above "getting political", Minzayar is "more interested in documenting ordinary people at the grassroots level, showing the impact of politics rather than saying what is right or wrong".  In photographing drug users in a community-run reform programme, for example, he says, "Don't just show their shackles, but also show their relationships". He also suggested reframing the question photographers ask themselves: "With the [type and extent of] access you do have, how can you tell the story?"
Though Minzayar would prepare for each subsequent visit to Hpakant by identifying a particular theme or type of image he would focus on shooting that trip, in reality,
"It never works that you figure out a story and it works exactly like you envisioned it. You may find one particular subject and your story may change. But you have to be inspired by the person who has the potential to be your subject, or the subject itself. It must compel you."
It is only when making the edit that it is "time to decide what I really have to say," Minzayar shared. He shows his work to an editor or photographer whose work he likes, for advice and feedback. For The Price of Jade, which is itself "a bit of a general story", touching on big global issues, he feels strongly that "one important thing is missing – the personal element".
"It gets more powerful when it gets closer, more personal. When you personalise the story, you can tell a big story better."
As he says, "The best projects are often something close to you – something inside you, something intimate. Think about your access, approach [e.g. portraits, reportage], and aesthetics, research similar work already done, and then shoot".
---
Stories That Matter: Borders continues with screenings of independent documentaries this week (20 to 24 Mar). Tickets are $8 each and sold via Peatix. Door sales are subject to availability.
Read more recaps of past events at Objectifs in our website's News section.