WOMEN IN FILM 2018: AVA
Post-screening discussion with Leong Puiyee and Aishah Abu Bakar
Women in Film 2018: Collective Power continued with yet another rainy night and yet another sold-out screening: Ava, by Iranian-Canadian director Sadaf Foroughi, is a coming-of-age story depicting the titular protagonist's rebellion against authoritative figures in her life, while growing up in a patriarchal and controlling environment.
The film was followed by a post-screening discussion with film programmers Aishah Abu Bakar (Singapore International Film Festival) and Leong Puiyee (SGIFF, Objectifs). [Read more about the film and about them here.] Read on for selected highlights from their discussion. Their responses have been paraphrased for brevity.
---
Aishah: Watching the film again on such a big screen, I can really feel the intensity all the more. You can really feel the tension and the growing animosity from this young lady, it jumps out at you, and obviously it's a very identifiable feeling. Growing up, you want to do what you want to do, but there's a lot of restrictions, especially from home.
Puiyee: Yes, most teenagers want to have fun, but in Ava she's growing up in a very controlled household and in a conservative society. Her mother places many expectations on her, ranging from telling her there's no future in studying music, to the most harrowing part where she takes Ava to a gynecologist to check if her daughter is still a virgin. It's a sort of violation.
Aishah: A lot of things told to young girls are scaremongering: "don't go out at night", "don't wear short skirts". In the film, even their teacher says they're all doomed to die, that they're wild animals. That's something very harsh to say to young people.
Puiyee: And it comes from a female school headmistress!
Audience Member: A lot of pressure comes from women themselves, like the headmistress, teachers…there are only two main male characters in the background of the film and they're not really placing any pressure on Ava. Patriarchy in the society is coming through the women. Maybe women have imbibed some of the pressures placed on them.
Puiyee: Ava's mum thinks she knows what is best for her, but Ava obviously doesn't agree.
Aishah: It's an overcompensating sort of thing. Obviously, the mother has done all the stuff she wanted to do when she was younger and she's made a few mistakes in her life, and she doesn't want to see her daughter go through this, so she really restricts Ava. In my 30s, I can get where the mother is coming from a little bit, but the majority of my feelings are still with Ava.
It's interesting also that Ava's father, who is like the "cool dude" or the good cop in all this, he's not around and he places all the responsibility of watching over Ava on his wife, which is quite unfair.
Puiyee: A lot of times it's the mother who's the main one caring for the child, but there are two parents, so why is there always this unfair expectation from society that women, especially mothers, who have to take sole responsibility?
Aishah: There's also the irony of Ava's mother referring to her friends as "husbandless tramps" and blaming them for their children's behaviour. There's an assumption that if it's a parental unit of two, the child will automatically grow up to be wonderful and loving.
Audience Member: I'm a mum and I can tell you that all these worries are real. But you can't be there all the time. You have to build a rapport with your child so that she can talk to you about anything. And you can't be reactive but have to take a step back to think about it. It's about learning to be a parent and learning to give your children space,
Puiyee: Women can be really mean to other women as well. We also see this in Ava's high school, where the girls are catty, bitchy and taunt each other. That's also something we can identify with.
Aishah: It was refreshing to see an almost Mean Girls experience in an Iranian film. There's so much rivalry about popularity and dating the popular guy. It's the same issues in even what we deem a conservative society!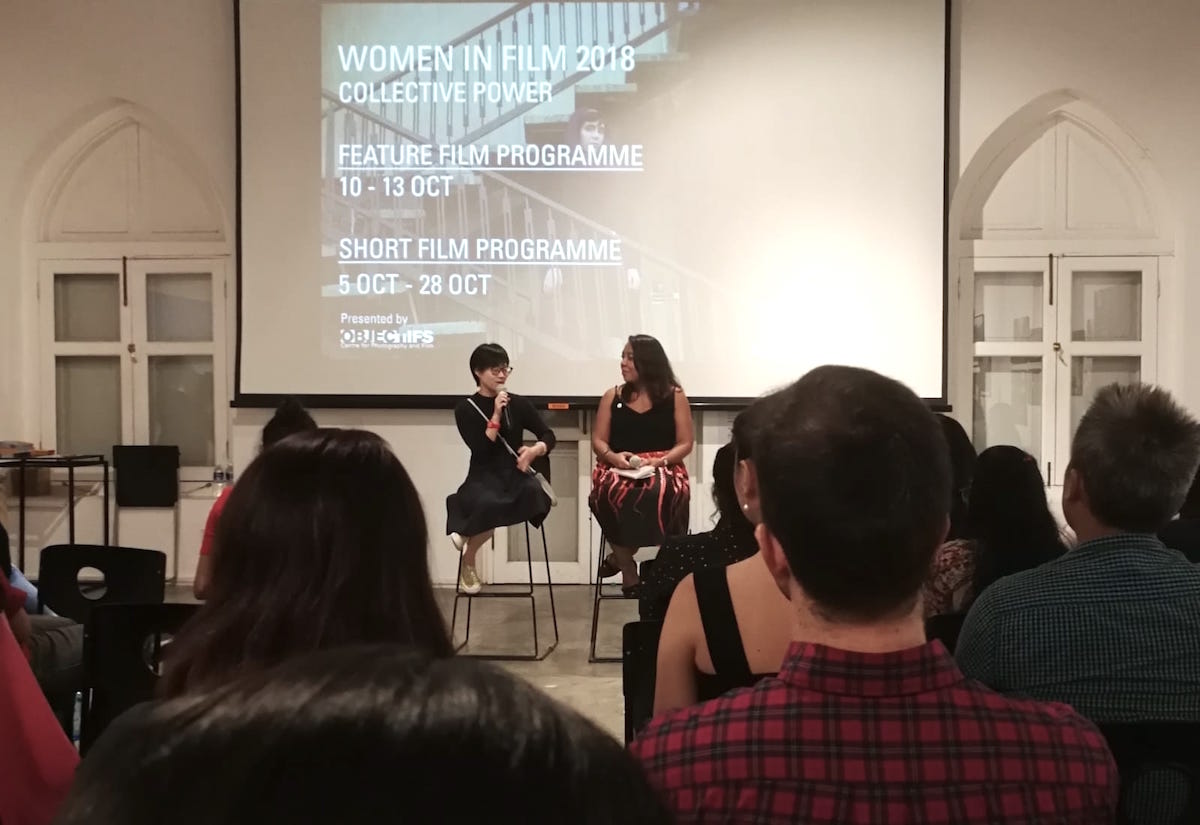 ---
Women in Film 2018: Collective Power ends tonight, Sat 13 Oct, with the Singapore premiere of A Better Man, followed by a post-screening discussion. Get tickets here or at the door.
Read our recap of the other post-screening discussions held as part of Women in Film 2018.
Women in Film is part of Objectifs' annual Women in Film & Photography programme. Visit our website for full programme information.
---