By Kobi Mizrahi and Alemberg Ang for Objectifs Short Film Forum 2022
The Short Film Forum, organised as part of Objectifs Short Film Incubator 2022, saw international industry experts share their insights in a series of online talks. In this session moderated by Leong Puiyee from Objectifs, Oscar-nominated producer Kobi Mizrahi and award-winning producer Alemberg Ang candidly disclosed how they grow their networks in the film world and the collaborations close to their hearts. Read on for a recap.
---
Alemberg Ang: I've been building my own networks for more than 10 years. I started in 2009. At that point, I wasn't aware of how to navigate the international film world. It was only people whom I got to meet here in the Philippines or in festivals who I built relationships with.
I started actively working the international film world around 2016 or 2017. That was when we had a new chairperson at the Film Development Council of the Philippines and she was very active about building networks. I started attending talks about international co-productions. I started going to festivals and markets even if I had no film there. And that was really just to build my network and see what's out there.
Kobi Mizrahi: I graduated from the Steve Tisch School in Tel Aviv University 10 years ago. In 2017, I started my own company and started doing short films. Luckily, my first short film moved from festival to festival. I started growing my network and realised that the industry is not as big as I thought. It's the same great people everywhere. You meet each other, you drink together, and you have lunch together. It's important to choose your partners according to people you like to hang out with, because it's a really long road. I say this all the time, that if I build a good crew, I can go to war.
When I started, I worked with friends who studied with me in university. We did our student shorts together and continued to work on our first feature together, The Dive.
Leong Puiyee: Kobi, you went to film school with some directors you work with. I want to ask both of you, how else do you find your film partners? How do you choose a project?
Kobi: It is an amazing experience to make things with a crew you've built. It's more than working together on a film. It's building a community. It's nice when you have a team that you can share ideas with, because many times, it can get lonely.
The idea for Butterflies came before we shot The Dive. I was walking on the street with Yona, the director, and he told me something that happened to him and his father. He said that the last time he drove his father to the hospital, there were many butterflies around. His father couldn't see them. That was the moment he understood that it was the last time he was driving his father to the hospital. He understood it was the end. I was so moved by his story. I told him, "Let's write it as a short film."
Sometimes, you just need to be curious and open to catch the stories in the air. I don't wait for directors to come to me with a story. If I hear a good story, I take it and say, "Let's make it."
Alemberg: Unlike Kobi, I didn't go to film school. I had no ambition of getting into film. I was a teacher, and it was only by accident that I got into film. Through working with people, you build relationships and a reputation. I always caution people to be careful with the people they meet and work with. You only have one name. If you mess up, people will remember.
I'm very lucky in choosing some of my earlier projects, because some did quite well. They did quite well in the Philippines and got some recognition internationally. The actors and some of the crew members won some awards locally. That built a good reputation. When I ask someone to work on a short film or an independent project now, it's a little easier.
One question I ask myself is: Do I hire someone who's best in the industry or someone who I work well with?
Personally, I prefer working with people I get along with. Working on a film is like marriage. You're stuck together for several weeks or days, and you're working long hours. That's why I like to work with people who don't give off bad vibes. Of course, there are people who prefer to work with the best in the industry.
How do I choose my project? One, if I really like the story. Two, if I believe in the intentions of the filmmaker. Three, if I can think of how I can raise money to produce it. Of course, I also ask the filmmaker, "Are you sure you want to work with me? Talk to people and find out how working with me is like. Come back, if you really want to."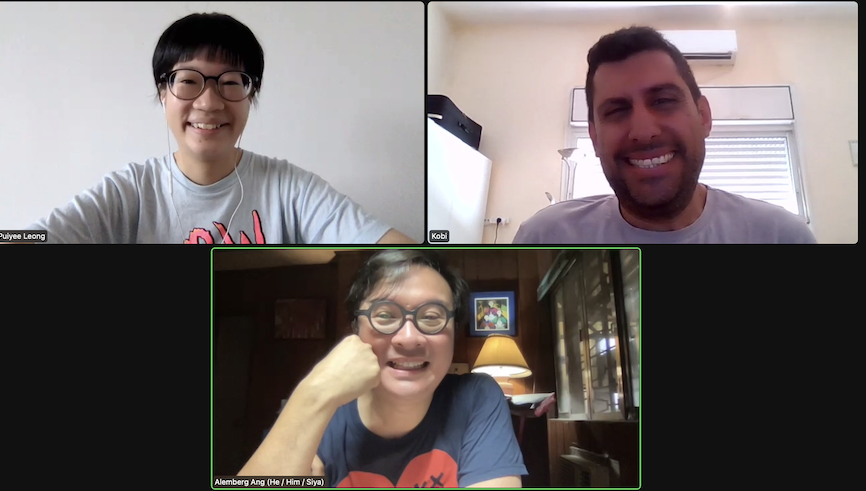 Puiyee: Were there any partnerships that had gone wrong?
Kobi: Of course. When I was younger, I was very confident. I didn't sign contracts with directors. I had experiences with directors where we didn't continue working together. Luckily, that was only for short films and not feature films.
If I divide making a film into stages, the first part is the development. As a producer, that goes on until I know the script is right. The second stage is financing. This can take two or three years, even if it's a short film.
Third stage is production and post-production. Once you get to the finish line, you then have marketing and distribution strategy. This needs a lot of energy, and it depends on a director's expectations for the film. It's important for directors to understand that not every film is for a festival. It can be a film that can run in niche festivals and make a lot of money. That can be the purpose. Sometimes the purpose is awards, sometimes it's campaigns. You need to decide what your strategy is with a short film.
When it comes to a producer's relationship with a director, it's mainly communication. You need to see eye to eye with the director on the film.
Alemberg: There are two reasons why I will not work with a director. One is if the director does not listen. The director does not need to follow everything other people say. But if the director does not listen and does not collaborate, I will have a hard time working with that director.
On the other hand, I don't like it if I end up to be the one directing. Once I feel like I'm making decisions because the director doesn't know what he wants or what he's doing, I will probably not work with that director.
Kobi brought up a very important advice. No matter how close you are to any director, it's really important to start with a contract.
What a lot of people don't realise is how much work happens before a film gets financed and made, and that is time that we're not technically paid for. In fact, in the whole financing structure, we are the last to be paid, if we're paid at all. We have to raise money to pay ourselves, and I need to work with directors who value that.
It's important to do background checks on the director you're working with, the financier you're about to work with, the coproducers etc. It's valuable to hear how other people have experienced working with people you're going to work with.
Puiyee: Alemberg, you are currently working on Petersen Vargas's next feature film, Some Nights I Feel Like Walking and you have also worked on Plan 75 by Chie Hayakawa, which won Special Mention at the Cannes Film Festival 2022. Kobi, your short film White Eye by Tomer Shushan was nominated at the Oscars in 2020 and went on to do well at other film festivals. Can both of you share how these projects came about?
Alemberg: I'm co-producing Some Nights with Tan Si En and Anthony Chen. I first met Si En when she was working at the Singapore International Film Festival. It was them who expressed interest in the film. The film won the 2019 SEAFIC Award prize at SEAFIC (Southeast Asia Fiction Film Lab). It went to Locarno Open Doors and a number of international programmes. These gave it life and helped us build the people working on it. It's a mix of my long-time friends or people I met at festivals and project markets.
I was pitching a film at Udine Far East Film Festival and the team behind Plan 75 were also pitching. After we pitched our respective films, we were introduced to each other. I found out that the director of Plan 75 was my classmate at Talents Tokyo. They wanted to learn more about the migrant Filipinos and their religious activities, so I introduced them to an intern of mine in Tokyo who's half Japanese. That helped her with her script. Eventually they invited me to come on board as a co-producer.
Those are the different ways in which I built my co-producers for both Plan 75 and Some Nights I Feel Like Walking.
Kobi: The origin of White Eyes started a long time ago. The director approached me with the script. I refused him. He later submitted it to a film fund. Time passed, and he got the money. He got a different producer and an editor by then.
In their initial letter of intent, he wanted to do a one-shot film. But when he went on shoot with the cinematographer, they thought to do different shots. After the first day of shooting, he said, "This is not my film, I cannot continue."
His editor was Shira Hochman. She called me and asked to produce the film together. And we started all over again, this time as a one-shot film.
We started applying to festivals with the film. It was really hard, because I believed we had something really special. But it didn't even get selected into Jerusalem Film Festival in Israel, which was horrible. We didn't get into Cannes, Venice, Sundance, Berlin…
And then we got into SXSW after a year and a half of submitting to festivals. Before that, we got into Haifa Film Festival in Israel and won the first award. And there was the Oscars.
Audience member: Hi Kobi and Alemberg, how do you get your names out there to directors or producers you've not met?
Alemberg: I started working from the Philippines. I chose projects that I liked and I joined talent labs like Berlinale Talents, where I met other Southeast Asian or international filmmakers. You build relationships with them. Join project markets if you have a project already.
Kobi: My experience is similar. And sometimes, say at the Israeli pavilion in Cannes, you can ask to leave your cards there. If you have a project and you're looking for partners, you can always look on the internet. In Israel, there aren't a lot of producers, and they're all listed on Israeli film fund and the Israeli Producers Association. Zoom has changed everything too. People who you were only meeting physically in Cannes or Berlin are now willing to meet you on Zoom.
Tan Si En: I just want to add that I met both Kobi and Alemberg at festivals. It's never a competition of fighting for projects. It's about finding the right chemistry. It's about finding the right people and the right stories.
Audience member: You've brought up having a contract with major players of a film production. Can we get an idea as to the things that need to be included in a contract for a short film? As a young filmmaker, this is where I struggled with most.
Kobi: You don't need a contract with many things. Agree on the budget, and agree on who have the final say about the cut. When I read a script, I tell directors what my plan for the film is and what we can do with it. You and your producer need to be in the same head, artistically and realistically.
Alemberg: I don't know if you need a contract for a short film, but it's important to agree on what type of film you're doing. How long is it going to be? How are people getting paid, if they're getting paid? What are their responsibilities? What are the obligations of a producer to the director?
Basically, it's going through details that you normally would take for granted, even if it is something as simple as who gets the prize when the film wins an award. I know of situations where the director and the producer fought, and their relationship was dissolved just because they didn't agree on who should keep the prize money.
Kobi: And if you go over your budget, who will finance that? I always show the budget to the director. I make sure he agrees with me on the budget and knows the limitations.
Audience member: What qualities are vital in building a network? Should I have a solid social skill?
Alemberg: For me, humour is very important. You don't need to befriend every single person in the room, but don't clam up or be shy. If you're shy, it's hard for you to approach someone. For example, I rarely party in Manila. If I'm in Berlin or Cannes however, I do. I think of it as part of my job. It is enjoyable though.
Kobi: Yes, there are no rules, you just need to be yourself. Many people are better one-on-one, without all the networking and mingling. If so, try to have meetings through friends. I met many people through friends.
Audience member: What do you think a director should look for in a producer, in terms of strengths and creative approach?
Kobi: There are different types of producers. There are financial producers who know where to submit when. There are creative producers who are strong when it comes to stories. And there are producers who enter the industry from working on sets. Each type has its pros and cons. It depends on what you need. As a director, you need to know what you want to say. Then you have to see if the other person sees eye to eye with you on the film.
Alemberg: I think you need to find someone who complements you best. That doesn't mean that the two of you must have the same temperament. Some directors work with producers who are very strict. Other directors prefer producers who are more lenient. You have to find someone that best complements your temperament.
It's very important that you and your producer have the same values. It helps if you both see eye to eye on why you're doing what you're doing. Ask people who have worked with the person you want to work with. How was it working with them? Then you can weigh if this is the right fit for you or not.
---
Recap by Ng Hui Hsien, July 2022.