PHASE/LESS
A film by Amrita Chandradas
Women in Film & Photography 2021
Lower Gallery, Objectifs
11 Nov to 19 Dec 2021

"Being rooted to my ancestry is layered.
This is our privilege.
Our present colours the past.
They are faceless, a mystery
yet somehow, we inherit different facets of them within us.
One body embodying many different lifetimes.
We seek providence, we venerate them, we worship them as dauntless beings
yet they may not be what we imagine them to be.
We tiptoe between different timelines and spaces – rediscovering, exploring, questioning.
This is our privilege.
Our past influences the present."
Phase/less is a collaboration between documentary photographer Amrita Chandradas, and artists Aarthi Sankar and Ruby Jayaseelan. It unearths generational traumas, passed on superstitions, ritualistic practices and the idea of womanhood within the Tamil Singaporean community. Unpacking their own memories, collective understanding and differing experiences, they further explore the idea of time and its cyclic nature. Overarching themes of death, rebirth, stillness and femininity are observed and repeatedly represented at different intersections of this film. Phase/less traverses through a myriad of emotions such as shame, guilt, pain, loneliness, tranquillity and euphoria, translated and questioned through distinct movements, expressions and symbolism.
Unresolved queries about one own's ancestry and practices tread on. The ability to dismantle from certain enforced ideas is acknowledged and yet to be still shackled to other beliefs is recognised. Phase/less is a pause, a breath, a juncture through this timeless journey of life, presenting no beginning nor end.
Phase/less was commissioned by Objectifs for the sixth edition of its Women in Film & Photography Showcase.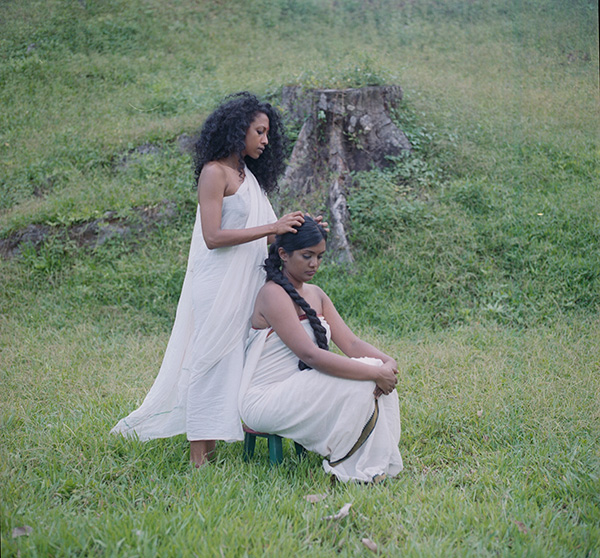 Produced and directed by: Amrita Chandradas
Co-Directors: Aarthi Sankar, Ruby Jayaseelan
Concept by Amrita Chandradas, Aarthi Sankar, Ruby Jayaseelan
Director of Photography: Amrita Chandradas
Artists: Aarthi Sankar, Ruby Jayaseelan
Sound design: Eswandy Sarip
Editing: Adar Ng
ABOUT THE ARTISTS 
AMRITA CHANDRADAS
is a Singaporean documentary photographer. In 2014, she won the top 30 under 30 documentary photographers showcase by Magnum Photos and IdeasTap.
Amrita was also a finalist for the Asian Women Photographers showcase, excellence in Digital News by SOPA News, and was a young portfolio finalist for the Invisible Photographer Asia Awards. She graduated with an MA in Photojournalism and Documentary Photography from London College of Communication and is a former Angkor Photo Festival workshop alumni (2016).
Her work is featured in National Geographic, The New York Times, SONY, National Heritage Board, Singapore Tourism Board, Time Out Singapore, BBC World, British Journal of Photography, NPR, Financial Times, Dagbladet, among others. Amrita's work focuses on identity, the environment, social issues, long form storytelling, and reportage on current affairs in Southeast Asia.
RUBY JAYASEELAN did not know what to do with her life so she decided to dance it away. She spent over a decade acquiring formal training in Bharatanatyam and Yoga, in Singapore and India, only to use them in every way but traditionally. Over the years, she also exposed herself intensively to physical theatre, performance art, as well as somatic and experimental movement, in order to travel the world in the name of art.
AARTHI SANKAR is a Bharatanatyam practitioner with 27 years of training in the art form under the tutelage of Srimathi NeIla Sathyalingam. She believes that Bharatanatyam is an annex of life, a form that informs you of life's imaginations, realities, and explorations. At the high point of her tutelage, she completed her Arangetram in 2009. Aarthi has also invested her time for more than three years, by conducting free dance classes for children and adults as a means of sharing her knowledge and bringing the joy of Bharatanatyam further. 
WOMEN IN FILM & PHOTOGRAPHY 2021 PROGRAMME  
:: Exhibition: 11 Nov to 19 Dec 2021
:: Opening: 11 Nov (12pm to 9pm) / Artists in attendance: 11 Nov (6pm to 9pm)
:: Exhibition Tours with Curators & Artists, registration required: 11 Nov (6pm) and 11 Dec (2pm)
:: Online Artist Talks, registration required:
– 16 Nov, Tue, 8pm to 930pm: A Stubborn Bloom, Uma Bista, Ennuh Tiu
– 23 Nov, Tue, 8pm to 930pm: Aakriti Chandervanshi, Hong Shu-ying, Natalie Khoo, Yen Duong
– 30 Nov, Tue, 8pm to 930pm: Divya Cowasji, Michelle Chan, Moe Suzuki
– 7 Dec, Tue, 8pm to 9pm: Amrita Chandradas, Aarthi Sankar and Ruby Jayaseelan
:: Film screenings, 4 Dec
– Remnants and Reflections 130pm to 310pm
– Open Call Programme 4pm to 5.25pm