Sokohi | Moe Suzuki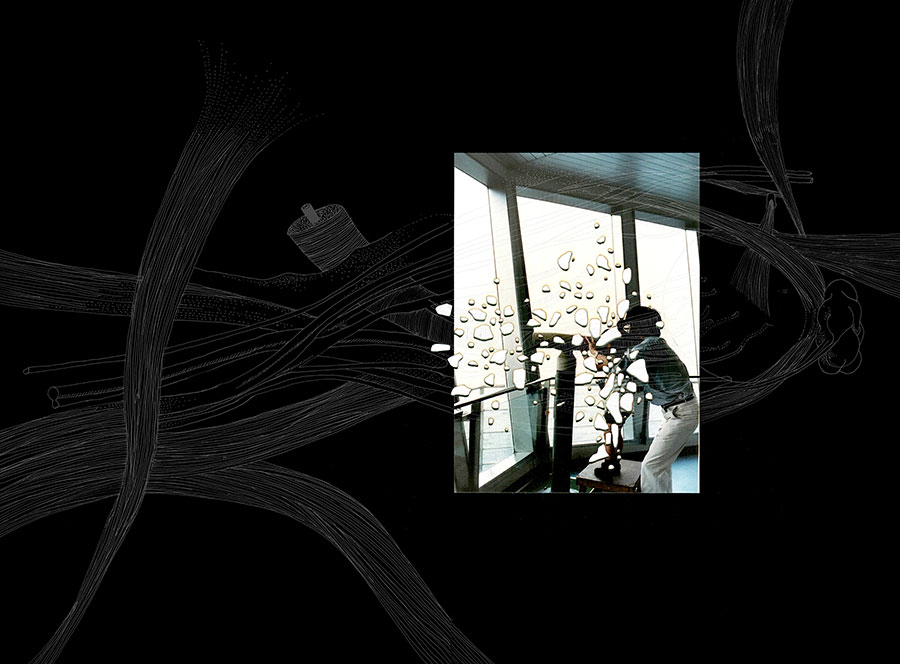 Women in Film & Photography 2021 Exhibition, Chapel Gallery
底翳 SOKOHI | MOE SUZUKI
There are moments when I feel as if the memories inherited in my family are gradually fading into the mist, disintegrated and covered by blind spots. This strange feeling comes when confronted with my father. He is gradually losing his sight due to glaucoma. His field of vision, which seems to drift in a hazy outline due to the narrowing of the field caused by glaucoma, sees an even darker and narrower world every morning when he wakes up. My father used to be surrounded by books, his journals and photographs he took, but now, those visual records of him and his family simply lie there, without being looked back at by their owner.
Although somewhere I know that invisibility is not as same as forgetting, when my father and I lose the communication through our common vision, it is as if we are gradually disappearing in those old photographs and texts he has kept. There is a wall between us; the wall my father builds around himself to protect him from the sympathy of people who can see what he cannot see and cannot see what he sees, and the wall I build being trapped in my father's past as a sighted person.
This project is an attempt to construct a world, which may lay in front of my father's gaze that never meets mine. Peeking through the wall between us, I keep looking for the way to connect to my father's world, one in which he is perceiving without relying on his vision.
About MOE SUZUKI
Moe Suzuki was born in Tokyo and studied photography at London College Communications, University of the Arts London. Upon returning to Tokyo after the Great Eastern Earthquake in 2011, Moe self taught book binding skills and started a career as a visual artist making numerous personal projects into hand bound art books. Her primary medium is photography, which is mixed with archival images and illustrations in order to tell narratives in books. Her works often focus on topics such as community life, people with disabilities or spirituality that may need visual triggers to provide different perspectives and deeper understanding. Her latest artist book Sokohi has received worldwide recognition. It was shortlisted for the MACK First Book Award and Fiebre Dummy Book Award, and won a special mention for the Kassel Dummy Award 2020 and Luma Rencontres Dummy Book Award 2021.
WOMEN IN FILM & PHOTOGRAPHY 2021 PROGRAMME  
:: Exhibition: 11 Nov to 19 Dec 2021
:: Opening: 11 Nov (12pm to 9pm) / Artists in attendance: 11 Nov (6pm to 9pm)
:: Exhibition Tours with Curators & Artists, registration required: 11 Nov (6pm) and 11 Dec (2pm)
:: Online Artist Talks, registration required:
– 16 Nov, Tue, 8pm to 930pm: A Stubborn Bloom, Uma Bista, Ennuh Tiu
– 23 Nov, Tue, 8pm to 930pm: Aakriti Chandervanshi, Hong Shu-ying, Natalie Khoo, Yen Duong
– 30 Nov, Tue, 8pm to 930pm: Divya Cowasji, Michelle Chan, Moe Suzuki
– 7 Dec, Tue, 8pm to 9pm: Amrita Chandradas, Aarthi Sankar and Ruby Jayaseelan
:: Film screenings, 4 Dec
– Remnants and Reflections 130pm to 310pm
– Open Call Programme 345pm to 510pm