Kaufu | Michelle Chan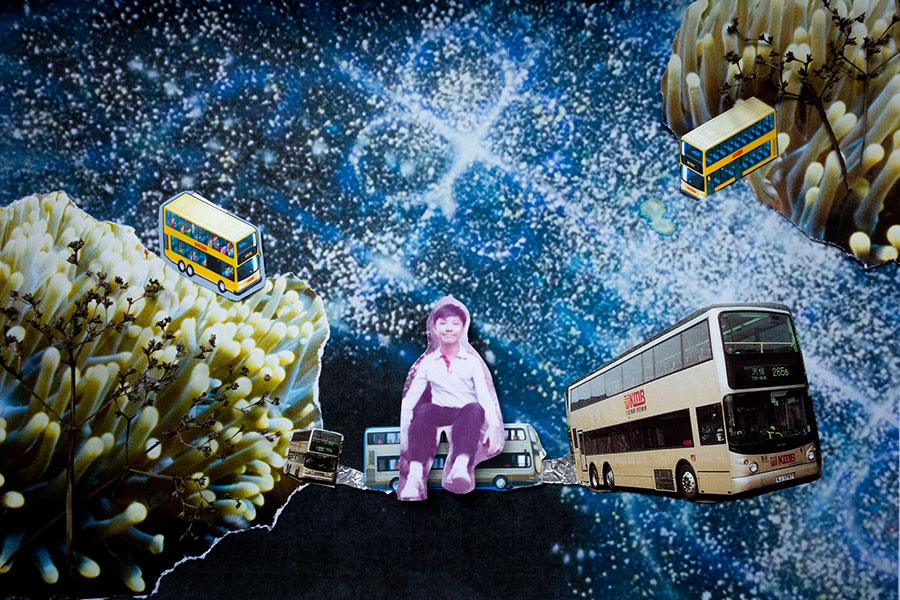 Women in Film & Photography 2021 Exhibition, Chapel Gallery
KAUFU 舅父 | MICHELLE CHAN
I was never close to Kaufu. My only memory of him was of buses.
Kaufu (my mother's brother) passed away in 2019, at age 50. At his flat, I discovered what he left behind – CDs, DVDs, cassette tapes, comic books and a very large collection of bus-related memorabilia. Miniature bus models, books, news-cuttings and photographs of buses filled every corner of his flat and occupied three more mini-storages. I began to obsess about his obsession.
Kaufu is a long-term project, a homage to the bus driver uncle I regret never getting to know, and a tribute to his obsession with buses. Part-One collage work is an internal exploration of the meaning of disappearance and loss, and as a form of care towards my uncle's death. Through physical touches and sensory connections with his belongings, I pieced together archival images and first-hand leftover materials of his bus magazines, his own photographs and objects in his collection to narrate an imagined story of his afterlife, in-between the end life and reincarnation.
Part-Two -which is what I am currently working on- studies the Hong Kong retired buses and routes before the 1997 handover and their relationship to Hong Kong urban and cultural development. Specifically, it uses the retired model Leyland Victory Mk2 on route 41 as a visual-practice-as-research method, to question the sense of disappearance and loss in the context of Hong Kong under British rule, and its relation to the history of Hong Kong territory and the pre-handover Hong Kong identity.
About MICHELLE CHAN
Michelle Chan is a visual storyteller and her main interests lie in exploring Chinese mythology, folk religion and philosophy through everyday objects and experiences, and narrating stories that play along the fine line between fact and fiction. Her approach to creating work rests upon being open to all forms of experimentations and pushing her limits to exceed any conformity of style. Her background in Computer Science and Behavioural Psychology have shaped her unique approach to artistic practice, using photography as research and community engagement. Her work has been exhibited in Arles, Beijing, Berlin, Budapest, Dublin, Hong Kong, Siem Reap, Taipei and Toronto. In 2019, her series Crab Seniors was shortlisted for The Alfred-Fried Photography Award and The Photogrvphy Grant, and awarded laureate for The International Women Photography Award. In 2020, her on-going bus project Kaufu was shortlisted and exhibited for the Singapore International Photography Festival.
At the same time, she founded Phoboko, a space for bringing people together to challenge traditional views of photography with discussions, talks, practical editing sessions and workshops.
WOMEN IN FILM & PHOTOGRAPHY 2021 PROGRAMME  
:: Exhibition: 11 Nov to 19 Dec 2021
:: Opening: 11 Nov (12pm to 9pm) / Artists in attendance: 11 Nov (6pm to 9pm)
:: Exhibition Tours with Curators & Artists, registration required: 11 Nov (6pm) and 11 Dec (2pm)
:: Online Artist Talks, registration required:
– 16 Nov, Tue, 8pm to 930pm: A Stubborn Bloom, Uma Bista, Ennuh Tiu
– 23 Nov, Tue, 8pm to 930pm: Aakriti Chandervanshi, Hong Shu-ying, Natalie Khoo, Yen Duong
– 30 Nov, Tue, 8pm to 930pm: Divya Cowasji, Michelle Chan, Moe Suzuki
– 7 Dec, Tue, 8pm to 9pm: Amrita Chandradas, Aarthi Sankar and Ruby Jayaseelan
:: Film screenings, 4 Dec
– Remnants and Reflections 130pm to 310pm
– Open Call Programme 345pm to 510pm