All That's Left, All in Red | Ennuh Tiu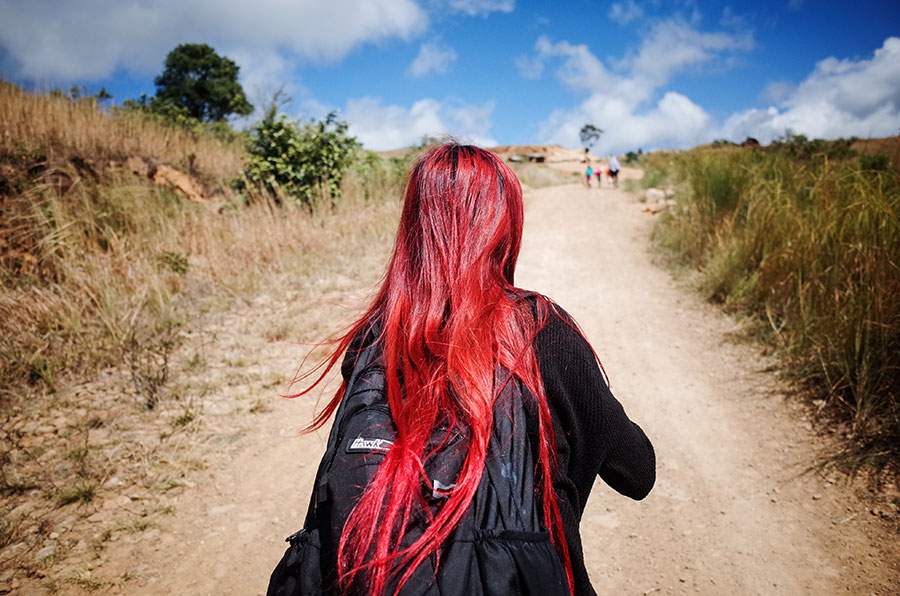 Women in Film & Photography 2021 Exhibition, Chapel Gallery
ALL THAT'S LEFT, ALL IN RED | ENNUH TIU
Growing up Filipino-Chinese, it's a family tradition to wear red during occasions, gatherings, and birthdays. At one point in my life, as a rebellious youth, this tradition started to annoy me a bit. There were times when I wore pink instead.
However, red still found a way into my life. I bought a pair red of shoes before going home, and finding out that my father had passed away. I've been conditioned all my life to associate the colour with joy, celebration, and good fortune, and here it is, now a symbol of death. I never wear the shoes anymore— they've become too tight on my feet, a tightness similar to the one on my chest on dark days when I'm not strong enough to keep its backstory from seeping back in.
After a failed relationship, I died my hair a brilliant shade of red—a representation of rebellion and change. At this point, I've lost all close connections tying me to my Chinese lineage. I don't understand nor speak the language and have no one close enough to make me understand it on a deeper, more personal level.
Recently I began to ask myself, "Why am I finding this colour so hard to let go?" I never realised until then how it has been ever-present in my life and my identity. How it has become a symbolism for a lot of things—things that have been inherently a part of me.
These photos provide a glimpse into very specific parts of my life as I try to regain my sense of self after significant losses. Embedded within it are themes of love, loss, and reckoning, among others, and is an ongoing attempt to confront feelings of disconnect and alienation with parts of my lineage, to unpack loss and life experiences, to hopefully understand who I am and how I feel.
About ENNUH TIU
Ennuh Tiu started using photography as a way to document the mundanities of everyday life. She first learned how to shoot, process, and print in analog during her days as a student at De La Salle University-Manila, where she received her Bachelor's Degree in Communication Arts.
It wasn't a couple of years after University where she became deeply passionate about photography and has since then been using the medium as a therapeutic way to understand herself deeply. Her works dabble on various themes of self-discovery, identity, and personal relationships.
Her recent works Ennui and In Between Things were showcased in the 16th edition of the Angkor Photo Festival & Workshops, in both the alumni curates and projection programmes. She also participated in A Shot of Impulse, under Proto/Para: Rethinking Curatorial Work, a group exhibition held in UP Vargas Museum, Philippines, held in early 2021.
WOMEN IN FILM & PHOTOGRAPHY 2021 PROGRAMME  
:: Exhibition: 11 Nov to 19 Dec 2021
:: Opening: 11 Nov (12pm to 9pm) / Artists in attendance: 11 Nov (6pm to 9pm)
:: Exhibition Tours with Curators & Artists, registration required: 11 Nov (6pm) and 11 Dec (2pm)
:: Online Artist Talks, rregistration required:
– 16 Nov, Tue, 8pm to 930pm: A Stubborn Bloom, Uma Bista, Ennuh Tiu
– 23 Nov, Tue, 8pm to 930pm: Aakriti Chandervanshi, Hong Shu-ying, Natalie Khoo, Yen Duong
– 30 Nov, Tue, 8pm to 930pm: Divya Cowasji, Michelle Chan, Moe Suzuki
– 7 Dec, Tue, 8pm to 9pm: Amrita Chandradas, Aarthi Sankar and Ruby Jayaseelan
:: Film screenings, 4 Dec
– Remnants and Reflections 130pm to 310pm
– Open Call Programme 345pm to 510pm