Home Economics with A Stubborn Bloom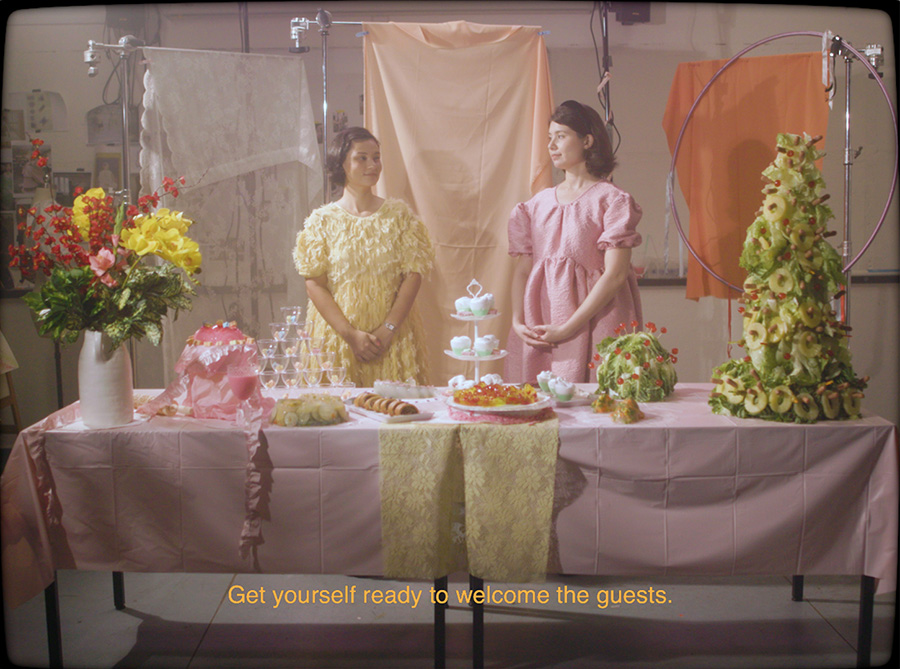 Women in Film & Photography 2021 Exhibition, Chapel Gallery
HOME ECONOMICS WITH A STUBBORN BLOOM
Home Economics with A Stubborn Bloom is a re-staging of instructional texts from Home Economics Textbooks used in Singapore in the 1970s. The film consists of three chapters that outline the correct manner for personal grooming, house-keeping and entertaining. Home Economics was a subject that was taught exclusively to young girls in Singapore until 1998. In Singapore, Home Economics syllabus was intertwined with government policies and reflected the changing role and expectations of women—first as homemakers, then as working mothers.
Recalling the uniformity and disciplined gender norms in school systems, the characters move in sync to a script which reminds young ladies how to sit, speak and behave. The docility of the characters and almost mechanised movements recall the structural way femininity is constructed through dress, social instruction and institutionalisation.
The second act shows close-ups and gestures associated with house-keeping and garment care. The shots are fragmented and aestheticizes domestic labour. The ritualistic aspects of table-setting, baking and sewing envelops the viewer through mesmerizing close-ups.
For the closing act, hostesses stand behind a beautifully laid spread, beckoning the viewer in choreographed unison. As further instructions are narrated, glimpses of food are seen up close, the beautifully moulded agar-agar reveals its grotesqueness. Covered in frills and embellishment, the charade of femininity belies sinister structures.
The film takes visual cues from various films that look into girl culture and the experience of womanhood through set design, costume and texture. Highlighting the extremes of feminine performativity through the use of a highly gendered text, the film invites us to reconsider the importance and aesthetic joy of domesticity at a time when most of the world continues to experience stages of pandemic lockdown in their homes.
About A STUBBORN BLOOM
A Stubborn Bloom is a multidisciplinary collective started by artist Stephanie Jane Burt and fashion researcher Daniela Monasterios-Tan. Sharing an interest in the exploration of feminine tropes, the duo brings a new perspective through a synthesis of film, fashion and material culture. In their first project, they translated their research through fictional interventions, creating an archive of femininity using sourced objects. Through multi-disciplinary research and art-making, they uncover how material culture can be understood not only as consumer products, but also as a product of ideology and a very personal vehicle of identity.
WOMEN IN FILM & PHOTOGRAPHY 2021 PROGRAMME  
:: Exhibition: 11 Nov to 19 Dec 2021
:: Opening: 11 Nov (12pm to 9pm) / Artists in attendance: 11 Nov (6pm to 9pm)
:: Exhibition Tours with Curators & Artists, registration required: 11 Nov (6pm) and 11 Dec (2pm)
:: Online Artist Talks, registration required:
– 16 Nov, Tue, 8pm to 930pm: A Stubborn Bloom, Uma Bista, Ennuh Tiu
– 23 Nov, Tue, 8pm to 930pm: Aakriti Chandervanshi, Hong Shu-ying, Natalie Khoo, Yen Duong
– 30 Nov, Tue, 8pm to 930pm: Divya Cowasji, Michelle Chan, Moe Suzuki
– 7 Dec, Tue, 8pm to 9pm: Amrita Chandradas, Aarthi Sankar and Ruby Jayaseelan
:: Film screenings, 4 Dec
– Remnants and Reflections 130pm to 310pm
– Open Call Programme 345pm to 510pm