Examining patterns of consumption
Objectifs presents Stories That Matter, a programme that looks at critical issues in our world through photography and film. This year, the programme features the theme 'Conspicuous Consumption' where ideas regarding patterns of consumption and their effects will be examined.
Objectifs is pleased to work with independent photographer Arati Kumar-Rao and the EverydayClimateChange Instagram initiative to highlight these issues, alongside a screening programme of lauded independent documentaries.
---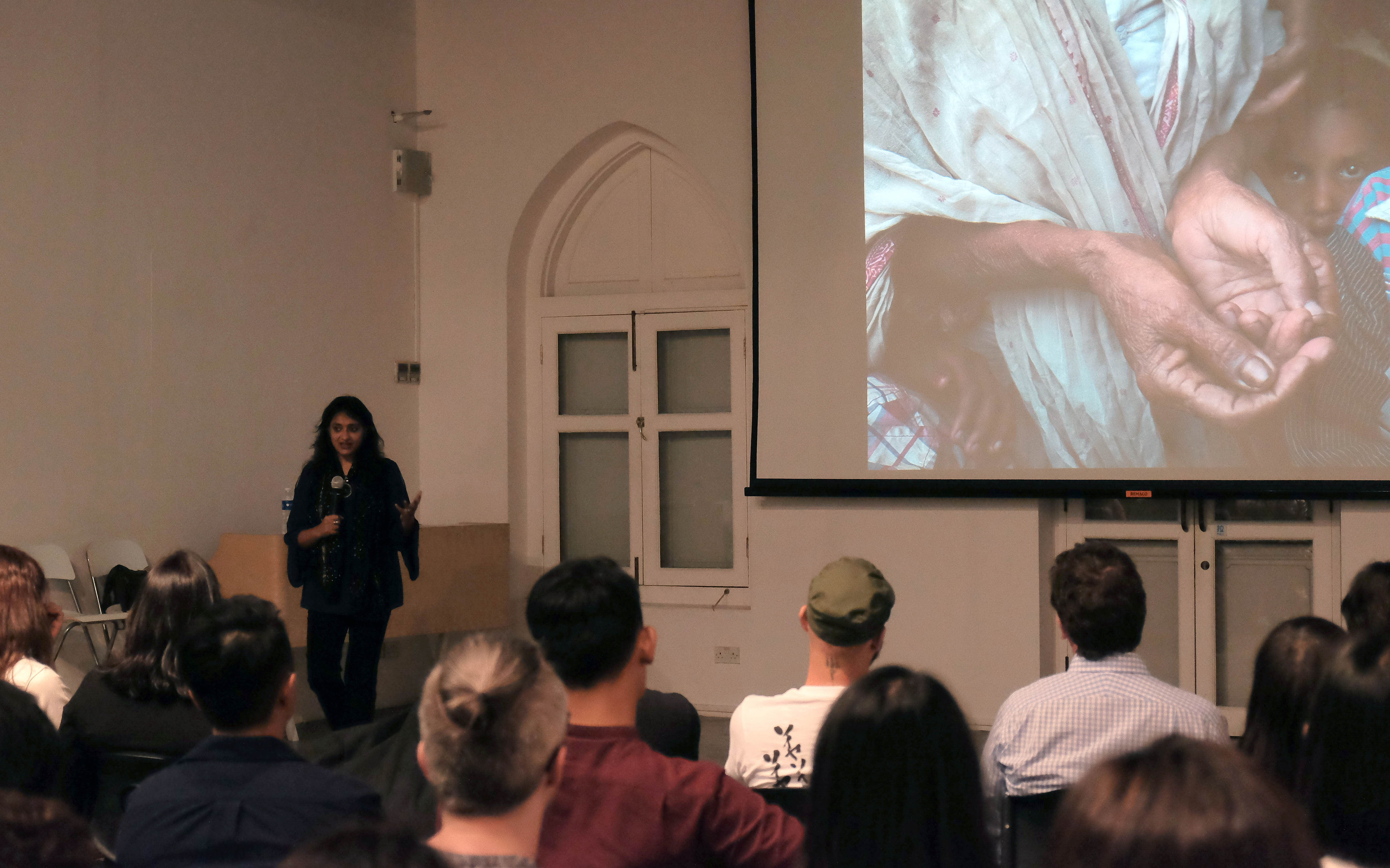 ---
TALKS

IN CONVERSATION: ARATI KUMAR-RAO
16 March, 730pm – 9pm | Chapel Gallery, Objectifs
Entry by donation
A talk by independent photographer and writer Arati Kumar-Rao, whose work documents the slow violence of ecological degradation and climate change on ecosystems and livelihoods along South Asia's rivers.
DOCUMENTARIES IN THE MODERN WORLD: CREATING COMPELLING CONTENT
25 March, 3pm – 4pm | Workshop Space, Objectifs
Entry by donation
What makes a good documentary tick? This talk will look at narrative, technical and formal practices that influence documentary making, with a focus on what works best, and why. With reference to the films screened as part of Stories That Matter, academic and film producer Nikki Draper will speak about the qualities that define a compelling documentary in our media saturated world.
---
SPECIALTY WORKSHOP
VISUAL STORYTELLING & SOCIAL ADVOCACY
Led by Arati Kumar-Rao
18 March, 9am – 5pm | Workshop Space, Objectifs
Workshop fee: S$280 / S$240* (*rate for past students of Objectifs)
---
SCREENINGS

22 TO 25 MARCH 2017
Chapel Gallery, Objectifs
Entry by donation, register at the links below

From food sustainability to the ethics of trophy hunting, these independent documentaries look at the ways in which our habits of consumption affect the world around us. Hailing from Myanmar to the USA, these films are powerful statements that seek to inform and inspire.
SCHEDULE
22 MARCH, WEDNESDAY / 7.30PM / REGISTER
Durian Picking by Kray Chen / Singapore / 17 min / 2016 / PG
Bugs by Andreas Johnsen / Denmark / 76 min / 2016 / PG13 
23 MARCH, THURSDAY / 7.30PM / REGISTER
Cameraperson by Kirsten Johnson / 103 min / 2016 / PG13
24 MARCH, FRIDAY / 7.30PM / REGISTER
Safari by Ulrich Seidl / 91 min / 2016 / PG13
25 MARCH, SATURDAY / 7.30PM / REGISTER
City of Jade by Midi Z / Taiwan, Myanmar / 98 min / 2016 / M18
Objectifs is a partner of 'Watch Local', an initiative under the Singapore Film Commission.
---
EXHIBITION
EVERYDAYCLIMATECHANGE SHOWCASE
16 March to 30 April 2017
Courtyard, Objectifs
Admission: Free

EverydayClimateChange is an Instagram feed where photographers from all over the world have posted images regarding climate change. As these photographers are diverse and have different cultures, the assortment of images gathered reflects these varying perspectives. The photographs chosen illustrate the causes and effects of everyday climate change, and possible solutions that different communities are undertaking. The Instagram feed was founded by James Whitlow Delano.
---

SCREENING PROGRAMME DETAILS

22 MARCH, WEDNESDAY / 7.30PM / REGISTER

In the wee hours of the morning, Kray Chen follows his durian obsessed father into the jungle, where they meet other equally passionate durian lovers looking for the fruit in the wild. This quirky short film captures the eccentric rituals of those willing to go the extra mile for their favorite fruit, providing a welcome alternative portrait of urban Singapore.

Will insects be the new superfood? For the past three years a team from Copenhagen-based Nordic Food Lab, made up of chefs and researchers Josh Evans, Ben Reade and Roberto Flore, has been travelling the world to learn what some of the two billion people who already eat insects have to say.
Throughout the team's experiences and conversations, some hard questions start to emerge. If industrially produced insects become the norm, will they be as delicious and as beneficial as the ones in diverse, resilient ecosystems and cuisines around the world? And who will actually benefit as insects are scaled up? Are insects a mirror that reflects our broken food systems, or the silver bullet that will fix them?

---


23 MARCH, THURSDAY / 7.30PM / REGISTER

Documentary cinematographer Kirsten Johnson reaches into the annals of a 25-year career, drawing together a series of vignettes from footage filmed all over the world. Through a collage of fragments ranging from the routine of a Nigerian midwife to a boxing match in Brooklyn, New York, Johnson creates an entirely personal narrative derived from her camera's subjects, bringing to the fore questions about what it means to film another person, and the tension between reality and perception.
What emerges is a thoughtful mediation on the impact of images and imagemaking. In a media saturated world, Camerperson is a gentle but powerful reminder that what we see onscreen should and must be questioned, that what is not shown is often as important as what is.

---


24 MARCH, FRIDAY / 7.30PM / REGISTER

Austrian director Ulrich Seidl turns his camera onto the grisly sport of trophy hunting. In doing so, he gives unprecedented access into this unusual past time, often enjoyed by wealthy European tourists in Africa.
In capturing the rapture of German and Austrian tourists as they anticipate, stalk, and kill their prey in the wide open spaces of Africa, Safari offers a glimpse into the psyche and rituals of people who hunt these prize animals for sport, and by extension, presents the darker side of human nature.

---


25 MARCH, SATURDAY / 7.30PM / REGISTER

In a bid to understand his estranged brother, Midi Z accompanies him on his return to the jade mines where his brother sought his fortune 16 years ago. Part autobiography, part documentary,
City of Jade
delves into the lucrative jade mining industry in Myanmar, where the poor dream of striking rich overnight amid perilous and daunting circumstances.
Guided by the interaction between the brothers, the film reveals the grueling conditions under which the miners work, pounding the ground with the most basic of equipment and fearing frequent raids by the military. In its depiction of a side of Myanmar that is far removed from the optimism of its recent pro-democracy reforms, City of Jade is a story of the perennial struggle for survival in the country's darkest corners.