By Koo Chia Meng and Boo Junfeng for Objectifs Short Film Forum 2023
Familiar names in the international film industry candidly shared their perspectives in the Short Film Forum, a weekend of online talks organised as part of Objectifs Short Film Incubator 2023. In this session moderated by Leong Puiyee from Objectifs, Koo Chia Meng and Boo Junfeng delved into their work experiences as a casting director and filmmaker respectively. Read on for a recap.
---
Puiyee: Chia Meng, how is your casting process like? And Junfeng, as a director, how do you collaborate with a casting director?
Chia Meng: I discovered casting 10 or 11 years ago. My first foray into casting was Anthony Chen's short film The Reunion Dinner. I had no idea what casting required. I had to search on Google. Then I realised that what Google told me didn't work for Anthony's film. It may work for commercials or some other projects, but not for a film where a lot changes and leverages on the potential of actors. Through working with Anthony on his short film, I discovered a process that I could adapt as I took on other projects like Apprentice (dir. Boo Junfeng) and Ilo Ilo (dir. Anthony Chen).
Junfeng: When I first started making short films, having a casting director would have been a major luxury. For my independent short films in the past, most of the casting was done by myself or with a producer. Trying to engage professional actors was also difficult, so we often looked for non-actors with particular qualities.
I was able to work with more professional actors as my filmmaking career evolved. When one or two more veteran actors came on board, I was able to learn from them what directing professional actors was like.
What I also very quickly learnt was that in Singapore, the training for actors at that time was mainly either for theatre or TV, and that might not be suitable for the big screen. Because I was trying to figure out the language of performance for film, I needed to work with actors who were willing to workshop with me.
I worked with Zhao Wei Films for my first feature film Sandcastle. A lot of the casting was also done with an in-house junior producer. A lot of 'talent agencies' came onboard. And for a small independent film, what they offered and the fees they asked for didn't make sense.
It was after I saw Ilo Ilo that I heard about the rigorous casting process that Anthony and Chia Meng went through. With more resources for my second feature film Apprentice, I got in touch with Chia Meng. We wanted to work with mostly professional actors for Apprentice. That was different from Sandcastle, where I worked with a mix of professional and non-professionals.
The biggest challenge we had with Apprentice was trying to find two actors, based either in Singapore or Malaysia, who had good chemistry between them. Chia Meng and I first casted in Singapore, and after that, we went to Kuala Lumpur. We did a few rounds of auditions and we still couldn't find the right person to play the older character Rahim. That was when we walked into a DVD shop and picked up all the Malaysian films we could find with an older male actor. We went back to our hotel room and watched those films. It was in Bunohan (dir. Dain Iskandar Said) that I saw Wan Hanafi Su, and through our networks, we found him in Malaysia.
Chia Meng: I don't remember how we got in touch with Wan Hanafi Su. But I remember us booking a Chinese restaurant to give him an audition, because for some reason, booking a restaurant was cheaper than booking a studio!
Whenever I think about Apprentice, I think about one very interesting thing that Junfeng did. He told me that the lead actors for his film could be Chinese or Malay. The roles were not race-defined.
Junfeng: I had written the script with Aiman's character being Malay, and Rahim's character being Chinese initially. But we thought that the talent pool with a particular charisma and chemistry between them was limited, so ethnicity didn't matter.
When we shortlisted a couple of actors for Rahim, we also shortlisted a couple of younger actors for Aiman. Wan Hanafi is a little unpredictable, which worked very well for Rahim as a character. Because we saw in Wan Hanafi a particular quality that we didn't see in other actors, we went with him. When it was time to choose the younger actor, Wan Hanafi had input regarding who he had a stronger connection with. He had a part to play in us picking Firdaus Rahman for the character of Aiman.
The thing about colourblind casting was that the language of the film also shifted. When we decided that both characters would be Malay, the language that they would use to speak to each other would also be Malay. We had to find a Malay person to play Aiman's sister too. That was when we realised that I needed a translator to work with me. Basically, the language of the film shifted after casting.
Puiyee: Did you have to adapt your script as well?
Junfeng: The essence of it remained the same. Part and parcel of being an indie filmmaker in this part of the world, where our industries are not quite developed to have a substantial talent pool, is that you learn to adapt.
By knowing how to adapt, you are able to bring to life the characters in the films more authentically. You see what qualities some actors come with and work with that. In the case of Apprentice, we were willing to go as far as changing the language of the film.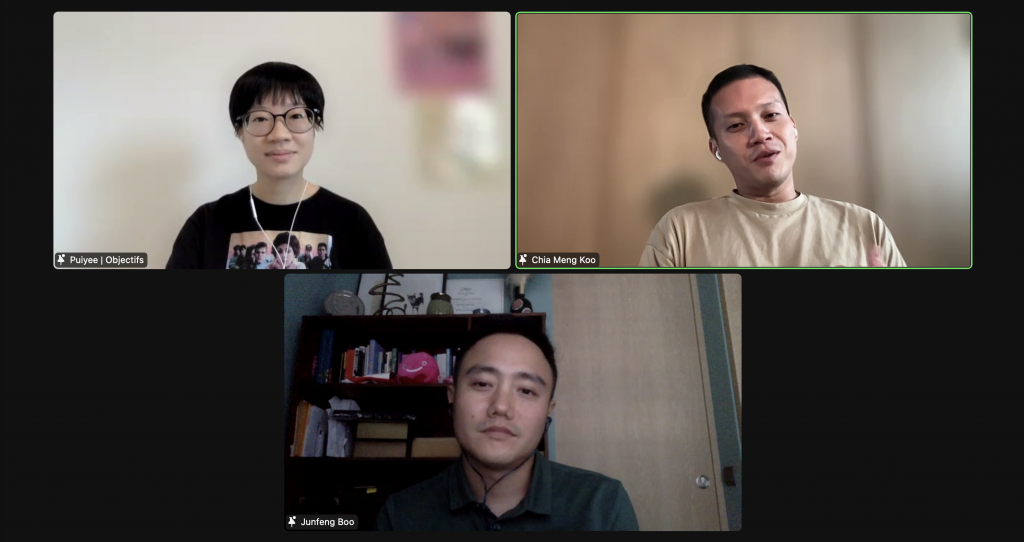 Puiyee: When we previously had a discussion for this talk, you both mentioned that there are different categories of people when it comes to casting: actors, non-actors, and those who think they can act. Can you elaborate more?
Junfeng: When I went to film school, there was an assumption that the actors you would work with would have received training. But when you don't have trained actors available – at least not for the big screen – the kind of performances that you get would often seem 'showy'.
Of course, there is a place for this kind of performance. But for the films that I want to make, I don't think they are the right fit. That's why I often need to learn to workshop with people.
One person I learnt from was theatre director Ivan Heng. I was allowed to sit in with him in some of his shows. I saw how theatre actors were conditioned for the stage. I picked up a few tricks on how to speak the language of theatre actors but calibrate it for the screen.
Another person I learnt from was filmmaker Hou Hsiao Hsien, when I went to the Asian Film Academy at Busan International Film Festival. What I learnt was an observational style of filmmaking, and how to mix non-actors with professional actors to develop a certain performance tone.
In Sandcastle, the lead actor is played by a young non-actor Joshua Tan. I had him work with some older and more trained actors. In the beginning, he took their lead because they were more experienced. But when he started to live in his character, he started to take the lead. That was magical.
Some of the older actors were conditioned in a certain way; they did projects where they were required to do certain things or give certain facial expressions. For what I was trying to achieve in Sandcastle, that didn't work. In the end, for some of these actors, I was trying to disarm them all the time. I would be rolling the camera when they thought it was a rehearsal, for example.
Puiyee: Chia Meng, how is the process like when you run workshops, be it for non-actors or trained actors?
Chia Meng: For me, casting is a creative process. It's world-building.
In the workshops that I do, I try my best to be sensitive to what directors are looking for. For Wet Season (dir. Anthony Chen), I was stuck with a bunch of boys for a long time. Contrary to common belief, most of them needed a lot of time to be conditioned to behave like there was no camera. We had to help them know that they were to deliver performances that were not very different from being themselves. And how to do that again and again without killing the authenticity.
Recently, I had the privilege of working with a veteran TV actress, Hong Huifang, for the show Ajoomma. After the first two workshops, something happened. Huifang suddenly understood that what she had done all these years in television wasn't able to help her embody the character of Ajoomma (dir. He Shuming). She started investing a lot of time and heart into the process. She learnt line dancing, and she started interacting with all the aunties she could meet. Very quickly, she saw the habits she had been carrying as a performer and let them go.
Back to your question, it is really about: What does a director need? What does the script need? I then tailor my approach to what is needed in a workshop space.
Audience member: When does the job of a casting director come to a stop?
Chia Meng: When I join a project as a casting director, my involvement is extensive during the pre-production phase. It involves scouting. In the weeks leading up to a shoot, the casting team will be looking for every single human needed for the screen. As a casting director, my job pretty much ends when shoot begins.
Audience member: Do you recommend directors going for acting workshops?
Junfeng: I don't think one needs to be a good actor to be a good director. There's a lot more to good cinema than good acting.
Being perceptive is key to being able to direct actors. Be perceptive and observant in your everyday life, so that when an actor presents a particular interpretation of a moment or character, you are able to incisively tell them, "I think you are thinking like this… How about you try that?"
This empathy is what makes a good director to me.
Audience member: How important is it to cast actors who are aligned with the moral, political, or social stance of a narrative?
Junfeng: The films I have made offer a slightly more progressive stance on issues that I care for, and may not align with the views of actors I had cast. From my experience, some actors with differing views can have a change of mind and heart as they enter the world of their characters. Even if they don't completely change their view, they will at least gain a more nuanced understanding of the subject matter.
I should add however, that this depends on your appetite for dealing with people who don't agree with you. Say, how much would you agree with someone who is outright racist, homophobic, or transphobic? How willing are you to deal with them? These are issues outside the creative process, but they can create conflicts in your relationship with an actor.
Audience member: As inexperienced directors or casting managers, where can we find a good training ground? Besides pouring our own money into our passion projects?
Chia Meng: Why not see if you are able to network? With events like those organised by Objectifs, maybe you can find a way to be involved in what other people are making.
Junfeng: When I was starting out, I asked if I could be in Ivan Heng's rehearsals. I offered to do a behind-the-scenes video for them. I was able to observe how different actors responded to directions. That was how I learnt.
I imagine that now, when Chia Meng and I are casting for a project, whoever is in the room with us is also in a good place to be observing and learning. Just putting yourself out there and being a part of other people's projects would be a good way of starting.
---
Recap by Ng Hui Hsien, Aug 2023.