By Quark Henares for Objectifs Short Film Forum 2023
Familiar names in the international film industry candidly shared their perspectives in the Short Film Forum, a weekend of online talks organised as part of Objectifs Short Film Incubator 2023. In the first session, Quark Henares, the award-wining director behind feature films Rakenrol and Keka, spoke about the opportunities and uncertainties that come with a filmmaking career. Read on for a recap.
---
Quark kicked off his talk with optimism: the box-office earnings of 2023 look set to surpass that of 2022. However, while more audiences are returning to cinemas, he observed how several of the highest-grossing films are adaptations, and how independent films – especially contemporary shorts – are scarce in the streaming video landscape. Acknowledging the challenges that filmmakers face today, he quoted a line from producer Erin Mallory Long: "If you like crippling self-doubt, a career in the arts is right for you!"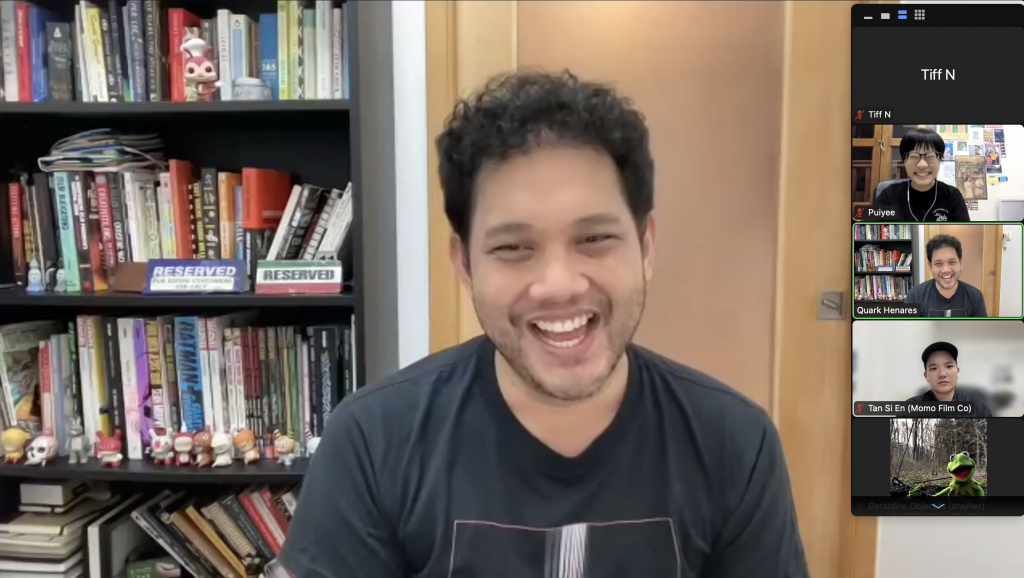 On that light-hearted note, Quark laid out 13 tenets for filmmakers to keep in mind as they navigate their careers.
1. The first impulse is always one of love
Like many, including the often-maligned film critics, it is love for cinema that draws them to the industry, and that is something to keep close to heart when the going gets tough. For Quark, his eureka moment was watching the wild and funny film, Pulp Fiction by Quentin Tarantino. As he said, "The film made me feel so many things. But what struck me was this love of making oozing through the screen. That was when I decided to become a filmmaker."
2. Go down that rabbit hole
Discussing how viewing formats had changed over the years, the affable director urged audiences in the online talk to actively search streaming platforms and seek out films they want to watch.
3. Take every chance you get
Recalling how he would seize every opportunity to make films, even for his history and science presentations in school, Quark encouraged filmmakers to keep honing their skills and make work, even if it ends up being something no one watches.
4. Be a filmmaker
Citing a list of notable films made with cell phones, including Unsane and High Flying Birds by Steven Soderbergh, Quark advised audiences to simply start on their film projects even if they do not own expensive cameras. As he quipped, "Don't be a budding filmmaker. Be a filmmaker. Because right now, you have no excuse."
5. Taste is faster than skill
Many are often disappointed by their first forays into art-making, whether that be a film, a painting, or a piece of music. Echoing Ira Glass (American radio personality), Quark emphasised how this could be attributed to a gap between taste and skill. After all, as he explained, we have been exposed to cultural products, honing our aesthetic sensibility since young, but we only begun developing our ability in art-making at a later stage. Patience is key.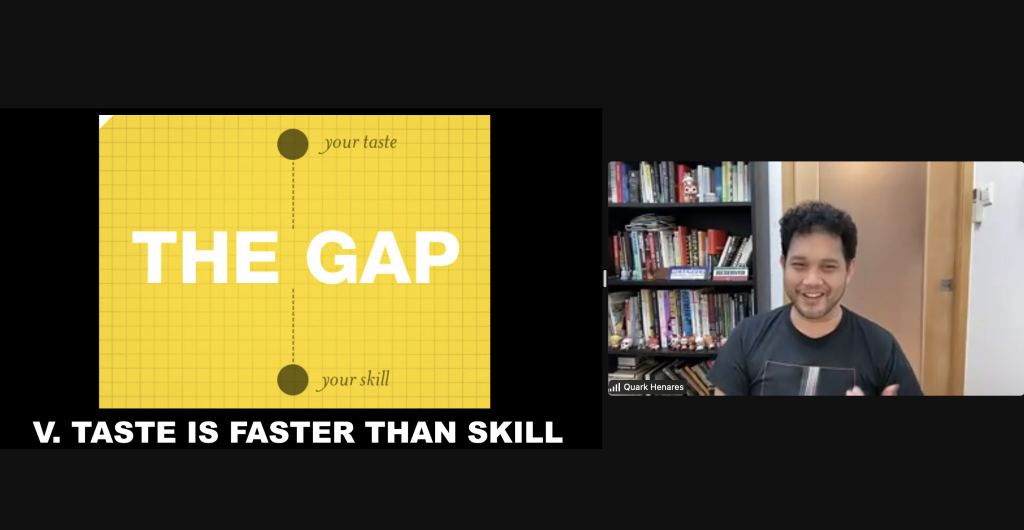 6. The path is usually not a straight one
The journey to become a filmmaker is likely a winding one. Quark himself was a band manager in college, and it was through making music videos that he was led to filmmaking.
7. Do what you got to do
Entering the film industry is not easy, and that may sometimes mean taking up a less-than-ideal project. Quark's first movie Gamitan is – according to him – "a sexy film" mostly made with just profit in mind, but it gave him a foot in the door. As he quipped, "Do what you got to do, but which you can also live with."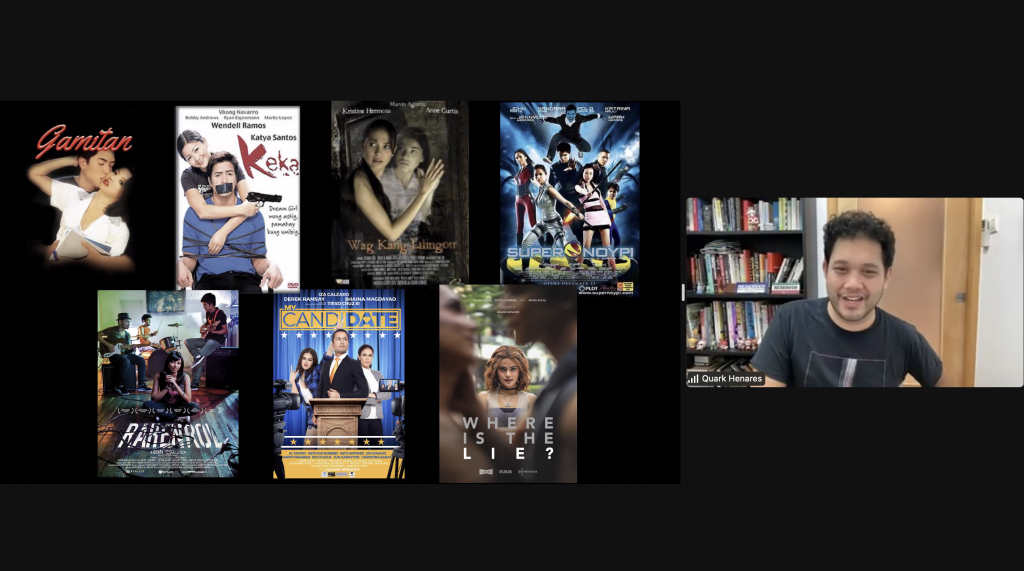 8. Strike whilst the iron is hot
Make a move when the timing is right. The success of Gamitan gave the director the chance to make Keka, which he did. Keka eventually caught the attention of Quentin Tarantino, and as Quark recalled of their conversation, "It was a very out-of-body experience."
9. Accept your mistakes with grace
Making mistakes is part of a filmmaker's journey, and it is crucial to learn from them. For Quark, working on the superhero tentpole Super Noypi was harrowing; he felt that he had lost his sense of self as there were "too many cooks in the kitchen." It was then that he decided to focus on making independent films.
10. Make sure it's personal
Tell stories from your heart. Rakenrol – Quark's film about growing up in the rock scene – was almost autobiographical, and it ended up closing the 7th Cinemalaya Philippine Independent Film Festival. As the director said, "That was one of the happiest times of my life."
11. Don't let the bastards grind you down
Obstacles are common, but it is important not to get worn down. Recalling his past experiences of studying in a business school, Quark advised, "Sometimes things get tough. You don't get projects, you have to do a job that you don't like. But don't let that ruin your soul."
12. Do what's in your sleep
For a period of time, Quark worked in Hollywood – but as an office worker. It was after a conversation with a peer in the industry that prompted him to return to Manila and pursue filmmaking again. He quipped, "Do what's in your sleep. What drives you? What is the one thing that you can't stop thinking about?"
13. Art lang nang art
"Art lang nang art" – a popular saying among art circles in Philippines – translates to "Just keep making art." It is a maxim that means so much to the jovial director that he has it on the wall of his apartment. As Quark explained, "Whether you are performing to five people in a club or a stadium of 60,000 people, whether you are showing in someone's small apartment or at the Palais des Festivals in Cannes, it doesn't matter. What matters is that you keep on making."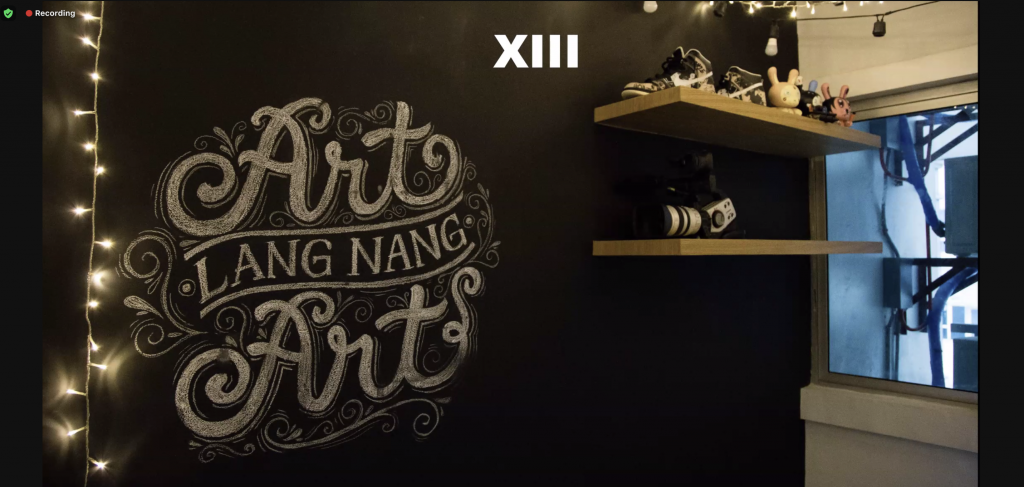 ---
Recap by Ng Hui Hsien, Aug 2023.