Personally Speaking: Gwee Li Sui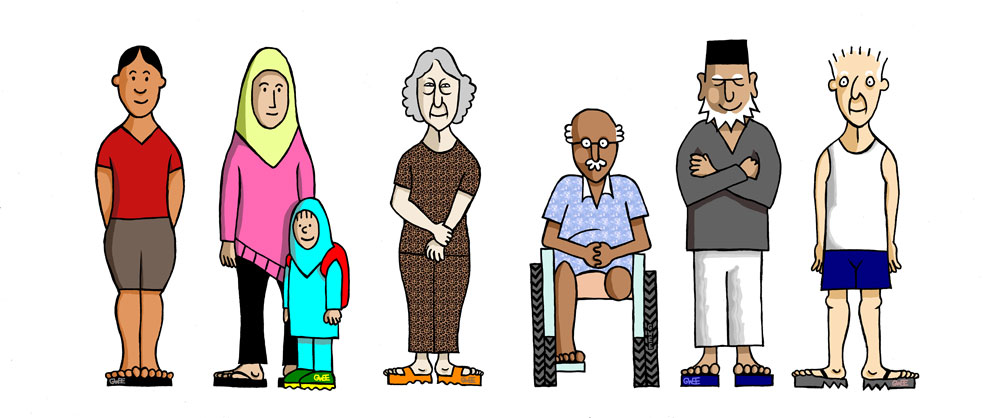 Old Heroes Solve Mystery
By Gwee Li Sui
Old Heroes Solve Mystery is a mystery adventure comic involving three old men who live in the same neighbourhood. They are all care-receivers. The story follows their investigation into recent strange happenings around their area, during which we get a glimpse into their more mundane hours with their caregivers.
My project is modest in scope. I wish simply to depict the process of aging and the routine of caring for another as normal. In passing, I also wish to point to the innate life of the elderly. The comic's vibrancy is meant to challenge and counteract the stigma often attached to giving and receiving care in aging Singapore.
What I hope to affirm is a working, ordinary network of day-to-day support for the old. The story's three friends illustrate three main kinds of elderly dependency at home: on a helper, on a spouse, and on a child. I have relied on direct experiences, private conversations, and casebooks to create this short work.
Download a free PDF of Old Heroes here!
DOWNLOAD
Artist Bio
Gwee Li Sui is a poet, a graphic artist, and a literary critic. He wrote Singapore's first long-form graphic novel in English, Myth of the Stone, in 1993 and has six volumes of poetry to date. He is also the author of the bestselling Spiaking Singlish: A Companion to How Singaporeans Communicate. A familiar name in Singapore's cultural scene, Gwee has edited several acclaimed literary anthologies and written and lectured on a range of subjects.
Acknowledgements
Special thanks to my family and relatives, friends Kumar, Ghawry, and Soo Lian, Dr Jacqueline Chin, NUS Centre for Biomedical Ethics, Jubilee Church, and Pekik Jalan Kukoh for varying forms of assistance.
Find out more: The Bioethics Casebook: Caring for Older People in an Aging Society, and Making Difficult Decisions with Patients and Families