Asian women filmmakers on Inheritance
Objectifs' sixth Women in Film & Photography showcase included two short film programmes which screened at The Projector on 4 Dec 2021. Open Call Short Films, curated by Leong Puiyee, presented five short films selected from an Open Call, by filmmakers from Southeast Asia, South Asia and East Asia, responding to the theme of Inheritance.
Read on for a recap of a discussion held with the filmmakers via a live Q&A session after the screening, and also over email. 
---
Belle Phromchanya –Though the mountains divide, and the oceans are wide
Belle Phromchanya is an artist and filmmaker based in the Netherlands. Her short film is inspired by its subject, the late Thai artist Chavalit Soemprungsuk. He was considered a pioneer of abstract art in Thailand, and had lived and worked in Amsterdam for almost 60 years.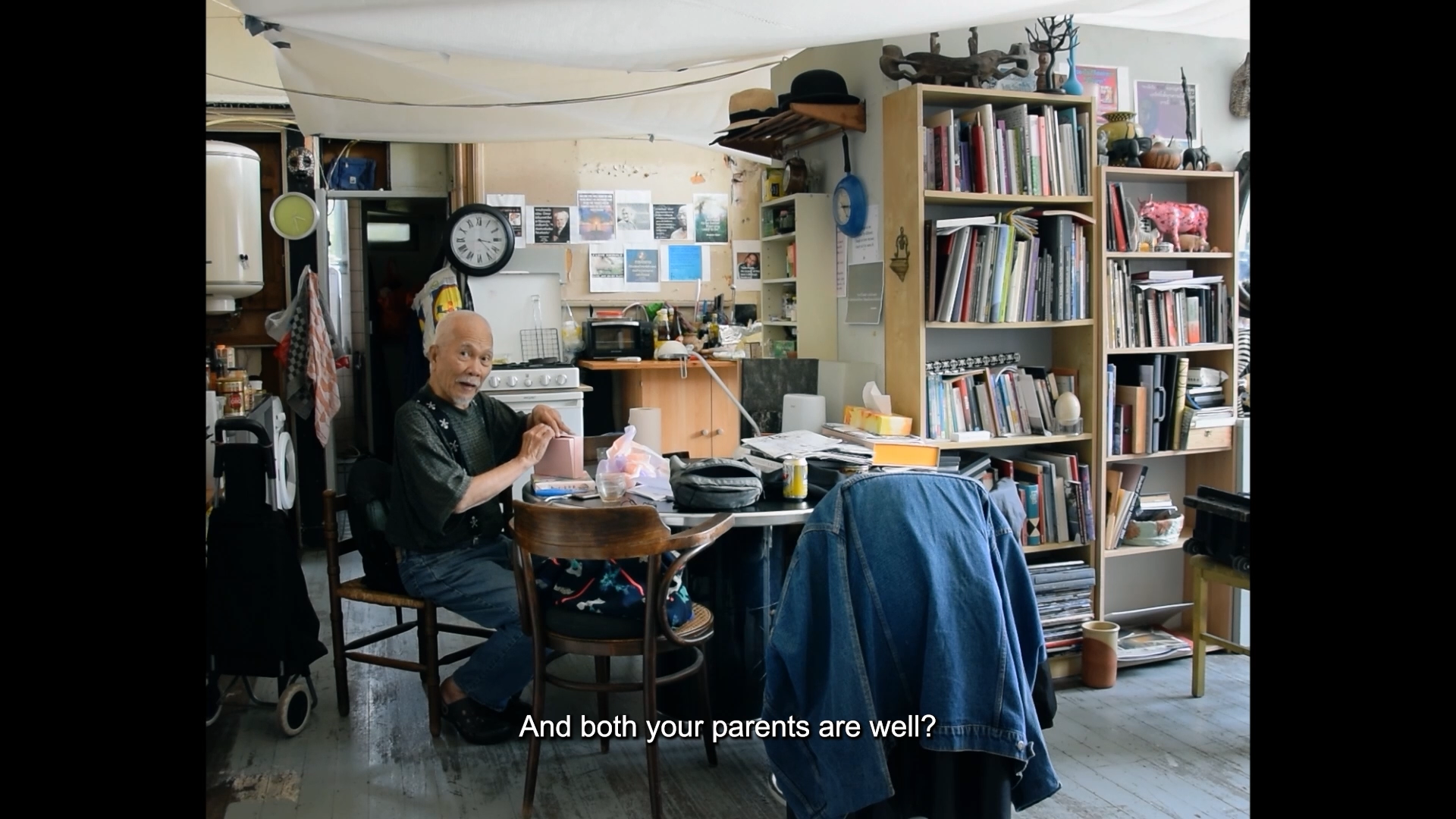 Belle shared: "I had heard about his legacy before I moved to Amsterdam to attend art school there. We met in 2015 and I gradually accompanied him to visit museums across the country. I was one of the very few guests he welcomed into his life at that moment. It felt like a privilege. At the same time, I felt a strange tension to 'keepsake' the encounter."
"At the age of 70, he stopped producing physical artworks entirely and turned to digital media, and used social media to display his works, as part of his preparation for death. I started documenting his life and his process of working, initially as design research material. The recordings were transformed into my very first short film Whether it Is Art or Not (2016)."
"Since then I have been developing several projects around Chavalit's life and work, and continued to document our conversation up till 2020 when he passed away from Covid-19. The conversations that appear in Though the Mountains Divide… are some of our last recordings together."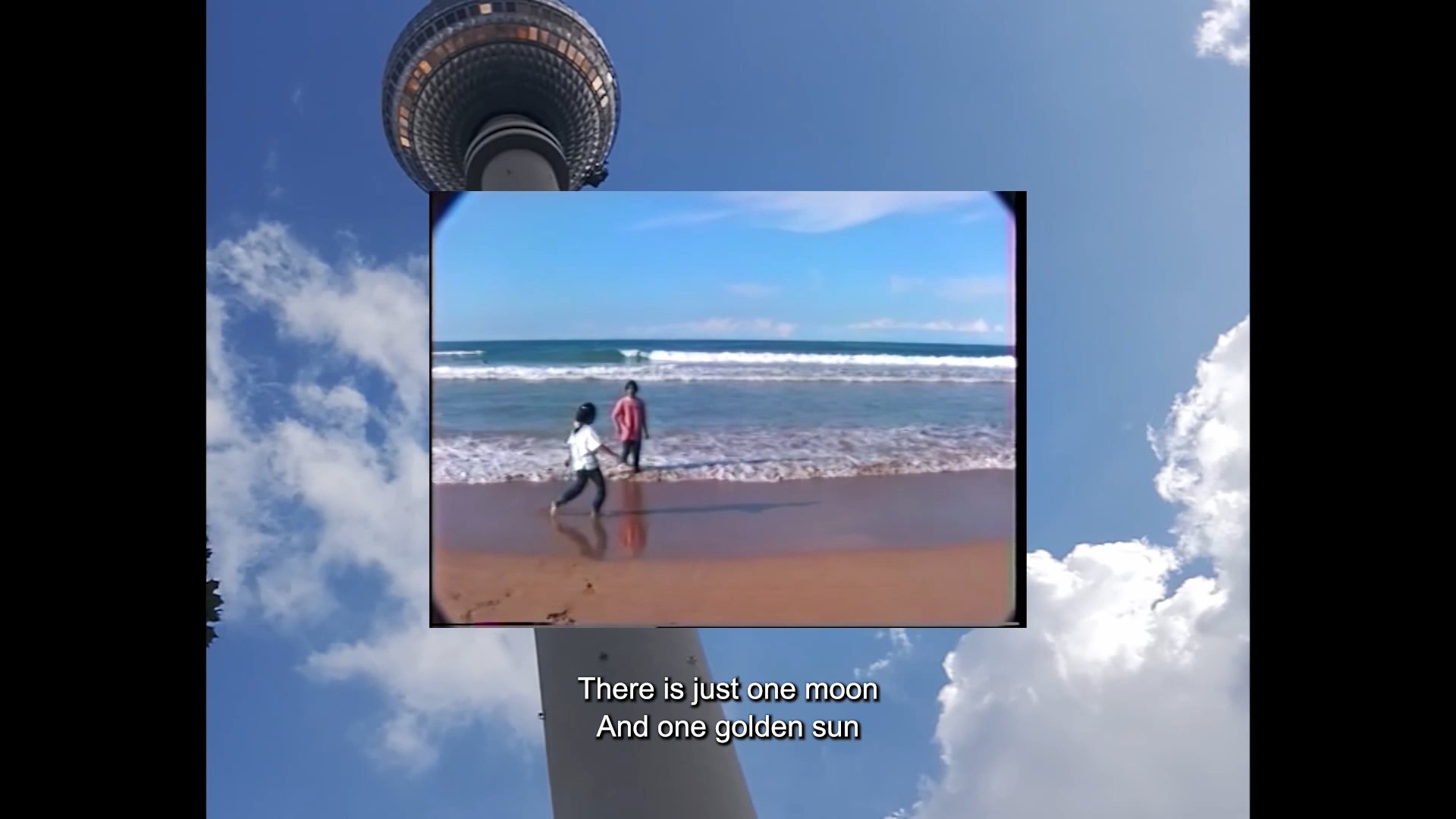 "Though the Mountains Divide… combines documentation of Chavalit with home video footage by Belle's father of their family trips in the 1990s. Belle shared: "It was strange looking at an older version of myself and my family through my father's eyes. It was quite annoying to be filmed all the time during our trips. He would be walking behind, hiding, and sometimes went off the path to look at the scenery — and we always had to wait."
"Once I became the one behind the camera myself, I understood what it means to gaze and [make a] keepsake of a moment of someone else's life: what it means and the joy it brings to linger, wait and see what they're about to say or do in front of the lens."
Belle contrasted her observations of "a person [Chavalit] preparing for the end of life with [her] younger self in the home videos with hope and dreams ahead of [her]". "In that sense, the home videos and my father's gaze became complex. It was an emotional and beautiful experience."
Yuh Rohana Meliala – The Scent of Rat Caracasses
Yuh Rohana Meliala is from Indonesia and is the producer of The Scent of Rat Carcasses. Curator Leong Puiyee observed that there is a sense of repression felt in this film whose protagonist Nina deals with her father's death, and questioned if the filmmakers wanted to portray the struggles of navigating such a loss in a patriarchal system.
Yuh shared: "In Javanese tradition, men are considered protectors, leaders and guides, while women are followers who must obey men — husband or father. Sometimes this belief creates unequal relationships within the family, and allows violence to appear in its most subtle form."
"In the film, mother and daughter have the choice to be free and determine their own lives after the father's death, but both have their own obstacles. When someone is used to being dependent on a person, it's not easy for them to [pursue] their own will, even when that person is already dead."
Yuh feels that with social media, discussions on gender equality are becoming accessible to everyone in Indonesia. "Gender education is no longer rigid; it's no longer only accessible in books and classrooms. Dynamic discussions have changed the public's perceptions of gender roles" and there is a push towards equality. "Although it's important and urgent to protect people, especially women, reality isn't so easy. The Indonesian people lend their support to the ratification of the Elimination of Sexual Violence Bill, but the government is still delaying it, and civil society organisations are still trying to urge them on."
Van Tran Nguyen – Erie County Smile
Van Tran Nguyen is a Vietnamese-American filmmaker based in the US. Her short film Erie County Smile — which she shot entirely in her kitchen, using a green screen, during a Covid-19 lockdown — is a parody of Paris By Night, a Vietnamese-American variety show she grew up watching. 
Van elaborated: "Paris By Night was created especially for the Vietnamese diaspora community, filling a lack (or void) in cultural entertainment catered to folks who have left their home country. We would watch it with our families and because it is entirely in Vietnamese, our parents considered it a great form of immersion in our mother tongue."
"I'm deeply inspired by nostalgia, and how our memories are framed by things that are and were inherently problematic that we didn't understand until we were much older. This is my love letter to the media that I grew up watching and a way for me to interrogate many of the messages I was surrounded by that I didn't fully have a grasp of. In the American context, stories  about immigration are wrapped up in sorrow. I wanted to make something comedic and sarcastic about my really complicated identity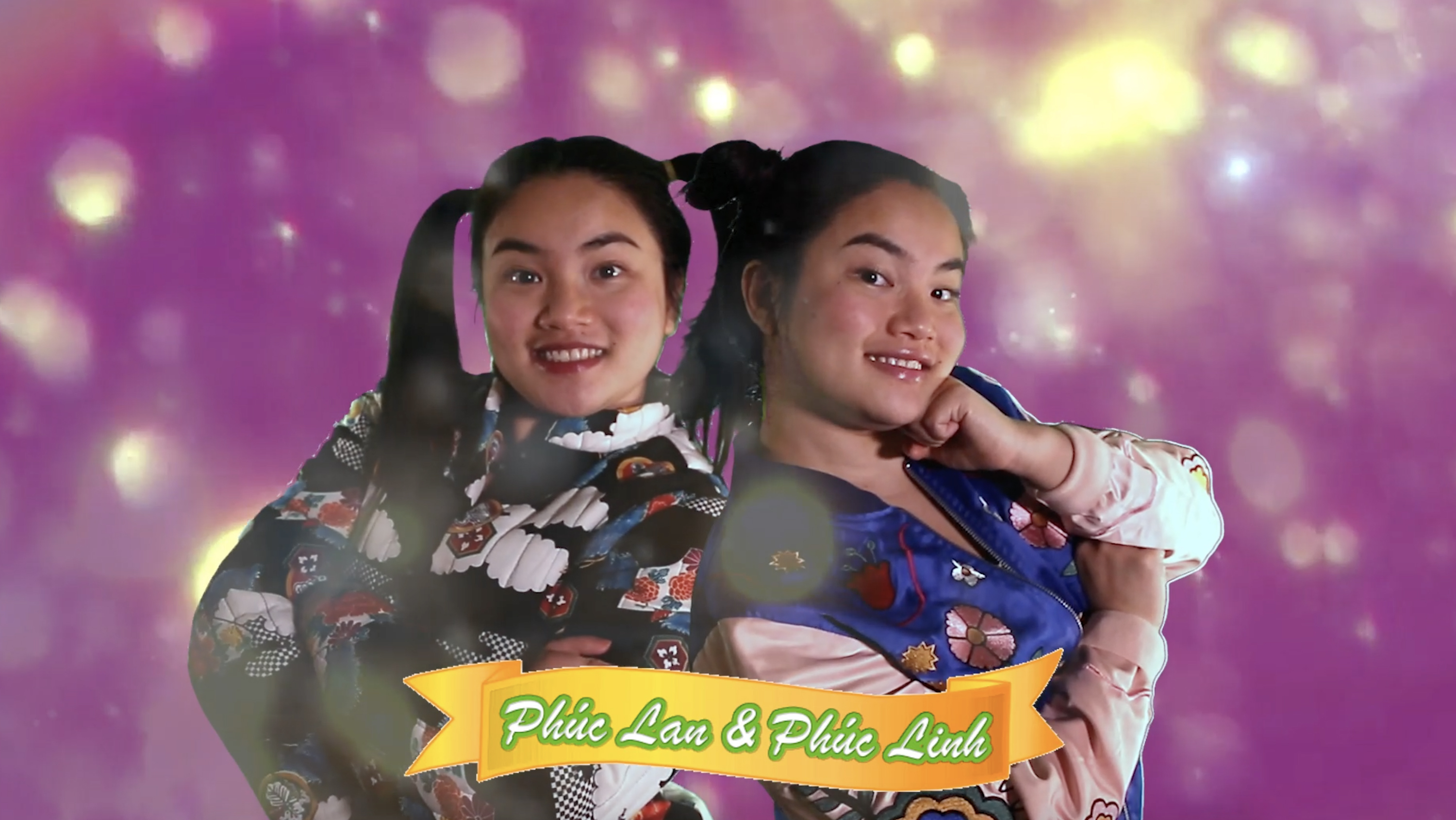 ."
"Paris By Night politically aligns with people that identify as living in exile, which was interesting to tap into while digging deep into the archives and researching the source material." Elaborating on the song presented in the karaoke segment of her film, Van shared: "It played on the game show elements in Paris By Night. The main character emerges from the audience, takes the stage and sings a song — an original score I co-wrote with Alex Derwick — about nationalism and masculinity."
"This scene is also influenced by the men I grew up with, who sang deeply emotional songs about the homeland, nostalgia, and masculinity. I wanted to present an ode to these characters and also touch on the later iterations of Paris By Night, which tried harder to push consumerism and sponsorships to their audience."
Celina Penaflorida – Ladies' Choice
Celina Penaflorida is a filmmaker and graphic designer from the Philippines. Ladies' Choice "questions the path that society has ingrained in women of getting married and having kids, and why sometimes it's hard to choose a different path than what your family tells you." The film is "about three women who view motherhood very differently. The main character chose to end her relationship as she didn't want a family. Her mother went through motherhood a bit reluctantly. And her young, pregnant cousin, though she is alone and vulnerable, is choosing this life for herself."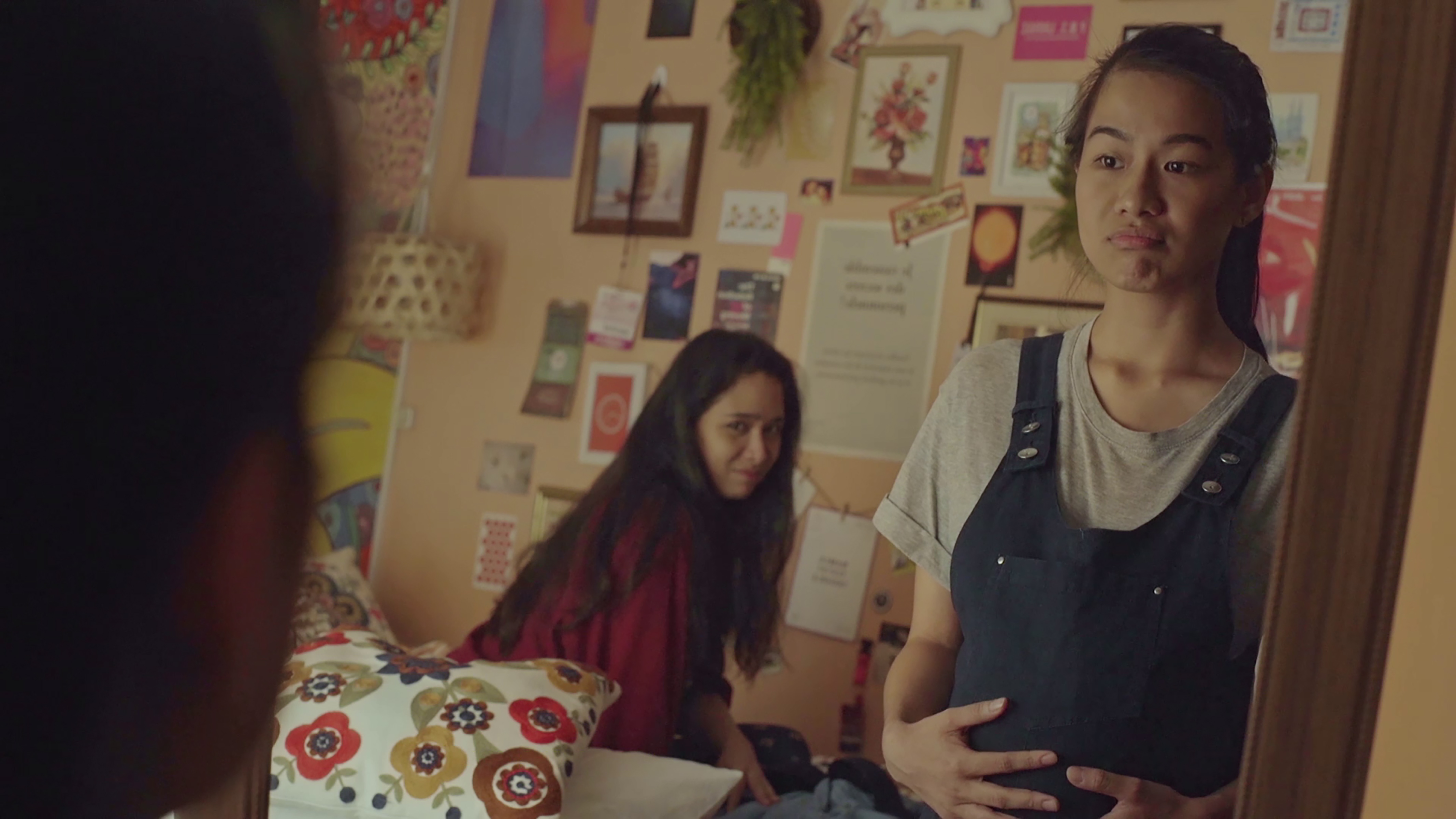 Speaking from her perspective as a woman from the Philippines, Celina shared that society expects women to marry and have children because "we're a very family-oriented society. There's the notion that having a big family is the key to happiness. There is a fear of growing old alone, of having no one to take care of us. This fear is mostly applied to women since there is a lack of confidence in women's independence."
"The Philippines, predominantly a Catholic country, is still patriarchal. Being raised Catholic, I know all too well how they teach women to submit to their husbands, be obedient, have kids, and raise those kids to be God-fearing people. So even if there may be an expectation for us to make a living, ultimately, our main goal as women is supposed to be taking care of our family. In terms of success in life, men are measured through their careers, while women are measured through their families."
Puiyee noted that there aren't any visible scenes of a male figure in Ladies' Choice. Celina shared that this was a deliberate choice "because, primarily, it's a woman's issue regarding her own body. There are already many male voices pitching in but the decision should ultimately come from the woman. In the film, I only included a snippet of Miriam's conversation with her ex-boyfriend that cemented her decision to break the relationship — the one where he's asking her to change her mind."
"I also wanted to focus on women's differing views regarding motherhood and how the biggest pressure we feel may come from our loved ones. Women aren't entirely united on this issue, which sometimes makes it harder for us to admit that we want something different from what they want for us."
Vasudhaa Narayanan: Kutty – The Youngest One
Vasudhaa Narayanan is an artist and curator based in Bangalore, India. She is interested in exploring interpersonal relationships within a familial context. She screened an excerpt titled 550 Srinidhi from a larger body of work — Kutty — The Youngest One — that explores her relationship with her grandparents after their passing, bringing to the forefront issues such as class and caste differences and power dynamics.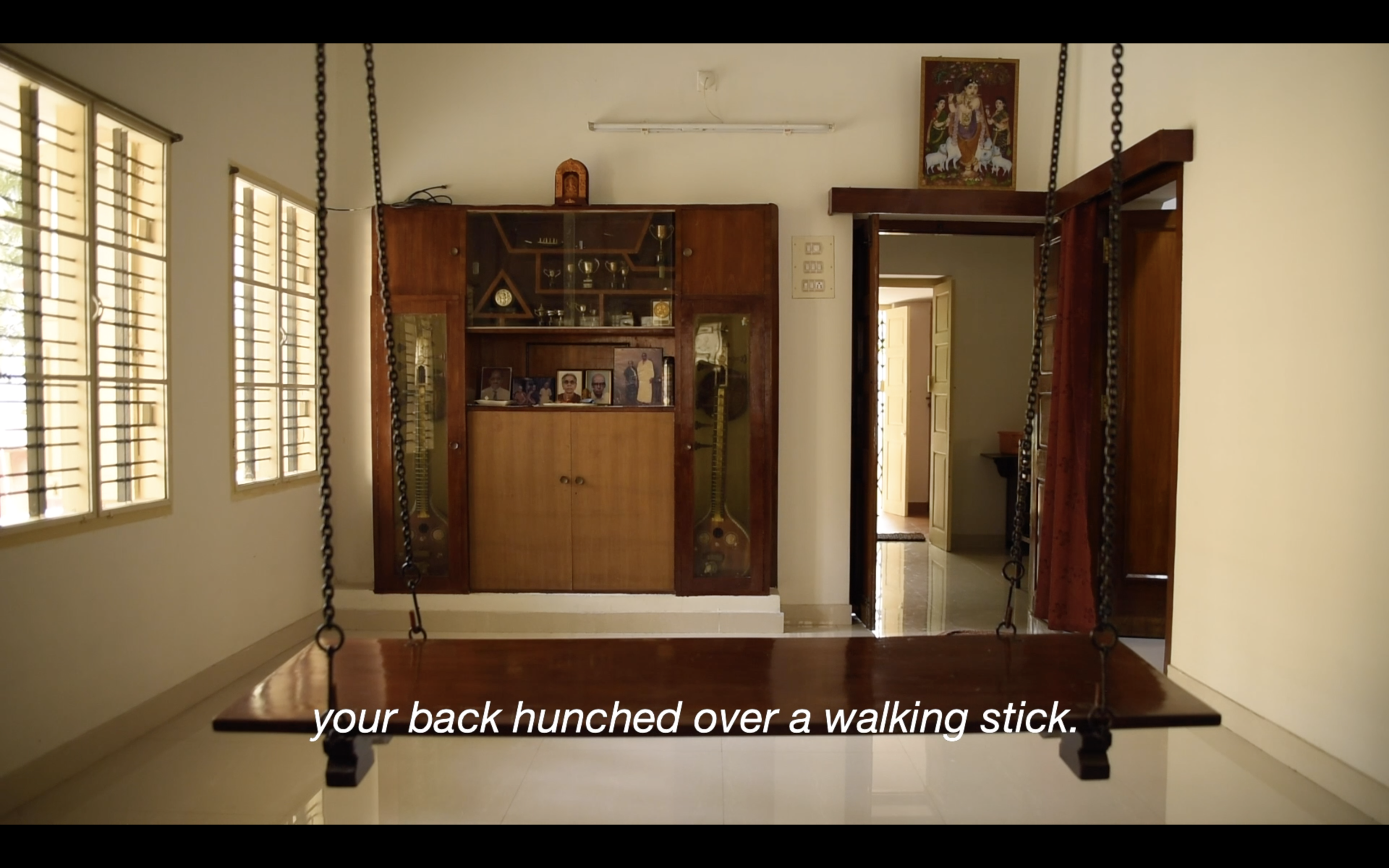 After making the film, Vasudhaa shared she "still [has] more questions than answers, and a desire to know [her grandparents] better and deeper. I've come to the realisation that the way I know them will be filtered through the lens of others they interacted with. I'm always learning only about certain aspects of who they were, in very specific relationships."
Some of the stories shared about her grandparents left an impression on her. She shared: "My grandfather's brother once told me that in their college years, he and my grandfather once sneaked out of their house and shared their first cigarette together. I was absolutely stunned because I've only known my grandfather as an incredibly principled, sincere, hardworking, god-praying man. I remember asking over and over if this was true, and coming to realise that we only know people in very specific times, moments and capacities."
"My grandmother was a Professor in Tamil and Linguistics and taught at Fatima College in Madurai for nearly 30 years. Now when I struggle to string together words in Tamil, I sense how it feels like I hit a wall when I can't find the words to continue. And it aches that I never learnt to read, write or speak as fluently from her."