Women in Photography 2019: Taslima Akhter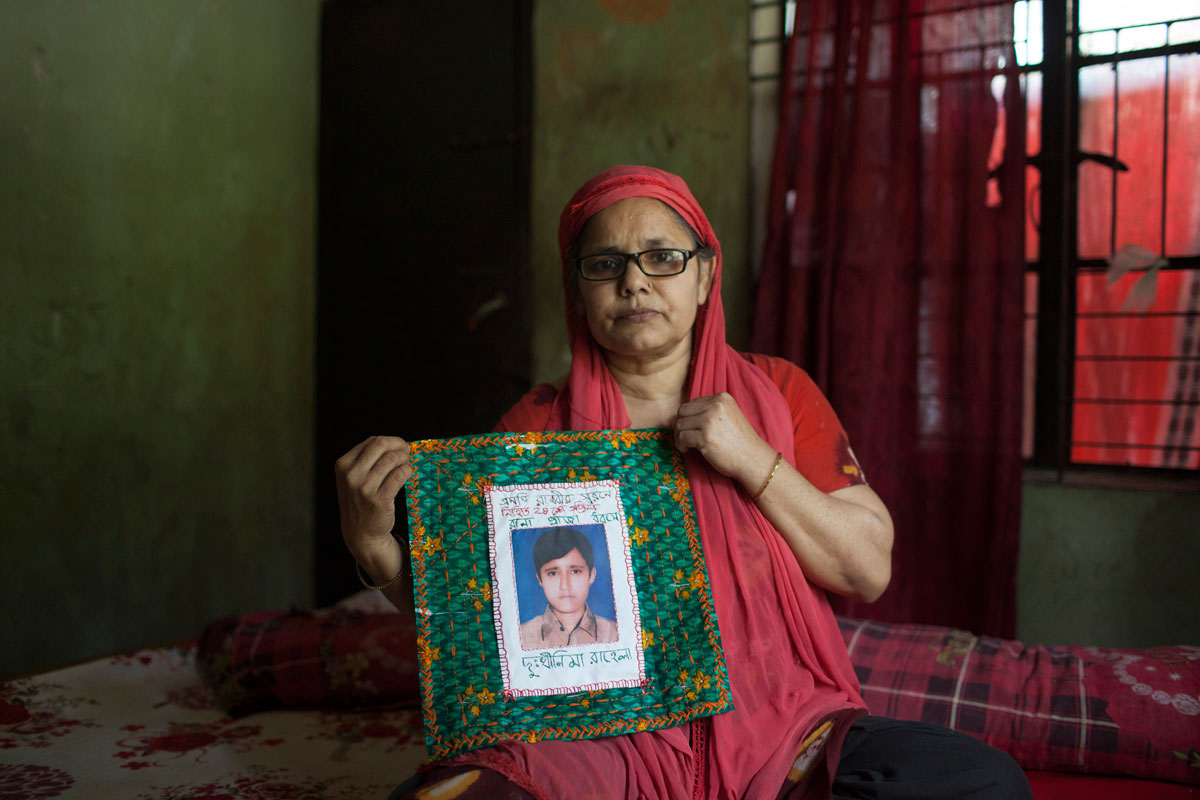 Women in Photography 2019 Exhibition
Stitching Together: Garment Workers in Solidarity | Taslima Akhter
On April 24, 2013, more than 1,000 lives were taken in the Rana Plaza Collapse. While history remembers this tragic event as the deadliest garment factory accident, activist and photographer Taslima Akhter reveals a story of dreams crushed by structural murder. Dedicating her career to the lives and struggles of garment workers in Bangladesh, she has continued to foster a community rallying together for safer working conditions.
In an act of remembrance, healing, and solidarity, volunteer quilters have produced commemorations for their friends and loved ones lost to the Rana Plaza Collapse. The quilts are made up of embroidered messages and photographs, and incorporate belongings donated by surviving relatives. The artists hope to develop awareness of the injustices that garment workers experience and are at risk of every day. Telling a counter-narrative of the disaster, these quilts provide families with the ability to memorialize their loved ones while also activating a conversation with the public.
Contributing to the history of the labor movement, this project takes inspiration from Robin Berson's memorial quilt for the Triangle Shirtwaist Factory Fire of 1911 here in New York City, where 145 laborers—primarily women immigrants—perished in the deadliest industrial disaster in the city's history.
About the artists 
Taslima Akhter is a Bangladeshi activist and photographer, who has been working as a witness of workers' struggles for the last 12 years. She is the Chair of Garment Sromik Samhoti (Bangladesh Garment Workers Solidarity), where she contributed to the creation of Rana Plaza Massacre: An Anthology, a website based on the book "24th April: Outcries of a Thousand Souls." She also published a photobook on the Rana Plaza Collapse titled "Lives not Numbers," developed during the Photobook Masterclass workshop in 2017 at Chobi Mela IX in Bangladesh. Her work, "The Life and Struggle of Garment Workers," led her to be selected for a Magnum Foundation fellowship in 2010 and her image, "Final Embrace," was recognized by the World Press Photo Contest and named one of the top ten photos of 2013 by TIME Magazine. Taslima has exhibited in the United States, China, Norway, Brussels, Germany, and Cambodia.
Robin Berson is an activist, historian, and artist. She is a member of the Remember the Triangle Fire Coalition and has served as an advisor for the quilt project and curator of resulting exhibitions in Bangladesh.
Quilters: Ayesha, Chaina Begum, Khadiza Begum, Nasima Begum, Shunno Bala Dash, Farzana, Rahela Khatun, Alam Matbor, Shumitra Rani, Sagorika's mother, Selina, and curator Taslima Akhter's mother, Begum Zebunnessa.
WOMEN IN FILM & PHOTOGRAPHY 2019 SHOWCASE PROGRAMME  
:: Exhibition: 11 Oct to 17 Nov
:: Guided photographer & curator tour: 11 Oct, Fri (Time TBC)
:: Artist talks: 12 Oct, Sat (Time TBC)
:: Short Film Installation: 11 Oct to 17 Nov 2019, Lower Gallery
:: Women in Film 2019: 2 to 5 Oct
Details to come for artist talks and tour! Please email info@objectifs.com.sg if you'd like us to keep you updated when the details are firmed up.