Women in Photography 2019: Mathilde ter Heijne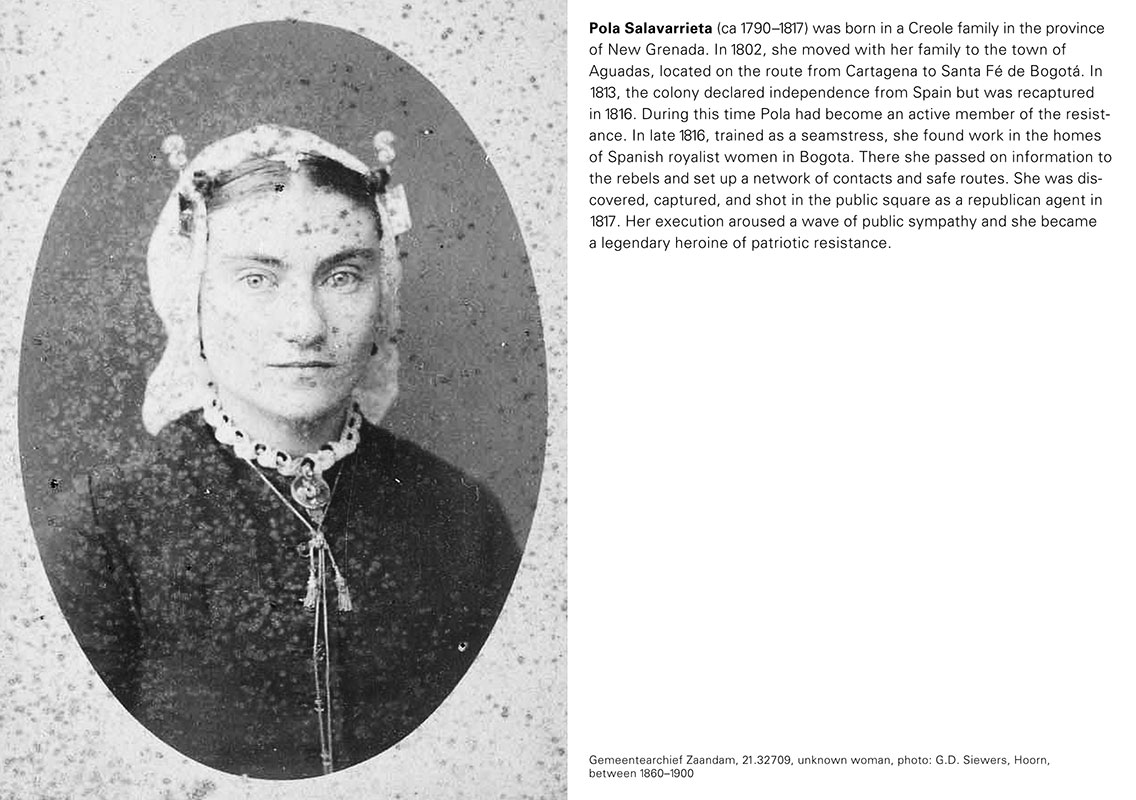 Women in Photography 2019 Exhibition
Woman to go | Mathilde ter Heijne
This interactive artwork is an on-going project and an archive on the subjective reading of history. Each postcard shows the portrait of an unknown woman who lived between 1839 (the beginning of photography with daguerreotypes) and the 1920s, while the "message" side of the card has the biography of a woman was influential or extraordinary in her time. The pictures and biographies were collected from all over the world.
The biographies speak of the lives of people who fought for their individual goals in a world dominated by patriarchy – a world in which women had no right to choose or own property, and being remembered was primarily a white, male privilege. The portraits of the 'unknown women' were also typically made by male photographers, often with a colonialist or ethnographic gaze.
In pairing the women who may have been forgotten in history with those who are unknown, the women help one another become visible again. The postcards can be taken, so the public can compile alternative historiography through subjective biographies.
About Mathilde ter Heijne
Mathilde ter Heijne's research based practice is founded in intersectional feminism. She acts as interlocutor within a social system of contemporary and past voices. She explores the role of women in forming cultural identity and re-inscribes the interrelationships between economy, spirituality, politics, and gender relations of societies now and in the past, differing to that of the current patriarchal system. Her installations, performances, films and videos draw on historical material, from archives, reconstructed archaeological artefacts, and ethnographic studies of ritual to resurface these old knowledges and identities, forgotten and ignored voices, to set iterations of these narratives circulating once again.
The emancipation of voice is a driving force of feminist theories and acts. Ter Heijne both adheres to such incentives while also exposing criticism for the specificity of such gender politics. Motivated by a contemporary relationship to feminist thought in which the individual is not restricted to a proclaimed singular identity but can identify with a diversity of principles and phenomena, she works performatively with these questions. The exhibition space becomes a site analogous to the relationship with the fixity of ideological states, presenting playful counterparts to histories of repressed voices and sacrificial events.
Her work has been widely shown, for instance at Museo de Arte Moderno de Bogotá, National Gallery of Modern Art, Mumbai, Singapore Art Museum, 4th Mediation Biennial, Poznan, ICA Sofia, Museum of Modern Art Arnehm, Shanghai Biennial, MoMA PS1, Kunsthalle Nürnberg, Hamburger Bahnhof, Berlin. She made the following institutional solo shows: Ongoing, Grassimuseum (2019), Blood, Sweat and Tears, Communal Gallery, Körnerpark, Berlin, It Will Be!, Kunstverein Haus am Lützow Platz, Berlin (both 2016), Performing Change, Museum für Neue Kunst Freiburg, Germany (2014), Any Day Now, Lentos Museum, Linz, Austria (2011), Long Live Matriarchy!, Stedelijk Museum Bureau, Amsterdam, The Netherlands (2010), Woman To Go, Berlinische Galerie, Berlin, Germany (2006), BASE 103, Goetz Collection, Munich, Germany (2005), Tragedy, MIGROS museum of Gegenwartskunst, Zürich, Switzerland (2002)
WOMEN IN FILM & PHOTOGRAPHY 2019 SHOWCASE PROGRAMME  
:: Exhibition: 11 Oct to 17 Nov
:: Guided photographer & curator tour: 11 Oct, Fri (Time TBC)
:: Artist talks: 12 Oct, Sat (Time TBC)
:: Short Film Installation: 11 Oct to 17 Nov 2019, Lower Gallery
:: Women in Film 2019: 2 to 5 Oct
Details to come for artist talks and tour! Please email info@objectifs.com.sg if you'd like us to keep you updated when the details are firmed up.