Women in Photography 2019: Lenne Chai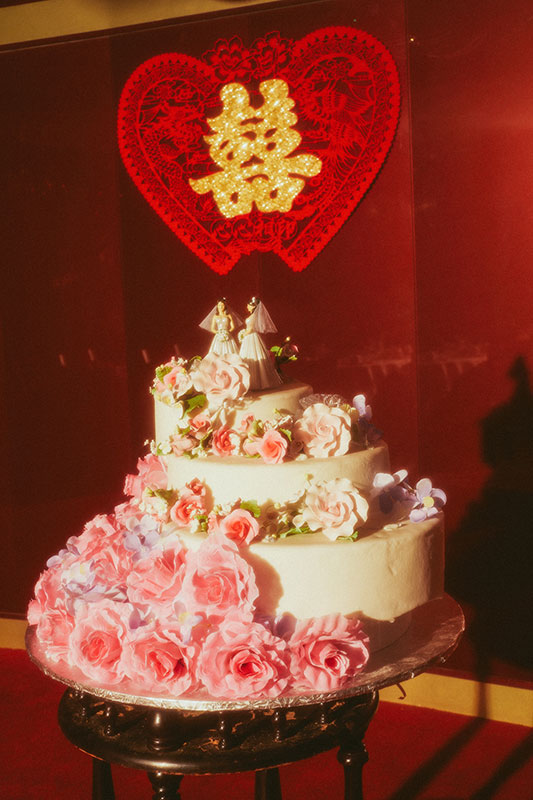 Women in Photography 2019 Exhibition
Wedding | Lenne Chai
In her series, Lenne Chai reimagines a traditional 80s Chinese wedding banquet, depicting a celebration that gently nudges at heteronormative constructs through a subversion of conventional tropes. Drawing inspiration from her family's old wedding albums and her experience as a fashion photographer, Lenne melds high camp with high fashion, creating images that glow with a vintage aesthetic while hinting at possibilities for a more open and inclusive future.
About Lenne Chai
Raised in Singapore and based in New York, Lenne Chai is a photographer and director who once fell into the sea while photographing Lily Cole. She has worked a range of fashion and lifestyle brands such as SK-II, Samsung, Canon, H&M, Uniqlo and Puma, Her work has been featured in titles such as Elle, Esquire, Harper's Bazaar, NYLON, TeenVogue and V Magazine. Her personal work includes 'Salvation Made Simple' (commissioned by OH! Open House in 2018) and 'Karaoke Party' (2015).
WOMEN IN FILM & PHOTOGRAPHY 2019 SHOWCASE PROGRAMME  
:: Exhibition: 11 Oct to 17 Nov
:: Guided photographer & curator tour: 11 Oct, Fri (Time TBC)
:: Artist talks: 12 Oct, Sat (Time TBC)
:: Short Film Installation: 11 Oct to 17 Nov 2019, Lower Gallery
:: Women in Film 2019: 2 to 5 Oct
Details to come for artist talks and tour! Please email info@objectifs.com.sg if you'd like us to keep you updated when the details are firmed up.