Women in Photography 2018: Monique Jaques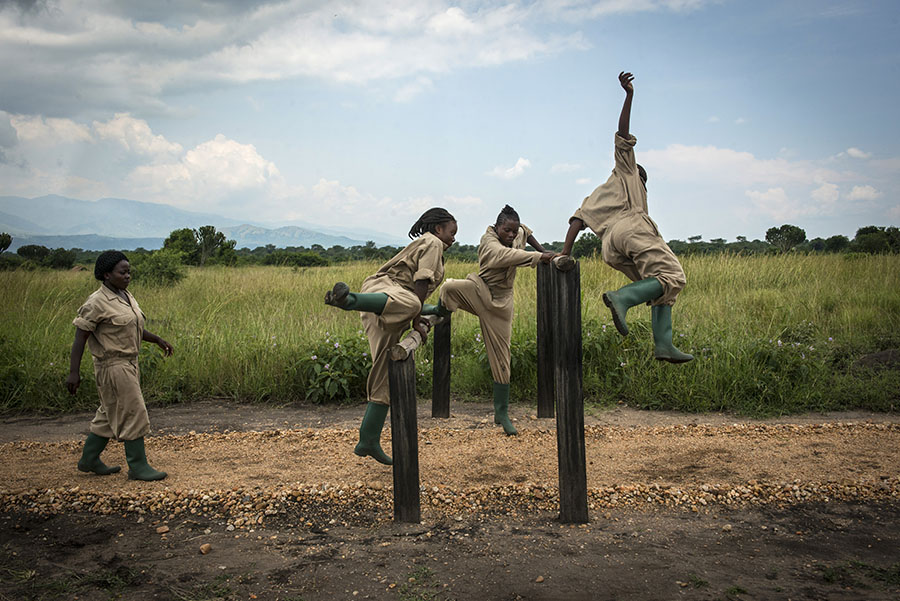 Women in Photography 2018 Exhibition
Virunga's First Female Rangers | Monique Jaques
For the first time, women have taken up the most dangerous job in wildlife, becoming para-military rangers at the Virunga National Park in the Democratic Republic of Congo.
Virunga is Africa's oldest national park and home to over 200 of the world's 800 remaining mountain gorillas. For two decades it has been at the centre of a war. Hundreds of rebels operate in the park and over 150 park rangers have died protecting the land from them. These women take up arms to complete the daily tasks required of conservation, tourism, stopping poachers and armed rebels to protect their land and animals.
About Monique Jaques
Monique Jaques (b.1985) is an Brazilian American photojournalist based in Istanbul, Turkey. Her work focuses on the representation of women through documentary photography and video. Her multi-award-winning approach to journalism reframes prevailing narrative and examines modern-day issues misrepresented in the media.
Monique has spent the past seven years working for a variety of editorial and commercial clients whilst producing a diverse portfolio of documentary projects. She was recently listed on TIME Lightbox's list of Female Photographers to Follow From Around The World.
Her major body of work Gaza Girls: Growing up in the Gaza Strip challenges mainstream notions of this complicated place and explores issues of identity and religion. This project was first published in The New York Times and has been syndicated in Marie Claire Italy, Vogue Italy, Panorama Italy, The Telegraph and The Guardian UK.
This work was a finalist for the Prix Bayeux-Calvados "Young Reporter' award, the ANI Prix Palace shortlist in 2015, and the Flash Forward: Emerging Photographer Competition 2015. This work was published by FotoEvidence Press in 2018.
One of Monique's recent projects documenting the first female rangers in Virunga National Park in the Democratic Republic of Congo focuses on a positive narrative coming from a war-torn country. This work has been exhibited in PHOTOVILLE: The Fence and as part of a group exhibition in Torino, Italy called In Prima Lina. This work was first published by National Geographic and consequently in GEO Germany, Marie Claire France and La Croix.
Much of her editorial work has focused on challenging preconceived ideas of women and Islam and has published portfolios profiling Islamic Fashion, Muslim Beauty Pageants, Women living under ISIS and Sufism in Georgia.
Monique has also been working on projects looking at the after effects of disease epidemics around the world. Her work on Guinea's ability to combat Ebola was published in The New York Times Magazine and exhibited in the Johns Hopkins School of Medicine. She documented the decimation of maternal health in Sierra Leone for The New York Times Lens Blog and the fallout of Zika in El Salvador for The Nation.
Monique holds a BFA from New York University's Tisch School of the Arts
Her first book Gaza Girls: Growing up in the Gaza Strip was published in 2018 and can be purchased here.
---
WOMEN IN FILM & PHOTOGRAPHY 2018 SHOWCASE PROGRAMME  
:: Exhibition: 5 Oct to 18 Nov 2018
:: Guided photographer & curator tour: 5 Oct, Fri, 6pm to 7pm
:: Artist talks: 6 Oct, Sat, 2pm to 6pm
:: Slideshow Projection featuring Women Photograph: 8 Nov, Thu, 730pm to 9pm
:: Short Film Screening: 5 Oct to 28 Oct, 12pm to 7pm (screening starts on the hour, on loop)
:: Women in Film 2018 (10 to 13 Oct, 730pm)