Sharps and Such | Sunaina Bhalla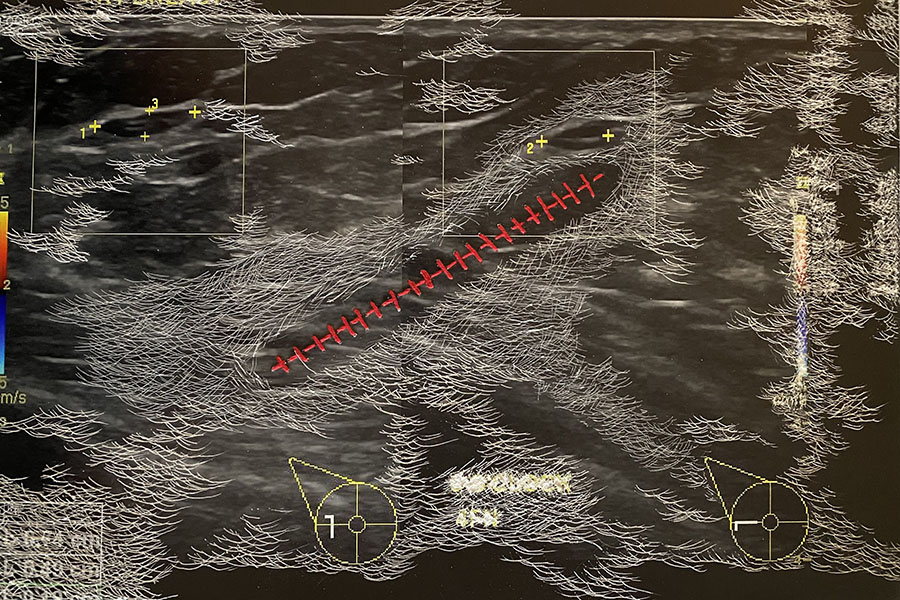 Women in Film & Photography 2023 Exhibition
Sharps and Such | SUNAINA BHALLA
I first shared Sharps and Such in 2020, where I explored my body as a landscape and battleground of memories, trauma, and aging, but also as a site of resilience. The show conjoined those otherwise distinct dimensions of my life – my practice and personal medical history – in the motif of the needle, which was the tool inflicting pain. In choosing to engage with objects that signify intense physical distress and emotional upheaval, I acknowledged the inevitable reality that confronts most patients with life-threatening conditions: the morbid dance between healing and harm, treatment and torment.
I used suture threads to embroider on the positives of my mammograms in the fifth year after my positive diagnosis of breast cancer. The work has since continued to signify a mental shift towards my memories of cancer. In order to 'let go' of these memories, and attempt to repair and regenerate through the act, I have scratched the prints of my mammograms after embroidering them with thread. These scratches, which represent the real and imagined scars of the body, 'soothes' the implied violence of the scratches. The transformative process that my body has undergone, along with the shadows and fear that linger, are reflected in the woodblock prints of my ultrasound scans, which are created through repetitive stamping of a single block to create the fluid movement that is visible in the scans.
About Sunaina Bhalla
Sunaina Bhalla is a contemporary artist of Indian origin living in Singapore. Educated in India, she moved to Tokyo in the late '90s and has spent the last two decades in various parts of North and South Asia. Having completed her formal education as a textile designer specialising in print, she pursued an immersive education in the traditional art form of Nihonga in Japan. She completed her Masters of Fine Arts degree at Goldsmiths University, London and Lasalle College of the Arts.
Sunaina's work revolves around the repetitive and ritualistic nature of gestures and their traces. She explores the transformative effects of the deliberate infliction of pain on the human body during the curative processes that alleviate disease and decay. By using industrial materials analogous to the fragile nature of the body, juxtaposed with fabric and embroidery, she examines the passage of time and the mark-making that documents this process.
Sunaina has exhibited in Japan, India, Singapore, Europe and the Middle East. Her works are in the permanent collections of the ESSL Museum, Vienna and Mumbai Airports Authority, India, and in various private collections globally.
For the rest of our Women in Film and Photography 2023 programme, visit here.