A conversation with Yong Li Xuan and Muhammad Fadli on 'Fighting Demons'
Singaporean journalist Yong Li Xuan, recipient of the Objectifs Documentary Award 2022 (Emerging Category), presented her exhibition, Fighting Demons, at Objectifs from 30 March till 7 May 2023. Mentored by Muhammad Fadli, Li Xuan's show explored the topic of mental health issues in Singapore through the documentation of 22-year-old student Ashley Poo's mental health journey after the latter was diagnosed with depression and anxiety.
The following recap presents highlights from Li Xuan and Fadli's talk about the process and considerations that went into Fighting Demons. The session was moderated by Objectifs' Programme Director Chelsea Chua. This recap has been paraphrased and shortened for brevity.
---
On the start of her photographic journey and her decision to pick up the camera
Li Xuan shared that her introduction to photography was through her brother, who was also instrumental in getting her to consider a possible career in photojournalism. Her decision was further cemented after meeting other photographers at the South by Southwest Festival in Austin, Texas, who helped her realise that advocacy tends to alienate one side of the aisle, whereas there is a higher likelihood that journalism can speak to both sides by seeking the truth and presenting that information to readers. This was even despite her recognition that the media landscape in Singapore might not yet be as mature as she would have liked.
The impetus for Fighting Demons was birthed from her initial interest in simply getting her own parents to be aware about the issue of mental health in Singapore, and to change their perspective of it. Having witnessed many of her peers struggling with their mental health in secondary school, she yearned for her parents' – and later, the public's – understanding that these were real and complex issues that people grapple with. Her main intent for Fighting Demons was therefore to destigmatise mental health issues, and portray them as something that one can seek help for without the need to suffer in silence.
On the process of Fighting Demons and Fadli's mentorship
Ashley was the first to respond when Li Xuan put out a call for subjects in a group for mental health on communication platform Discord, though it took a few months for her to build Ashley's trust. Li Xuan acknowledged that while some traditional photojournalists would say that one should not get close to one's subjects, she admitted that she has become friends with Ashley.
During the process, she always made it clear to Ashley to let her know if she was feeling uncomfortable, upon which she would immediately put her camera away. Not wanting to make Ashley feel like she was only seeing her as her subject, Li Xuan spent more time hanging out with her than photographing. With the working timeframe of 6 months, she also felt that there was ample time to let Ashley's story unfold, and not feel pressured to be shooting all the time instead. This presented her with the opportunity to slow down and focus on Ashley, making sure that she was always portrayed with respect.
"If I won't want myself appearing [in a certain] way, I wouldn't take [the photo]", she explained as a rule of thumb she adhered to. Ashley's approval was sought for the final photos that were selected, as well as the accompanying captions. Having had the chance to sit with Ashley's parents for them to look at the initial photobook and acquire their approval was also a good conversational starter on the topic for the family.
Having first conceived of Fighting Demons as her Final Year Project in university, Li Xuan also expressed gratitude for Fadli's mentorship, especially because he served as a fresh pair of eyes, and pushed her to explore things she would not have done on her own, such as making a portrait of Ashley, which was not something she had felt she was good at. He helped her to notice the smaller gaps that were missing in her project, and taught her how to sequence her photos to achieve a more impactful narrative. His career advice for her was also invaluable.
In response, Fadli also felt that he was learning from her through the way she spent time with Ashley, and was impressed with how they were able to become friends despite having to set up very clear boundaries on what was allowed to go into the project.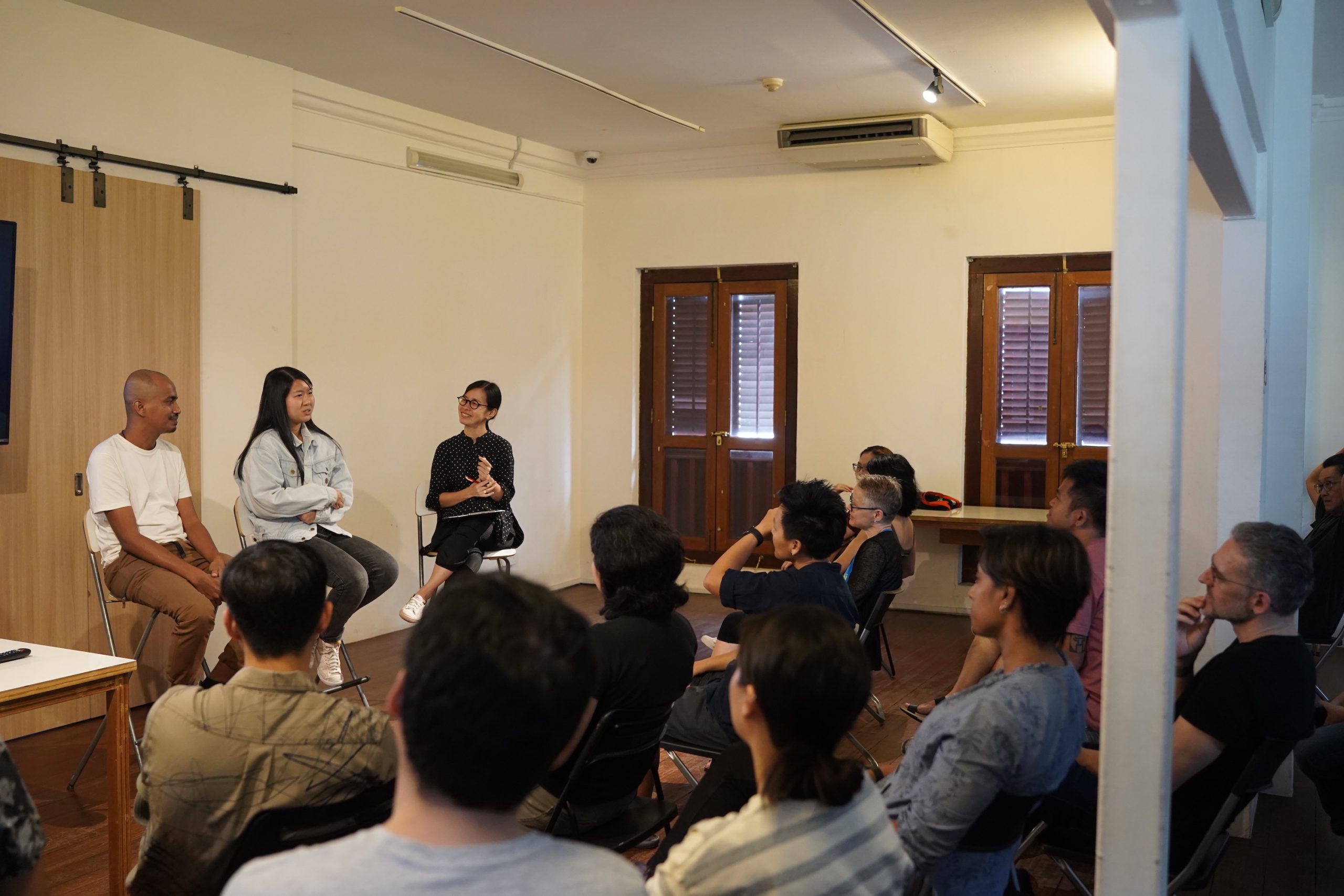 On adopting a respectful and sensitive approach in photography, and the ability for change
Highlighting photography's legacy, Chelsea brought attention to the importance for photographers to see and acknowledge what has been done, and to examine how things can be done differently henceforth.
In agreement with her remark, Fadli mentioned this was especially crucial nowadays as audiences are more aware of the sensitivity surrounding certain subject matters. Speaking in relation to photographers, he said, "It is important to always question ourselves, and be critical about the way we are telling [stories]", just as "it is a good trend for people to be asking [photographers] questions".
"When you're doing news and general stories, you need to just go in and shoot. But if you're shooting people who are dealing with grief or mental health issues, these need to be dealt with sensitively, and they need to be given time" he continued, and shared that it weighs him down greatly when he finds himself in such situations.
Drawing on previous experiences, Fadli brought up the instance where he was asked by a magazine to photograph families grieving in the aftermath of the football stampede in East Java. Feeling that it might be inappropriate and exploitative to simply do so, he ended up negotiating with the editor to photograph only 4 families, and only after spending as long as 6 to 7 hours with each family.
Fadli acknowledged that he knew the photos were not going to change the families' predicament, which made him feel terrible. Nonetheless, he hoped that such photos might serve as a spark for awareness and change in thinking, thus going hand-in-hand with the role that NGOs and advocacy groups play.
Adding on to this, Li Xuan revealed that "when Ashley saw the photos in the exhibition, she felt better because she felt like she has come a long way, as that was a dark period in her life. The photos have become part of her recovery process". As she continues her work with Straits Times as a journalist, she reminds herself: "Even if it doesn't change the world, but it can impact one person – it is enough."
---
Recap by Geraldine Cheng, Apr 2023