A discussion between Daniel Chong and Sam I-shan for Curator Open Call 2022
Curator Open Call is an annual programme that encourages innovative curatorial approaches to lens-based art. It is part of Objectifs' ongoing effort to broaden perspectives by supporting curatorial research and innovative ways of presenting image-based work.
Curated by Daniel Chong, recipient of Curator Open Call 2022, Sugar Pills for a Bitter World opened at Objectifs on 22 September 2022. To kick off the exhibition's list of programmes, Daniel and his mentor, Sam I-shan, held a discussion to share more about the process of realising the exhibition together. They spoke mainly about their curatorial approaches, the importance of mentorship in the curatorial process, and how Sugar Pills for a Bitter World was conceptualized from start to finish. The discussion was moderated by Objectifs' Programme Director, Chelsea Chua.
The following recap has been summarised and edited for brevity.
---
'Formulating Sugar Pills for a Bitter World' commenced on the topic of curatorial approaches, with the question of what both curators look for in the projects they choose to work on. I-shan, who has had 15 years of curatorial experience under her belt, responded that she is personally drawn to artist-driven works. As she explained it, "a work is never [just] about itself, [or simply] about its excellence" to her. Rather, she sees each work, or body of work, as being "about the artist's career, their trajectory, what they are interested in, and where they are at, at that point in time".
Preferring an approach that explores personal inclinations, Daniel explained that his choice of works for curation stems mainly "from curiosities which [he] cannot satisfy within [his own] artistic practice, or concerns which are more non-art-related". In particular, the curation of Sugar Pills for a Bitter World relates to the way he is trying to navigate the world as a young individual.
Initially titled A Sincere Absurdity, the conversation shed light on the change of title, and how it came about. Agreeing with Chelsea's observation that the core of the original programme proposal more or less remained the same, Daniel admitted, however, that he grew frustrated with the "unclear language" communicated by the word 'absurdity'.
Seeking to capture the exhibition's premise in more accurate terms, it was I-shan's guidance that enabled him to consider leveraging on subtext in a more 'show, and not tell' manner. She had drawn his attention to how the label of 'absurd' was merely the first layer, and that it was the layers beneath these artistic explorations that were more "deeply compelling". "As the show developed", Daniel said, "I started to treat absurdity not as a way of the world, but […] a symptom, [of] how people were unable to understand why it's going on, or [their attempts] to resist it".
It was clear that the mentorship Daniel received from I-shan played a valuable part in the curatorial process of Sugar Pills for a Bitter World. Speaking of her help in further appreciative terms, he emphasised that her mentorship – specifically her difference in views, her focus on getting him to delineate his reasons for being drawn to certain practices, and their brainstorming sessions – were especially crucial for him. Constantly encouraged by I-shan to justify why he was so passionate about the works of the artists whom he had chosen to work with, he stated that the process thus helped clarify and identify where these impulses of his came from.
I-shan responded that the brainstorming sessions had allowed Daniel to go into more detail on how he wanted to frame the exhibition and artworks. She highlighted the thorough conversations that they had during the mentorship, which gave him the necessary space to separate himself from the works, many of which were by his peers, and look at them almost like an art historian.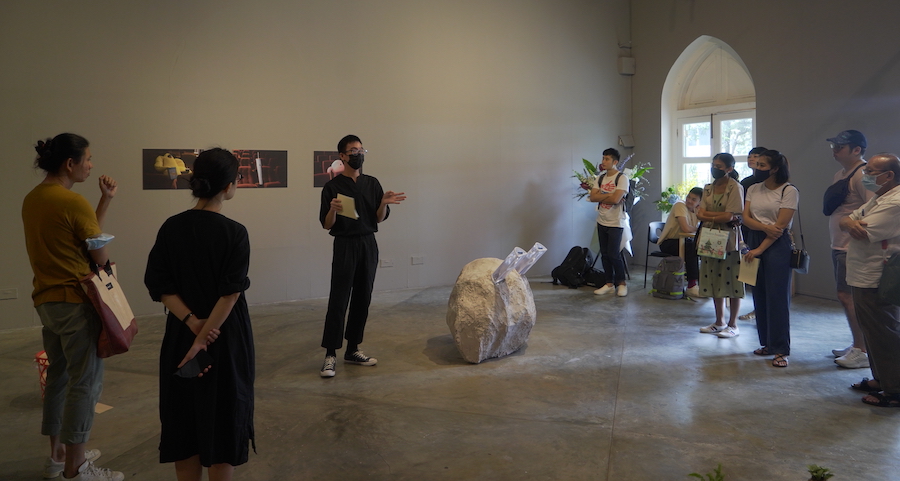 At this point, the talk naturally segued into a discussion of what Daniel looked for when choosing artists to collaborate with. Using Sugar Pills for a Bitter World as an example, he spoke about the importance of personal relatability to him, by way of their works and their approaches. "I could see a similar confusion, or reaction against these changing times, and I am able […] to see how [the works of Desiree and Avis, my studio mates] developed. [I could see how] their train of thought was shaped by the world around them […] They were willing to go through the same lines of questioning that I too, would go through" he explained. The artists' forthcoming attitudes about not having the answers to their questions, and their willingness to explore possible explanations also appealed to Daniel. As he put it, "that was the most important, trying to understand what they didn't understand, and seeing how I could come in with […] the third-person perspective".
The collaborative aspect between curator and artists certainly did not go unnoticed in Sugar Pills for a Bitter World, with I-shan commenting that it "really came through" in the process of staging the exhibition. On that note, she posed Daniel with the question of how he would thus work on an exhibition where the differences between the artists were starker, or if they had an artistic practice which was more hostile to his own. Joking at first that he would not choose to work with such artists in the first place, Daniel responded that he would still try to treat them as his friend first, because he felt that all art works are personal to their creators, and so it would take time to 'unlock' the layers in the individual. Nonetheless, he emphasised that it was important for him to get to understand the artists first before extending an invitation to them, rather than the other way around.
A conversation centred on curatorship would definitely be remiss without the mention of space utilisation – something which I-shan rightly remarked as being key to curatorial work. Being of the opinion that the learning process can only come with actual practice itself, she stated that Objectifs' Curator Open Call was therefore a great opportunity for curators to work in a space familiar to the organisers, thus reducing stress on all ends while providing support for curatorial experimentation. Adding to that, Daniel also mentioned that when it came to the generation of ideas for the exhibition's public programmes, working with an institution that had a mailing list like Objectifs was advantageous to begin with. As a result, the eventual programmes planned were made with general accessibility in mind, and those that provided an insight into the impetus of the individual art works were also favoured.
---
Recap by Geraldine Cheng, Sep 2022