Personally Speaking: Mary Bernadette Lee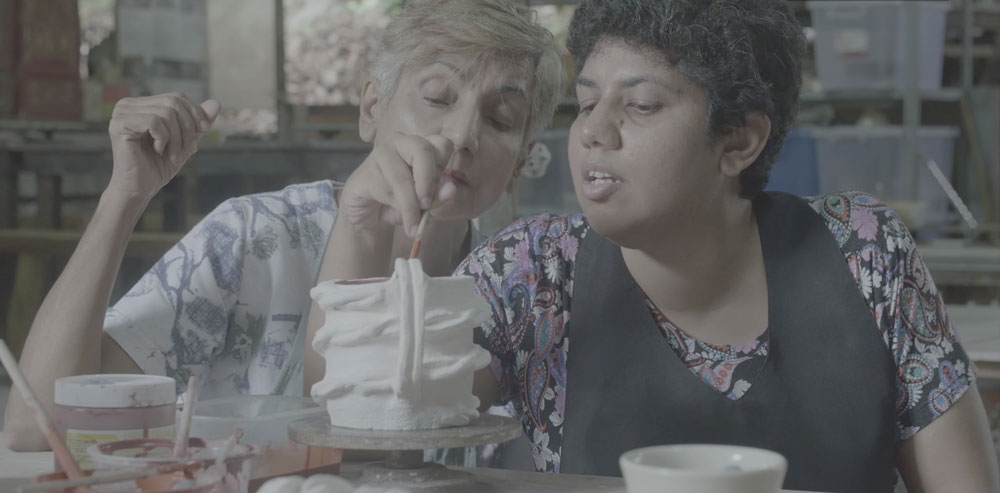 I Carry You In My Heart
By Mary Bernadette Lee
I worked with 11 pairs of caregivers and their loved ones with intellectual disabilities from Rainbow Centre, MINDS and Y-STARS (YMCA Y Art Programme). Over the course of three months, I conducted a series of workshops where they learnt to create clay vessels that represented the relationship they share.
Working with clay teaches one to be patient, sensitive, gentle, firm and open-minded. Caring requires the same approach; it is important to understand each other in order to care effectively as everyone gives and receives love differently.
The process of making the vessels had many transitory and repetitive steps, which paralleled the highs and lows of caregiving; the joy and the pain, the frustration and determination, the pride and disappointment, the growth and the fear, and the giving and taking.
I used clay leftover from the workshops to create sculptural representations of my understanding of relationships in caregiving. Bulbous and stacked, the sculptures embody support and balance, the foundation of a strong relationship.
About the Artist
Mary Bernadette Lee (Mrydette) is an artist based in Singapore. She uses art as a medium to work with the community to encourage expression and creation. Her practice is a phenomenological approach to understanding the relationship between exterior topography of body, and the interior tapestry of psychological states which are expressed through her paintings and sculptures that foreground the architecture of her as a person and an artist.
Acknowledgements
Thank you to the caregivers and their care recipients who made this work possible: Wang Rosyniah, Noah Tan Kai, Marcia Lai Siew Chee, Galvin Tan Eng Huat,
Biala Ginalyn Gamose, Filmer Tan Chin Wei, Tan Joo Geok, Kristin Tan Tze Yi, Ho Ai Leng Irene, Gabriel Tan Jun Jie, Nur Aida Sa'ad, Nur Aisha Sa'ad, Kalwant Kour, Joanna Welikande, Cindy Tan Soon Noi, Han Jia Le Joyce, Saw Eng Hock, Saw Yu Yaa Grace, Lim Ai Tee, Ang Zhen Jie, Hwee Hiang, Cui Yin, Doris Hui, Brandon Wong Ling Zheng.
Special thanks to Veronica Lim-Lowe, Ng Tian Hui, Julia, Regina Aun, Lun Wei Shi, and Jasmine Teo
Video by SPROUD, Music by Ferry
Find out more
MINDS Me Too! Club
MINDS: Caregivers Resource Package
Agape Village: Respite Care, Caregiver workshops