Personally Speaking: Joseph Chiang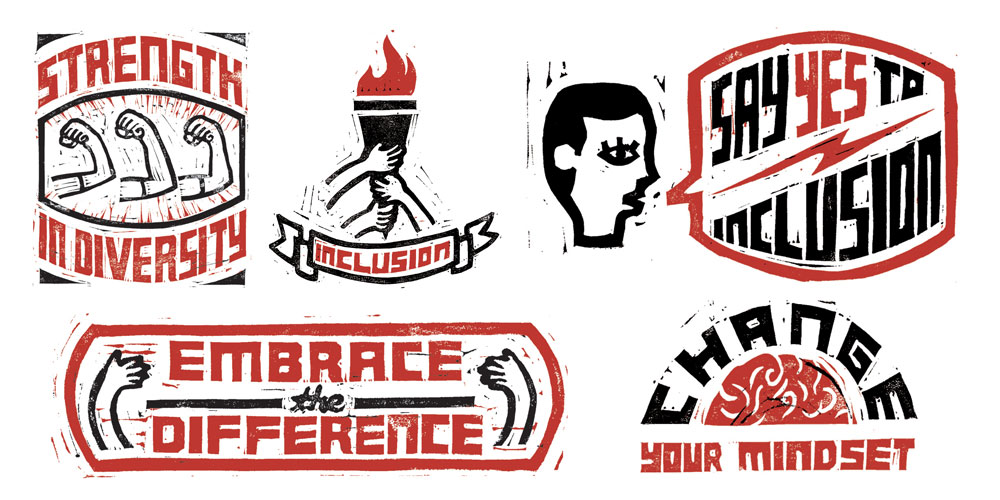 Say Yes To Inclusion
By Joseph Chiang
Say Yes to Inclusion examines the importance of inclusion for children with special needs in early childhood education. As we aim to move towards an inclusive society where no one is left behind, there is no better time to introduce to our children, irrespective of their backgrounds or needs, the importance of difference and diversity. Through inclusion at a young age, children can grow up to embrace all individuals and be more accepting of people who are different from them, thereby building a more inclusive society.
Through a series of bold, two-colour linocut prints, hand-printed in the style of vintage political propaganda posters, the work serves to advocate as well as educate the public about inclusion. The posters are supplemented by an illustrated booklet to help everyone's understanding of inclusion, its importance and the issues related to it. Viewers can make their own mark on the blank pages of the booklets with rubber stamps that have been specially designed and adapted from the prints.
About the artist
Joseph Chiang is a Singapore-based artist and printmaker. He is the founder of Monster Gallery, a creative print studio. He is also the founder of Young Printmakers League, a mentorship programme supported by Noise Singapore. He was commissioned by the National Arts Council to organise the Contemporary Printmaking Festival as part of Singapore Art Week 2017. He has exhibited internationally, and represented Singapore at the 10th World Triennale of Original Prints and Engravings in Chamalieres, France in 2017.
Acknowledgements
Research assistant: Vanessa Leong
Co-illustrator (booklet): Darel Seow
Printing assistant: Yao Yu
Posters printed at the studio of TypsetttingSG
Special thanks: Jean Loo
Find out more:
Kindle Garden: Singapore's First Inclusive Pre-school
Inclusive Attitudes Survey by the Lien Foundation