A solo exhibition by Ang Sookoon
Chapel Gallery, Objectifs 
20 Jan to 21 Feb 2016 
Tue to Sat, 12pm to 7pm / Sun, 12pm to 4pm
Join us for the opening on 19 Jan, 7pm
Artist Talk on 30 Jan, 2pm

Everest is an exploration of the monumental. Titled after the highest peak on earth, the exhibition showcases recent artworks by multidisciplinary artist Ang Sookoon that reflect upon the subject of greatness and its exception in form, scale, feeling and desire. Everest will also feature a collaboration with British designer Sorcha O'Raghallaigh, whose creations have been worn by Kate Moss, Beyonce, M.I.A, and Lady Gaga.
Accompanying the installation are series of smaller sculptures of bronze and wax, videos, and drawings, which work together to create an experience that transports the visitor away from everyday life into the fantastic. In conceptualising the work, Sookoon was particularly influenced by the work of writers such as the Bronte sisters, Gabriel García Márquez and Isabel Allende, where the magical and reality collide.
Everest is curated by June Yap.
Part of


Supported by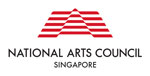 ---
About Ang Sookoon
Sookoon Ang's work addresses the unstable dimension of existence through presenting variable perceptions of reality and also suggesting or creating alternative universes. Encompassing a wide range of mediums and artistic approaches, Ang brings about evocative reconsiderations of the everyday. Her work responses to the transient and imperfect nature of things, emotions and ideas. Ang creates physical objects imbued with metaphysical connotations or staging of nonlinear narratives involving layers of perceptions and plasticity of interpretations.
Sookoon Ang (b. 1977, Singapore) lives and works in Singapore & France. She majored in sculpture in School of Visual Arts, New York and participated Rijksakademie Residency in Amsterdam amongst others. Recent major exhibitions include Palais de Tokyo, Paris; Art Basel Hong Kong (2014); Singapore Biennale (2013); Paris Scope: Sookoon Ang, Mixed Greens Gallery, New York (2013); Absurdistan, OV Gallery, Shanghai (2013); Future Proof, Singapore Art Museum (2012). Her film & video work has also been screened in major International film festivals such as International Film Festival Rotterdam, International Short Film Festival, Oberhausen and Fribourg International Film Festival.
For more info: http://www.sookoonang.com/