Advisors for Curator Open Call 2021
Marc Glöde
Assistant Professor and Co-Director MA Museum Studies and Curatorial Practices,
School of Art, Design and Media, Nanyang Technological University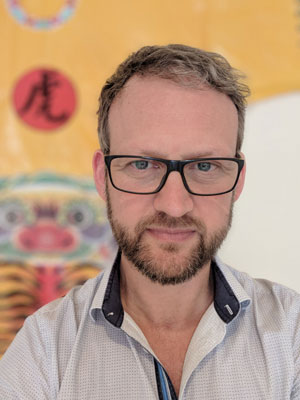 Marc Glöde is a curator, critic and film scholar. His work focuses on the relationship between images, technology, space, the body, and the dynamics between art, architecture and film. He was senior curator of Art Film, Art Basel's film programme (2008-14) and has curated exhibitions including STILL/MOVING/STILL — The History of Slide Projection in the Arts (Knokke / Belgium). He authored the book Farbige Lichträume / Colored Space of Light (2014), was co-editor of Synästhesie-Effekte (2011), and was recently published in The Impossibility of Mapping [Urban Asia] (2020). He received his PhD at the Free University of Berlin and since 2017 is Assistant Professor and Co-Director of the MA in Museum Studies and Curatorial Practices at NTU ADM.
Wang Ruobing
Artist and Co-founder, Comma Space 逗号空间
Wang Ruobing is an artist, independent curator and art educator based in Singapore. She received her PhD from the University of Oxford, United Kingdom. She was previously a curator at the National Gallery Singapore. At present, she works as a lecturer at LASALLE College of the Arts and is the co-founder of Comma Space 逗号空间: an artist-run experimental art space that creates thinking spaces between commas. As an independent curator, her recent curated exhibitions include 12 SOLO (2020 -2021, ongoing); Arts in Your Neighbourhood (Public Art Trust 2018 and 2019); Happens When Nothing Happens (The Esplanade, 2019); Of Other Places (The Substation, 2019); and Beneath Tide, Running Forest (Singapore Botanic Gardens, 2018).
As an academic, her research concentrates on identity, hybridity and transcultural discourses, particularly on contemporary art in China and Southeast Asia. Her writings have appeared in publications such as Journal of Contemporary Chinese Art (JCCA), Yishu: Journal of Contemporary Chinese Art, Nanyang Art and a range of exhibition catalogues. Wang's artistic work spans across a variety of methods and approaches, including drawing, film, photography, sculpture and installation. Concerned with challenging and exploring different ways of seeing everyday objects and urban landscapes in relation to the rapidly changing world of today, Wang creates artworks that actively disrupt perception and spotlight on the anthropological nature of objects. Wang has exhibited extensively, with solo and group shows showcased both locally and abroad.