Curator Open Call 2023 Recipient: Goh Chun Aik
Curator Open Call is part of Objectifs' ongoing efforts to to broaden perspectives by supporting curatorial research and innovative ways of presenting image-based work. The programme supports the realisation of a curatorial proposal for an exhibition in the Chapel Gallery by providing professional and financial support. The exhibition will be presented in January 2024.
The awardee was selected by the following selection panel, in addition to the team at Objectifs:
Bridget Tracy Tan, Director for the Art Galleries and the Institute of Southeast Asian Arts at the Nanyang Academy of Fine Arts, and the programme's mentor.
Sam I-shan, independent curator
---
The winning proposal is by Goh Chun Aik, who will work towards an exhibition which will take place in the Objectifs Chapel Gallery in January 2024.
Reservoirs of Time imagines how the past, present, and future can exist simultaneously within a space. It is a study on the perception of time through the artistic lens, with the artworks and the exhibition space itself offering alternative ways of thinking about time, and prompting us to re-examine our perception of time.
Artists: Lewis Choo, Ge Xiaocong, Goh Chun Aik, Hong Shu-ying, Ivan Ong
---
ABOUT THE CURATOR
Based in Singapore, Goh Chun Aik is interested in the human mind and how we perceive the world. He believes that reality is built upon perceptions. Trained in psychology, he engages with art as a form of self-expression and a platform for the exchange of narratives and ideas.
His practice strives to investigate our relationships with each other, with art, and with the world; and does so through extended observation of what is visible and ruminating on what lies beneath the surface. Goh works mainly in image-making but aims to utilise any form of presentation that best expresses an idea.
---
SELECTION PANEL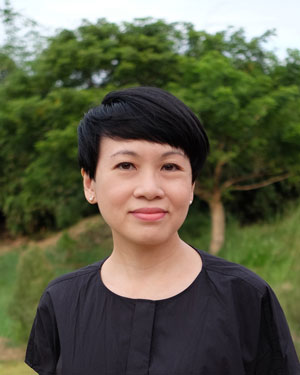 Sam I-shan is a curator with an interest in time-based media, photography, and art and politics. With fifteen years' experience in art institutional settings, she was previously curator at National Gallery Singapore, Singapore Art Museum and Esplanade Visual Arts. Her monographic, research-focused exhibitions at NGS include the Ng Teng Fong Roof Garden Commission: Cao Fei, and Georgette Chen: At Home in the World. At Esplanade, she curated and managed new commissions and site-specific exhibitions, working with a range of regional artists. Her exhibitions at SAM include Afterimage: Contemporary Photography in Southeast Asia. She also headed film and moving image initiatives there, specialising in Artist Films, and co-programming the annual Southeast Asian Film Festival. She lives and works in Singapore and Cambodia
Bridget Tracy Tan
is Director for the Art Galleries and the Institute of Southeast Asian Arts at the Nanyang Academy of Fine Arts. Formerly a curator at the Singapore Art Museum (now National Gallery Singapore), she oversees the internal and external programming for 3 galleries located on campus. Her work at NAFA includes initiating practice led research into Southeast Asian modern and contemporary art across the disciplines in seminars and workshops for students and lecturers alike. She has written and edited publications on art as well as catalogues and monographs for artists alongside exhibition projects. She is currently also Academic Advisor for Southeast Asian Arts at NAFA.
She graduated with a Master of Arts, obtaining First Class Honours in Art History from the University of Glasgow in Scotland. Her PhD was obtained from Chelsea College of Art, University of the Arts London, in practice-led research as a curator and critical art historian. The thesis critically explored Southeast Asian museology and Southeast Asian curating in contemporary paradigms that extend into global platforms, specifically, biennales.