Curator Open Call 2022 Recipient: Daniel Chong
Curator Open Call is part of Objectifs' ongoing efforts to to broaden perspectives by supporting curatorial research and innovative ways of presenting image-based work. The programme supports the realisation of a curatorial proposal for an exhibition in the Chapel Gallery by providing professional and financial support. The exhibition will be presented in September 2021.
The awardee was selected by the following selection panel, in addition to the team at Objectifs:
Sam I-shan, independent curator and the programme's mentor
Wang Ruobing, Artist and Co-founder of Comma Space 逗号空间.
---
The winning proposal is by Daniel Chong

Daniel will work with artists Yeyoon Ann Avis, Mike HJ Chang, Desiree Tham, Ryan Lim Zi Yi and Eng Kai Er towards an exhibition that will take place in the Chapel Gallery later this year.
---
ABOUT THE CURATOR
Daniel Chong (b. 1995, Singapore) is an artist-curator whose curatorial approach grows from the curiosities within his artistic practice. Drawing from the often uncanny nature of affect, his projects are extended artistic experiments within the loose framework of an exhibition. His curation spans exhibitions such as Bad Imitation (2022) at Tanjong Pagar Distri-park and Melting! Melting! (2019) at Gillman Barracks. As well as looser frameworks such as Stranger('s) Touch (2022), an art project under the guise of a beauty brand and Days – and counting (2020), an online Covid-19 response for OH! Open House.
---
ABOUT THE ARTISTS
Yeyoon Ann Avis is a multimedia artist that explores the re-contextualizing of art production. Her practice attempts to expand the limits of what encompasses art to include elements of music, design and branding. Her practice often draws from digital culture and personal experiences as an artist.
Avis has participated in group exhibitions such as In Time Passes (2021) at the National Gallery Singapore, Objects in the Mirror (2019) at Supernormal Space and held a solo exhibition n Entities (2018) at PentaPrism Project in South Korea. Additionally, Avis also performed her live video piece Lick (2021) at Esplanade, Singapore.
Mike HJ Chang's artistic practice examines the world through a lens of curiosity – characterised as an alien observing something for the first time. His works question what is seen and what is doing the seeing, reorienting the unquestioned conventions of an object. Through a use of play and humour, his works curiously shift our understanding of their functions and the subsequent environment they are used in.
Chang has been widely exhibited such as in various solo shows such as Calendar of Dilation (2020) and The Body and the Seed (2018) at Yeo Workshop, Singapore. Additionally he has been exhibited widely in various group exhibitions such as The Genius of the Crowd (2019), Esplanade, Singapore and Suppose There is A (2017) at ICA, Singapore. He is currently represented by Yeo Workshop, Singapore.
Desiree Tham's sculptural practice focuses on manipulating the functions of everyday objects. Her ongoing body of work unpacks the material and cultural philosophies of feng shui and updates them with the materiality of the 21st century. She uses feng shui as a starting point to examine the lengths at which cultures pursue or rationalise abstract goals such as luck, happiness or future wealth.
She has exhibited in various shows such as a solo show at How to Chase a Mountain (2021) at  ISLANDS Peninsula, and group shows such as An Uncanny Assortment of Miscellaneous Objects (2021) at VT Art Salon, Taiwan and in art fairs such as Asia Art Now (2019), France. She was also the 2019 winner of the Chan Davis Art Prize.
Ryan Lim Zi Yi attempts to collect encounters, activities and moments of living in the public and private surroundings. By reconfiguring these moments, newly formed narratives, characters, compositions and situations are formed in his works. These installations eventually meditate on our relationships and attitudes towards the inconspicuous areas of reality.
His recent projects include co-curating ROBIN (2021 – 2022) an idea for an art space in the form of camping tents, and exhibiting at group exhibitions such as Undescribed #7 (2022) at DECK and moulding, grazing, tampering, shifting (2022) at starch, Singapore. He has also exhibited widely in the Netherlands such as Some World Futures (2020) at Nest, The Hague and Look what the wind just blew in (2020) at the LivingRoom, Rotterdam.
Eng Kai Er (Kai) is a choreographer, performer, dancer, and workshopper currently studying MA Choreography and Performance, at the Institute for Applied Theatre Studies, Gießen, Germany. She is interested in the relational aspects of life in a dance studio, currently looking at and playing with: rehearsals as social situations, workshops as performances, dancing as interpersonal communication.

She has created and performed widely over the past decade. In Singapore, she was part of The Substation's Directors' Lab (2013-2014), associate artist at TheatreWorks (2015-2017), and the main responsible person for the experimental art space Make It Share It (2018-2019). In August 2022 she will become resident choreographer at K3, Tanzplan Hamburg.
---
SELECTION PANEL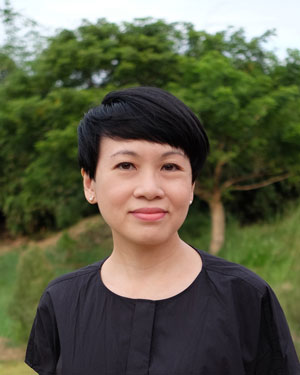 Sam I-shan is a curator with an interest in time-based media, photography, and art and politics. With fifteen years' experience in art institutional settings, she was previously curator at National Gallery Singapore, Singapore Art Museum and Esplanade Visual Arts. Her monographic, research-focused exhibitions at NGS include the Ng Teng Fong Roof Garden Commission: Cao Fei, and Georgette Chen: At Home in the World. At Esplanade, she curated and managed new commissions and site-specific exhibitions, working with a range of regional artists. Her exhibitions at SAM include Afterimage: Contemporary Photography in Southeast Asia. She also headed film and moving image initiatives there, specialising in Artist Films, and co-programming the annual Southeast Asian Film Festival. She lives and works in Singapore and Cambodia
Wang Ruobing
is an artist, independent curator and art educator based in Singapore. She received her Doctor of Philosophy from the University of Oxford, United Kingdom. She was previously a curator at the National Gallery Singapore. At present, she works as a lecturer at LASALLE College of the Arts and is the co-founder of 
Comma Space 逗号空间
: an artist-run experimental art space that creates thinking spaces between commas. As an independent curator, her recent curated exhibitions include 
12 SOLO
 (2020 -2021, ongoing); 
Arts in Your Neighbourhood
 (Public Art Trust 2018 and 2019); 
Happens When Nothing Happens 
(The Esplanade, 2019); 
Of Other Places
 (The Substation, 2019); and 
Beneath Tide, Running Forest
 (Singapore Botanic Gardens, 2018).