Curator Open Call 2021 Recipient: Elaine Thanya Marie Teo x Tekad Kolektif
Curator Open Call is part of Objectifs' ongoing efforts to to broaden perspectives by supporting curatorial research and innovative ways of presenting image-based work. The programme supports the realisation of a curatorial proposal for an exhibition in the Chapel Gallery by providing professional and financial support. The exhibition will be presented in September 2021.
The awardee was selected by the following selection panel, in addition to the team at Objectifs:
Marc Glöde, Assistant Professor and Co-Director of the MA in Museum Studies and Curatorial Practices at NTU ADM.
Wang Ruobing, Artist and Co-founder of Comma Space 逗号空间.
---
The winning proposal is by Elaine Thanya Marie Teo x Tekad Kolektif

Elaine and Tekad Kolektif will work with artists Dylan Chan, Vimal Kumar, Fitri Ya'akob, and Masuri Mazla towards an exhibition that will take place in the Chapel Gallery later this year.
---
ABOUT THE CURATOR
Elaine Thanya Marie Teo is a curator with a specialisation in performance art and is the co-founder of Tekad Kolektif, an artist collective dedicated to research in the liminal space. Deeply intrigued with the threads of art history in contemporary visual arts, Elaine enjoys working with people from diverse backgrounds.
---
ABOUT THE ARTISTS
Dylan Chan (b.1997) is a Singaporean based artist who is currently undertaking his BFA (Hons) at Lasalle College of the Arts, previously graduating from their Diploma programme in 2018. In that year he was also awarded the Winston Oh (Practice) Award, which allowed him to travel to Tokyo, Japan as part of the grant.
In his works he abstracts instances from everyday life and draws from memories and reminiscences centred around intimacy. Not being limited to just one medium, he explores mark-making and collage in his practice. Currently in his studio practice, he is looking at acts of manipulation towards his prints, stemming from the feeling of being limited by the framed image.
Fitri Ya'akob (b.1996) is constantly exploring the philosophical nuances in human relationships and the way they intermingle and influence space and time, as a way of understanding her relationships and her social environment.
Fitri graduated from the School of Arts, Design and Media from Nanyang Technological University with a BFA in Photography and Digital Imaging. She is also the recipient of the Kwek Leng Joo Prize of Excellence in 2019. Her works have been exhibited locally, and also at the 2019 edition of the Pingyao International Photography Festival in Pingyao, China.
Vimal Kumar (b. 1993) is a multidisciplinary Singaporean artist with an interest in the visual aspect of storytelling, often delving into narratives of the unseen. His works explore themes related to culture, heritage, spirituality, and ecology. While he enjoys working with traditional media such as oil, gouache, and ink, he has a keen interest in photography and digital painting as well.
Singapore based visual artist and co-founder of tekad kolektif, Masuri Mazlan graduated with BA Fine Art (First Class Honours) from LASALLE College of the Arts accredited by Goldsmiths, University of London.
He was awarded with the prestigious Goh Chok Tong Youth Promise Scholarship Award (2016) that merits his artistic talent and many contributions to society. He was also a recipient of the coveted International TAKIFUJI Art Award by Japan Traffic Culture Association (2017) and the Winston Oh Travelogue Research Award (2018). He was part of the NAC LASALLE Community Arts Mentorship Programme (CAMP) (2019), where he co-led art workshops and organised the exhibition, Of Spaces and Phases in conjunction with Singapore Art Week 2020.
---
SELECTION PANEL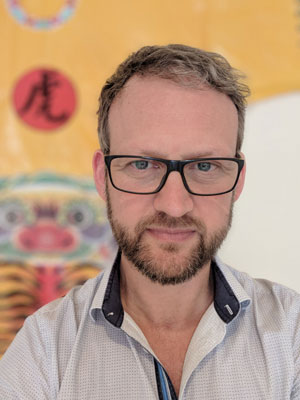 Marc Glöede is a curator, critic and film scholar. His work focuses on the relationship between images, technology, space, the body, and the dynamics between art, architecture and film. He was senior curator of Art Film, Art Basel's film programme (2008-14) and has curated exhibitions including STILL/MOVING/STILL — The History of Slide Projection in the Arts (Knokke / Belgium). He authored the book Farbige Lichträume / Colored Space of Light (2014), was co-editor of Synästhesie-Effekte (2011), and was recently published in The Impossibility of Mapping [Urban Asia] (2020). He received his PhD at the Free University of Berlin and since 2017 is Assistant Professor and Co-Director of the MA in Museum Studies and Curatorial Practices at NTU ADM.
Wang Ruobing
is an artist, independent curator and art educator based in Singapore. She received her Doctor of Philosophy from the University of Oxford, United Kingdom. She was previously a curator at the National Gallery Singapore. At present, she works as a lecturer at LASALLE College of the Arts and is the co-founder of 
Comma Space 逗号空间
: an artist-run experimental art space that creates thinking spaces between commas. As an independent curator, her recent curated exhibitions include 
12 SOLO
 (2020 -2021, ongoing); 
Arts in Your Neighbourhood
 (Public Art Trust 2018 and 2019); 
Happens When Nothing Happens 
(The Esplanade, 2019); 
Of Other Places
 (The Substation, 2019); and 
Beneath Tide, Running Forest
 (Singapore Botanic Gardens, 2018).