NOV to DEC 2014
WE ARE FARMERS
We Are Farmers is a visual exploration of the history of farming in Singapore, through photographer Ore Huiying's solo exhibition. Her family, farmers for several generations, have experienced many upheavals in their farming practice. The show examines the past and present memories through her family's archival photos, which dates back to the 60s, and also new works created by her.
---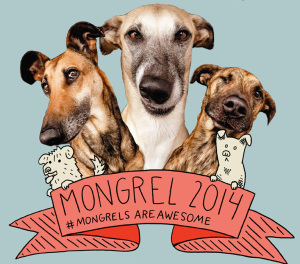 NOV 2014
MONGRELS 2014: #MONGRELSAREAWESOME
This is the third exhibition organised by Three Legs Good, a registered charity working to give injured and disabled dogs a second chance at life, and to raise awareness of the joys of adopting a mongrel. Featuring works by photographers Elke Vogelsang, Ernest Goh and Siong Chung Hua, and illustrators/painters Ly Yeow, Namiko Chan Takahashi and Lili Chin.
---
OCT to NOV 2014
THE GOLDEN LEAF
Myanmar is a complex society that has often been the focus of attention. From cultural exoticism to political and social events that have sent ripples around the world, Myanmar has been a source of both wonder and concern. This exhibition will attempt to explore both the contemporary issues facing Myanmar in the context of its social history, through the works of photographers Tom White and Julio Etchart, and academic Dr Li Yi.
---
SEP 2014
NOTES ON PERFORMANCE
Notes on Performance is an exhibition that gathers together a selection of objects, ephemera, documentation and relics relating to performance art practice in Singapore, or by Singaporean artists. The exhibition is presented by Melbourne-based curator/writer Kyla McFarlane who is in Singapore on a residency programme with The Art Incubator.
---
SEP 2014
CHAP LAU CHU – THE RE-OPENING OF COMMONWEALTH DRIVE
Chap Lau Chu: The Re-Opening of Commonwealth Drive (Tanglin Halt) is a project that playfully engages themes of popular memory and urban space. A collaborative project by Mary Bernadette Lee, Aurial Lee, Malvina Tan and Reuben Tan, under the guidance of Asst. Professor Lucy Davis (Nanyang Technological University, School of Art, Design and Media).
---
MAY to JUN 2014
ROOTS
Roots is ND Chow's first exhibition in Singapore and coincides with the launch of his book of the same title, featuring images taken from a two-year journey around the world 15 years ago. Now a successful portrait photographer based in Tokyo who has shot celebrities such as Ayumi Hamasaki and Patti Smith, Roots is Chow's personal reflection on his search for identity and the origins of his creativity.
---
FEB-MAR 2014
BUGIS STREET
Bugis Street features portraits of the transgendered community in Bugis in the 1980s. Taken by French photographer Alain Soldeville, the exhibition shows a side of Singapore history that many might be unfamiliar with.
---
JAN 2014
DAYS WE MET
Days We Met is a photographic series from local collective 5ive Foot Way (Adam Abdul Rahim, Chia Aik Beng, Callan Tham, Donna Chiu and Tham Jing Wen). It features work they've fervently shot, produced and edited, of the streets both in Singapore and abroad.
---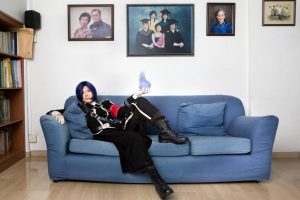 DEC 2013
OFFSTAGE
Over a span of six years, photographer Tan Ching Yee visited, interviewed and photographed more than 20 cosplayers in their homes, and the works are presented in this solo show.
---
OCT to NOV 2013
LOVE HURTS: TALES FROM THE HEARTLAND
Love Hurts is a solo exhibition by Gilles Massot that looks at cross-cultural identities in a globalised world. Using pop culture references such as karaoke videos and TV soap operas, Massot blurs genres and identities in an exploration of the relationship between song, text and visuals. In collaboration with Urich Lau, Ian Woo, Jeremy Sharma, Arif Ayab. A Parallel Event of the Singapore Biennale 2013 If the World Changed.
---
SEP 2013
THROUGH A PINHOLE
Through a Pinhole is a solo exhibition by artist Mary-Ann Teo. Using an unconventional pinhole camera made from a large trash bin, Mary-Ann went around the entire Kampong Glam area to document its hustle and bustle. The pinhole images re-look at the historical and modern context of the area. A heritage site now known for its cafes and fashionable shops, has history been displaced in the face of change?
---
AUG 2013
ON THE ROAD
A travel photo documentation of journeys by Malaysian photographer Yoong Wah Alex Wong.
---
JUN 2013
LEAVE YOUR MARK!
Singapore is a city built on rules and fines … what happens when there are no rules? Do we suddenly become lost? An exhibition of photography, illustration and stories for children by writer Angie Featherstone and illustrator Stephanie Wong.
---
MAY 2013
HOPE
HOPE is a broad presentation of current features of contemporary Myanmar as seen by Burmese artist Phyu Mon.
---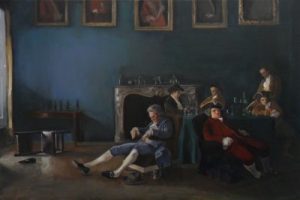 APR to MAY 2013
THE SEVEN SCENES OF BARRY LYNDON
A solo exhibition by Justin Loke, this installation features paintings based on seven interior scenes of the period film Barry Lyndon (1975) by Stanley Kubrick. Each painting, which is of a small and intimate size, is a reproduction of a scene from the film and is presented in a room solely lit by candles.
---
MAR to APR 2013
JOURNEYS
6 months, 19 countries, 25000 kilometers. Journeys is a visual and emotional diary of the intersections of various journeys for photographer Tan Ngiap Heng. And although it is not an answer to any specific question, it is food for thought for many of his life's questions.
---
FEB to MAR 2013
GEZEITENTUMPEL (TIDAL POOLS)
Gezeitentümpel is a collection of visual poems and questions about the brevity of life and the vastness of time by Philipp Aldrup. He photographed tidal pools beneath Singapore's highways and in its abandoned buildings and cemeteries. These tidal pools, however, are metaphorical spaces caught between the logical forces of the rational and the unpredictable forces of the absurd.
---
NOV to DEC 2012
CAN YOU HEAR ME?
While bringing together two generations of Thai artists, this exhibition explores the concept of documentation through conversation. Artists include Jakrawal Nikthamrong, Tulapop Saenjaroen, Taiki Sakpisit, Micheal Shaowanasai, Chulayarnon Siriphol and Sutthirat Supaparinya. Curated by Loredana Pazzini-Paracciani.
---
NOV 2012
100 SGD 100 FACES 100 COPYRIGHTS
This exhibition by Korean artist Lee Seung-Ah examined the issues of surveillance and how these appropriated images exist without the knowledge of the subjects.
---
OCT to DEC 2012
10 YEARS OF SHOOTING HOME
Curated around the themes of home and identity, this retrospective show at the National Museum of Singapore presents projects developed over the last ten years by participants of Objectifs' pioneering photography mentorship programme, Shooting Home.
---
JUL to AUG 2012
OUR PLACES, OUR STORIES
Co-Curated by Objectifs for The Esplanade Jendela. Celebrating the stories that emerge from different parts of our little island this exhibition focuses on the intimate memories that are just as real and a part of our lives as the accounts in our history books. Featuring Anthony Chen, Bryan van der Beek, Boo Junfeng, Chang Kai Xiang, Deanna Ng, Elgin Ho, Eva Tang, K. Rajagopal, Mervyn Teo, Ore Huiying, Royston Tan, Sam Kang Li, Victric Thng and Wong Maye-E.
---
JUN 2012
GARDEN CITY
A solo exhibition by Deanna Ng. "The Singapore I know is not perfect but it's my home. I want to photograph what I see and feel. The CBD, seemingly peaceful after a bustling day of business; a welcome sign on top of a building, inviting its viewers to explore our island; fake palm trees among real trees in my town centre; the tree in my neighbourhood that looks like a Xmas tree if I just squint my eyes. This is my version of our Garden City."
---
APR to MAY 2012
DEAR THURIYA
Jean Loo's fascination with Ashin Thuriya, a young novice monk, began during a chance encounter in 2009 in a quiet neighbourhood in Mandalay. Watching from afar as they walked barefoot on the streets collecting alms, she approached them and followed them back to their home, the Sulamuni Brick Monastery. Born from this encounter, Dear Thuriya is a long-term documentary project sustained through observation and photography. Co-curated by Objectifs for The Esplanade Tunnel.
---
FEB-MAR 2012
PORTRAITURE NOW
Portraiture has always been a fascinating area of photography. From images of celebrities to anonymous figures, ethnographic studies to personal mementos, the portrait has always evoked a sense of curiosity and discovery. Portraiture Now looks at the works of six local photographers who have vastly different approaches and subjects. Featuring Deanna Ng, Sit Weng San, Tay Wei Leng, Alecia Neo, Jason Wee, Ang Song Nian.
---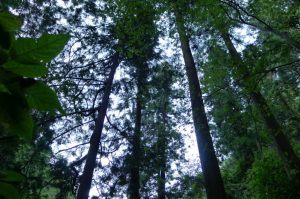 NOV 2011
MAN OF THE FOREST
"I would like to keep a forest in a box." Enter a pale room. A single metal box stained with patina by time sits in the centre of the room. A cool green glow emits from the surrounding walls. The room pulsates with forest life. Open the box. A man in a forest is captured in there. Made by filmmaker Ric Aw during the BankART1929 Yokohama residency.
---
AUG-SEP 2011
POSTCARDS FROM EARTH
Postcards from Earth by Black Baroque Committee is a series of postcards featuring scenes of vivid atrocities from not just history but also our present day-to-day existence. The show attempts to measure our distance and proximity to these selected images of disaster, violence and cruelty. The viewers, positioned as either alienated individuals or aliens, are encouraged to continue their roles as consumers by purchasing and sending them via the specially set up exhibition post office.
---
AUG 2011
SNAP, GRANDMA
There is a strong stereotype of the elderly in society because much of our perceptions are shaped by media. Snap, Grandma! hopes to change that by showing the public images of the elderly taken by the elderly. 60 students aged 19 -21 years old from different local tertiary institutions participated in this project, guiding elderly family members or strangers on taking photos of their daily lives.
---
JULY 2011
YOUNG TOGETHER, TOGETHER YOUNG
Exploring the idea of youth and the romanticism that surrounds it through the work of six young emerging photographers (Alvelyn Aiko, Alex Thebez, Marquez, Nelson Lim and Michael Fivis) working in Singapore and New York, curated by Alex Thebez.
---
JUNE 2011
HOMEWORK
Using his own family members as subjects, artist Sean Lee explores photography's capacity as a healing device and comedic tool in his second solo exhibition at Objectifs. Intimate and at times almost voyeuristic, Homework is a revelation of the ties that bind a family together.
---
MAR 2011
CHILD AND THE BEAST
Discover new narratives based on old pontianak myths in Genevieve Chua's latest solo exhibition. Child and the Beast provides an engaging, alternative take on local folklore and raises interesting questions on power structures and feminine archetypes within the local context.
---
NOV to DEC 2010 
CHILDREN OF MEKONG
The Children of Mekong is an exhibition and multimedia project that explores water and sanitation issues in rural Asia. Commissioned by Lien Aid, the collaborative effort by documentary photographer Jean Qingwen Loo, journalists Chew Xinyi, Yang Huiwen and the Little Red Ants Creative Studio hopes to communicate life in Cambodia, Vietnam and China, where access to potable water remains a pipe dream.
---
OCT to NOV 2010 
SOLILOQUY
soliloquy is one man's conversation with nature. It speaks of journeys taken, places uncovered, and growth renewed. The exhibition is the result of documentary photographer Terence Teo solo trip through Japan in 2010.
---
AUG 2010 
M.M I LOVE YOU 
An exhibition about modern Singapore, M.M. I Love You features works by five Singaporean artists exploring the mythology of nationhood. Each artist provides a unique perspective on the stories that we tell ourselves and others about being Singaporeans. Curated by Charmaine Toh, featuring works by Amanda Heng, Ho Tzu Nyen, Tan Pin Pin, Bryan van der Beek and Jason Wee.
---
APR to JUN 2010
PHOTOCUBISM
The exhibition of 16 photo collages records Thai artist M.L. Mingmongkol Sonakul's experiences and interaction with places she has visited around the world, from Bangkok to New York and Los Angeles.
---
FEB 2009
BENGALURU RUSH
Commonly regarded as one of the beacons of modern India, Bangalore or Bengaluru  has made a name for its IT firms and international business relations. Yet somewhere in this cosmopolitan hustle-bustle also persists an eclectic traditional charm.
Bengaluru Rush features images by participants of the workshop in Bangalore and Mysore in November 2008, led by US-based photo-essayist David H Wells. The photographers are- Birgit Voogt, Deanna Ng, Jean Qingwen Loo, Karen Lucas, Kelvin Theseira, Melissa de Silva, Ng Boon Cheng, Paul Seow and Savita Rao.
---
OCT – NOV 2007
LIVING DANGEROUSLY
By Russel Zehnder 
Because "the world makes better sense photographed", Russel Zehnder's black and white photographs document individuals in the "huge big continuum of human traffic" he encountered in his journeys around Northern India (Delhi, Varanasi, Bodhgaya, Darjeeling and Agra).
---
JUL – AUG 2007
EVERYBODY KNOWS YOU CRIED LAST NIGHT
By Sean Lee 
Like stills captured from a film, Sean Lee photographs feature his family members in constructed narratives within each picture and are shot within the family home.
---
MAY – JUN 2006
SCRAPS OF MEMORIES
By Ruby Seng, Jeanette Ng & Heng Kiang Koon
Curated by Chow Chee Yong 
Three former participants in the Black & White Photography workshop at Objectifs, taught by Chow Chee Yong, came together to do this group show. The photographers' images seek to document their personal recollections and also echo and evoke the viewer's own half-forgotten memories.
---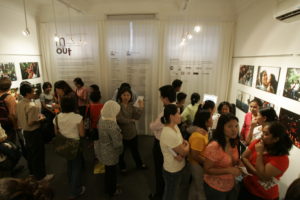 FEB 2006
INSIDE OUT 
Inside Out is a project that empowers low-wage migrant workers with basic photography skills as an avenue to express themselves. The exhibition featured works by participants of the 2006 workshops. Prints were for sale with proceeds going to non-profit Migrant Voices.
---
SEPT 2005
TETE-A-TETE
By Tan Ngiap Heng 
Tête-à-Tête is an exhibition of portraits by Tan Ngiap Heng of people in the arts in Singapore. His subjects have included people like actor/director Ivan Heng, ballerina Xia Hai Ying and writer/painter Parvarthi Nayar. The works appearing in Tête-à-Tête are personal interactions with the artists that he has met during his work.
---
AUG 2004
INSPIRATIONS FROM LANDMARKS
By Chris Yap
Yap worked with W!ldRice Theatre on Landmarks – Asian Boys Vol 2, a collection of eight plays based on eight landmarks and the literal and metaphorical spaces represented by them. He created a series of background images that interwove emotions and spaces.
---
JUN 2004
SKIN
By Tan Ngiap Heng 
Skin is Tan Ngiap Heng's first complete exhibition of nudes. In this show, the photographer, who has a deep interest in the human condition and the human spirit, explores the many different sides to a person by focusing three exploration studies on the same model.
---
APR 2004
QUIET
By Edmund Seet
This showcase of black and white photographic imprints blurs the boundaries of art and photography. Images of construction sites and common spaces are captured in a monolithic manner. The photographer hopes thes esimple imprints will engage the audience in finding beauty in everyday or forgotten things.
---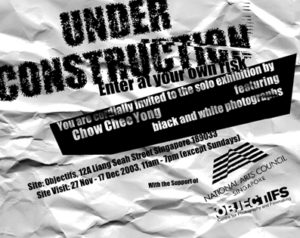 NOV 2003
LIGHT TRAILS – UNDER CONSTRUCTION
By Chow Chee Yong 
Seeking to make unique images in the night, Chow Chee Yong noticed there is life in construction areas at night. The long exposures ranging from 15 minutes to more than an hour are fleeting moments that can only be captured by film.
---
JUN 2003
PANORAMIC SINGAPORE
By Tay Kay Chin 
Documentary photographer Tay Kay Chin that captures a side of Singapore that we often see but rarely notice – until it vanishes.