Women in Photography 2018: Anna Boyiazis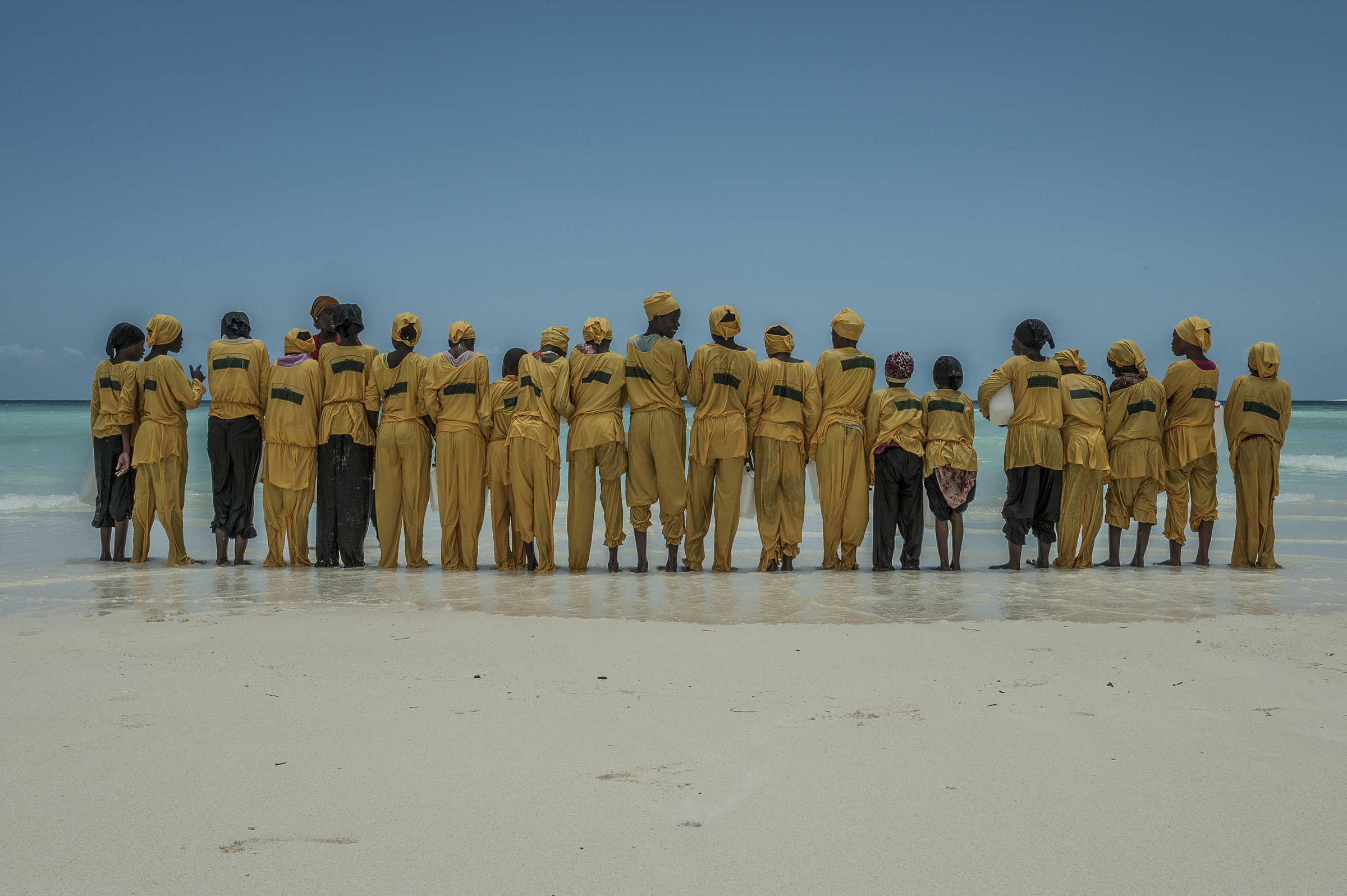 Women in Photography 2018 Exhibition
Finding Freedom in the Water | Anna Boyiazis
Daily life in the Zanzibar Archipelago centers around the sea, yet the majority of girls who inhabit the islands never acquire even the most fundamental swimming skills. Conservative Islamic culture and the absence of modest swimwear have compelled community leaders to discourage girls from swimming. Until now.
For the past few years, the Panje Project has made it possible for local women and girls to get into the water, not only teaching them swimming skills but aquatic safety and drowning prevention techniques. The group has empowered its students to teach others, creating a sustainable cycle. Students are also provided full-length swimsuits, so that they can enter the water without compromising their cultural and religious beliefs. 
While the wearing of full-length swimsuits may be seen as subjugation, donning one in order to learn a vital life skill, which has long been and would otherwise be forbidden, is an important first step toward emancipation. Education — whether it be in or out of the water — serves as a springboard providing women and girls the empowerment and tools with which to claim their rights and challenge existing barriers.
The rate of drowning on the African continent is the highest in the world. Still, many community leaders have yet to warm up to the idea of women and girls learning to swim. The lessons challenge a patriarchal system that discourages women from pursuing things other than domestic tasks. It is this tension of the freedom one feels in and under water juxtaposed with the limitations imposed upon Zanzibari women that is at the heart of this series.
About Anna Boyiazis
Anna Boyiazis is an American documentary photographer based between Southern California — where she was born and raised by her family of Aegean Islanders — and East Africa. Her areas of focus include human rights, public health, and women and girls' issues. Through her work, she aims to elicit compassion and bring our shared humanity to the fore. Her photographs documenting women and girls learning to swim for the first time in Zanzibar — featured by National Geographic (Australia, Germany, Italy, Spain, and USA) — have received a 2018 World Press Photo Award, and are included in the World Press Photo 2018 Exhibition shown worldwide in 100 cities and 45 countries. Anna is a contributing photographer for GEO France, GEO Germany, Marie Claire, Médecins Sans Frontières, National Geographic, Neue Zürcher Zeitung, Stern and UNICEF. Her exhibitions include the Taylor Wessing Photographic Portrait Prize 2017, National Portrait Gallery, London; DYSTURB #womenmatter campaign against violence toward women, Preus Museum, Norway; and the Havana Biennial, Centro de Arte Contemporáneo Wifredo Lam, Cuba. Her work has been recognized by Arles Voies Off, ASMP, CENTER, Center for Cultural Innovation, Contemporary African Photography Prize, FotoVisura, Médecins Sans Frontières, Nikon, Photocrati Fund, Pictures of the Year International, Prix de la Photographie Paris, UNICEF, Women Photograph, and World Press Photo. Anna earned an MFA from the Yale University School of Art and a BA from the UCLA School of the Arts and Architecture.
---
WOMEN IN FILM & PHOTOGRAPHY 2018 SHOWCASE PROGRAMME  
:: Exhibition: 5 Oct to 18 Nov 2018
:: Guided photographer & curator tour: 5 Oct, Fri, 6pm to 7pm
:: Artist talk I: 6 Oct, Sat, 2pm to 4pm
:: Artist talk II: 6 Oct, Sat, 4pm to 6pm
:: Slideshow Projection featuring Women Photograph: 8 Nov, Thu, 730pm to 9pm
:: Short Film Screening: 5 Oct to 28 Oct, 12pm to 7pm, Lower Gallery
:: Women in Film 2018 (10 to 13 Oct, 730pm)