Twelve days of Christmas, twelve days of giving. Our gift guide presents a selection of meaningful gifts for your art loving friends. Your purchase not only supports the artists behind the works but also plays a vital part in enabling Objectifs to continue presenting high quality, widely accessible year-round programmes.
Browse our newly launched selection of street photography of Singapore from the 50s – 70s by self-taught photographer Mr Hor Kwon Kin (b.1939). Through his lens, scenes of daily life and vanishing trades take on a humanistic quality while embodying the modernist style characteristic of the photographers of that era.
Veteran Singaporean filmmaker K. Rajagopal's debut feature film, which premiered in competition at the prestigious 55th Critics Week at Cannes Film Festival 2016, is a realist social drama that follows the journey of freshly released ex-prisoner Siva Sudhakar, who faces a hostile homecoming from his family and seeks to right the wrongs of his past.
SALAD is a photographer's study of the textures found in 24 parks across five countries. Appropriating scientific fieldwork methods of collecting, ordering and identification, the collection of photographs systematically documents different natural spaces, while leaving the photographs open to interpretation.
From charcoal shops to beauty parlours, Trades by Postal Code is a photography zine that lovingly documents some of Singapore's vanishing trades and the people behind them.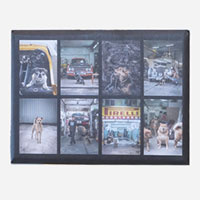 A set of eight postcards featuring photographs of the adorable dogs of Hong Kong, as an extension of photographer Marcel Heijnen's highly popular Hong Kong Shop Cats and Hong Kong Garage Dogs series, both of which are also available at Objectifs.
Revolution Launderette T-Shirts
Cotton tees featuring a silkscreen print from the independent feature film, Revolution Launderette 『信念のメリーゴーランド』, by Singaporean filmmaking duo Mark Chua and Lam Li Shuen. This film is an official selection of the 30th Singapore International Film Festival 2019. Every T-shirt purchase includes a free cassette tape and digital download of the film's soundtrack album.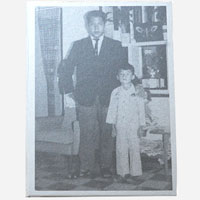 Hundred Daughters Hundred Patience Hundred Meals
Hundred Daughters Hundred Patience Hundred Meals [百女百耐百膳] is a photobook and cookbook hybrid made in memory of photographer Kevin WY Lee's father, celebrating his life as a restauranteur and tracing his family's journey from the rice farms of Kaiping in South China, to the sugar cane fields of Fiji in the South Pacific, to the HDBs of Singapore in Southeast Asia.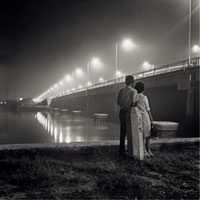 Purchase a stunning black and white print from Portrait of Home, an exhibition presented by Objectifs that features the work of 87 year old Mr Lim Kwong Ling. This series depicts different facets of home from landscapes to various occupations and industries of the time and family photos. 
A book featuring the works of Mr Lim will be launching at Objectifs next year. Email us at info@objectifs.com.sg to be added to the waitlist.
Another Gaze is a feminist film journal established to highlight the gender inequality of the film industry and amplify the voices of great, often overlooked, filmmakers who identify as women. The magazine includes reviews, essays and features, both academic and journalistic, that highlight under-appreciated women filmmakers and question the existing canon. This is accompanied by their 'In Conversation With' project: an ongoing filmed series of portraits of women filmmakers from around the world.
Limited copies of Issues 1 – 3 are available at our store.
Sightlines is a collaborative project featuring a series of poems by Marc Nair mapped onto a collection of black and white film images shot by Tsen-Waye Tay on her travels.
In Code Blue, Yoon Seung Jun records half-finished buildings in South Korea in the manner of a status report. Designed by Yoshihisa Tanaka, the book mirrors the state of the buildings with complicated fold-out layout of the pages that are not completely bound, with the hardcover glued on but not yet hidden behind cloth.
Limited copies available for sale at our store.
An eclectic and fragmented selection of research ephemera from the physical archives of Atelier HOKO, featuring notes/images collected or created in the process of researching and producing Science of the Secondary Volume 1-10.
Objectifs will be closed for the holidays from 22 Dec 2019 to 1 Jan 2020. We will re-open on 2 Jan. Place your online orders by

15 Dec

to ensure local delivery before Christmas, or get your items from our physical store. Happy Holidays!